The only way you could combine innovative contemporary cuisine with a more innovative, lofty view would be by extreme heli-dining. A night at the Seven Glaciers restaurant, perched 2,300 feet above sea level on Mount Alyeska, is a dining journey that begins with a tram ride high above the treetops, followed by an elevator lift, then a stroll along a golden carpet, past a glimmering glass-and-steel, wine-tower wall and into a dining room radiating the colors of alpenglow and glacial ice. Seven Glaciers is one of only three AAA Four Diamond restaurants in Alaska. You can show up in furs and heels or blue jeans and work boots and no one will blink an eye in this dress-code-free state.
Tram it to the Top
Gaze down at Girdwood and the silvery waters of Turnagain Arm and up at dramatic Chugach Mountain peaks as you glide up Mount Alyeska to this intimate mountaintop dining destination. Plan some extra time before your reservation to soak up the views from the observation deck or have a drink at the bar. During summer and fall, bring sturdy shoes and explore the alpine tundra before dinner.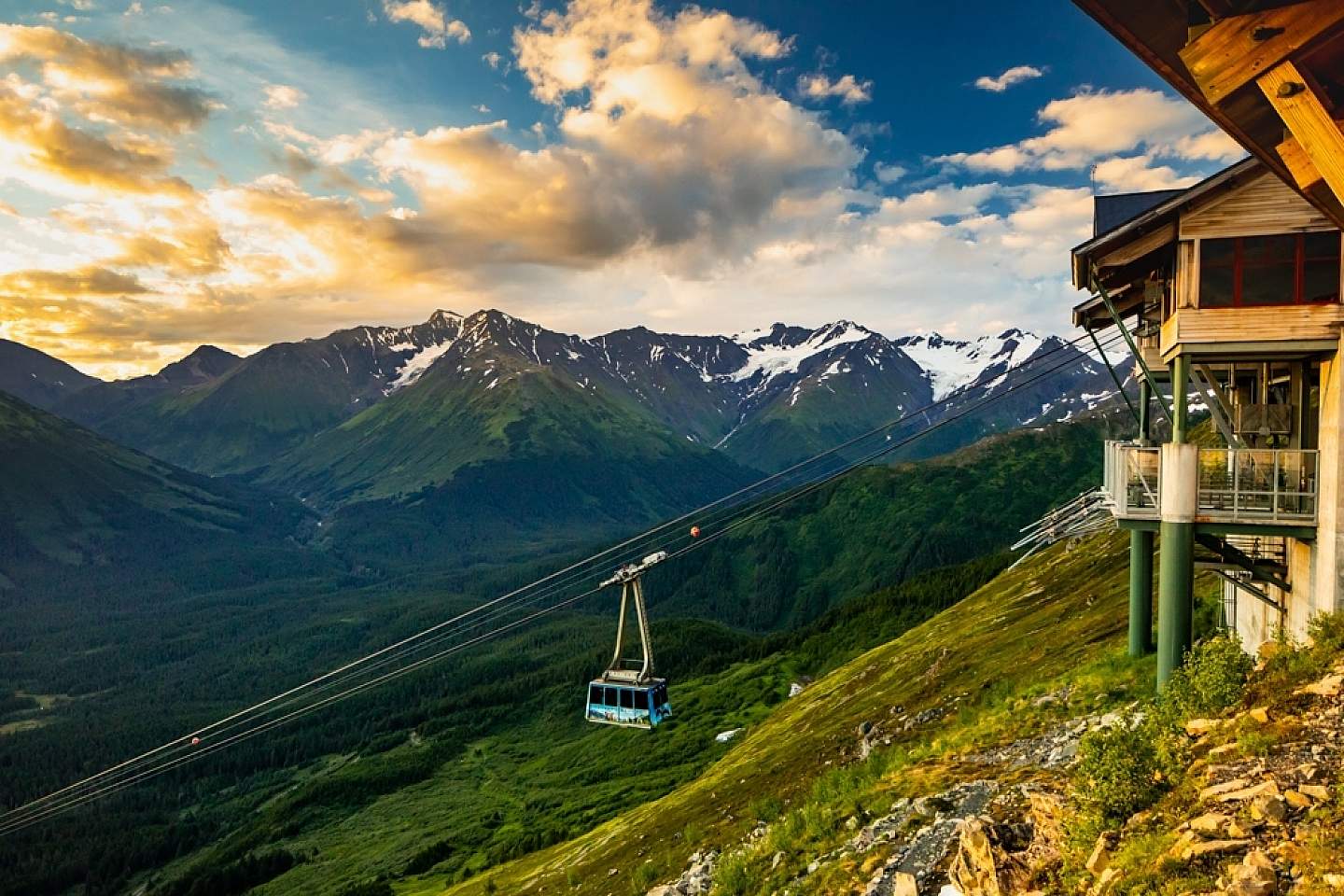 Gaze at Glaciers
This extraordinary restaurant is so-named because of the seven hanging glaciers visible from the Girdwood valley. If it's clear, you'll see most of them up top. Whether it's clear or not, you may see moose, or possibly a bear, depending on the season. Once seated in this elegant dining room, seven-foot windows take it from there.
Don't Miss the Scallop Bisque
Chef Aaron Apling-Gilman crafts an ever-changing menu of artfully presented dishes, using local ingredients — produce, seafood and meat — whenever possible. Start with an Artisan Cheese Plate or Ahi Tuna Carpaccio appetizer, then an all-time favorite, the velvety Scallop Bisque, served with a seared jumbo scallop, a dab of smoked salmon mousse, chive oil and a brioche crouton. Entrees range from Snake River Farms Wagyu New York Steak to Alaskan King Crab. Save room for the signature Baked Alyeska, a caramel nougat, Bavarian chocolate cake with dark chocolate ganache and Swiss meringue, presented more as sculpture than dessert. A sight to behold.
Sample the Chef's Selections
Try the three-course, prix-fixe dinner offered on Sundays and Mondays, or the five-course tasting menu that changes nightly, with a complimentary starter from the chef. Food and wine pairings are a specialty. A perennial winner of Wine Spectator's Best of Award of Excellence, Seven Glaciers offers a world-class wine collection of 2,500 bottles, with a 26-page menu of choices.
Choose from Special Menus
Seven Glaciers caters to special diets, offering vegetarian, gluten-free and vegan menus and tweaks to regular menu items. There's also a children's menu.
The tram and the restaurant are wheelchair accessible.