Relax and rejuvenate at the breathtaking 50,000 sq ft indoor-outdoor Nordic Spa nestled at the beautiful Alyeska Resort. Designed with significant consideration to the northernmost forest, experience a center for wellness and relaxation that fosters connection with nature, ourselves, and others.
Alaska's first Nordic Spa is inspired by time-tested hydrotherapy practices – a water-based restorative treatment that has been proven to nourish and replenish the body and soul. Out under the Alaskan sky, you'll move between pools of varying temperatures, a process designed to flush out toxins and relax muscles. Soak in the hot waters to stimulate blood flow and lower blood pressure, then ease into cooler pools, which helps produce white blood cells that heal the body from within. Rest and repeat.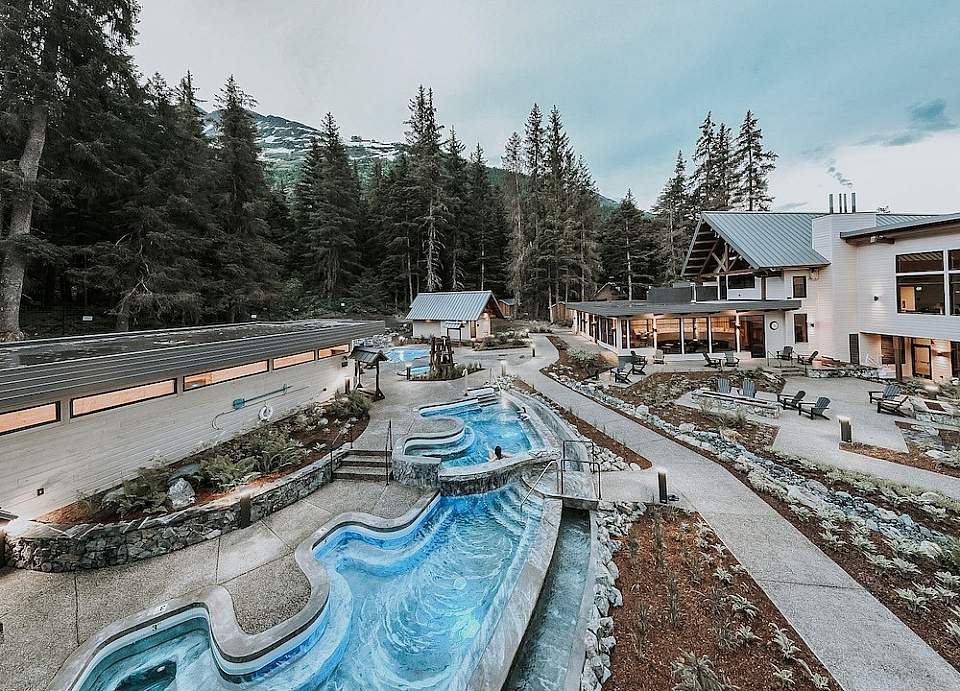 Immerse in all the spa's features, like the Signature sauna, Exfoliation cabin, and relaxation spaces including fire pits and cozy nooks throughout the spa. You can even opt to book a solo or couples massage as part of your experience. Refuel at the Bistro, enjoying a menu that highlights local ingredients as well as curated wine, beer, and tea lists. Coming soon in Phase 2 and 3 of the Nordic Spa opening is a Finnish sauna, Aromatherapy infused steam rooms, and a forest loop featuring 6 wooden tubs, Barrel saunas, and Banya saunas.
It all happens amid the towering trees of Alaska's northernmost temperate rainforest at the base of dramatic Mt. Alyeska. Nature is at the center of the experience, and even the construction process has been done with respect given to the surroundings as many of the trees cut to make the spa were repurposed in its construction.
Come stay at Alyeska Resort and enjoy this magical experience any time of year; every season brings a different feel. In summer, you'll enjoy lush green surroundings amid the warm weather. When autumn hits, be awed by the colorful leaves. During winter, the spa is the perfect place to recover after a day on the slopes. And in spring, watch nature return to life as the spa's hydrotherapy treatments help spark your own rejuvenation.
Features
3 Warm & Hot Hydrotherapy Pools
3 Cold Features With Cold Plunge & Waterfall
Halotherapy Signature Sauna
Finnish Sauna
Rainforest Steam Rooms
Exfoliation Cabin with Alaskan Body Scrub
6 Wooden Tubs (5 Hot & 1 Cold)
2 Alaskan Barrel Saunas
2 Banya Saunas
Two Trees Bistro
Massage Therapy