Alyeska Resort is a year-round epicenter for outdoor adventure at the gateway to the Chugach Mountains, and summer is a great time to experience the area's activities, as well as its sweeping views of mountains, ocean and glaciers. (It's also home to a world-class hotel, if you want to stay the night.) Whether your interest is hiking, mountain biking, or trekking on a glacier, you'll find plenty of summer adventures here, along with luxurious accommodations and great dining.
Pedal through Scenery or Hit the Slopes on Wheels
Rent a bicycle and you can then choose between mellow rides in the area, or thrilling mountain-bike adventures. If you rent a cruiser, for instance, you can ride paths around town or take the famed Bird to Gird Trail that follows along the perimeter of scenic Turnagain Arm.Or, rent a mountain bike—and all the body armor you might need, from knee pads to full face helmets—and take one of the resort's lessons or single-day clinics to take your cycling skills up a notch (classes are available throughout the summer). The adrenaline-rush opportunities are great here: Roll your bike onto a lift-mounted carriage on Bear Cub Quad, Ted's Express or Glacier Bowl Express and bomb down winding trails to the bottom. Then do it all over again. Offered Friday through Sunday, June 9 through September 4, 12 p.m. to 6 p.m. Lessons and tours of the route are offered.
Hike a Trail or a Glacier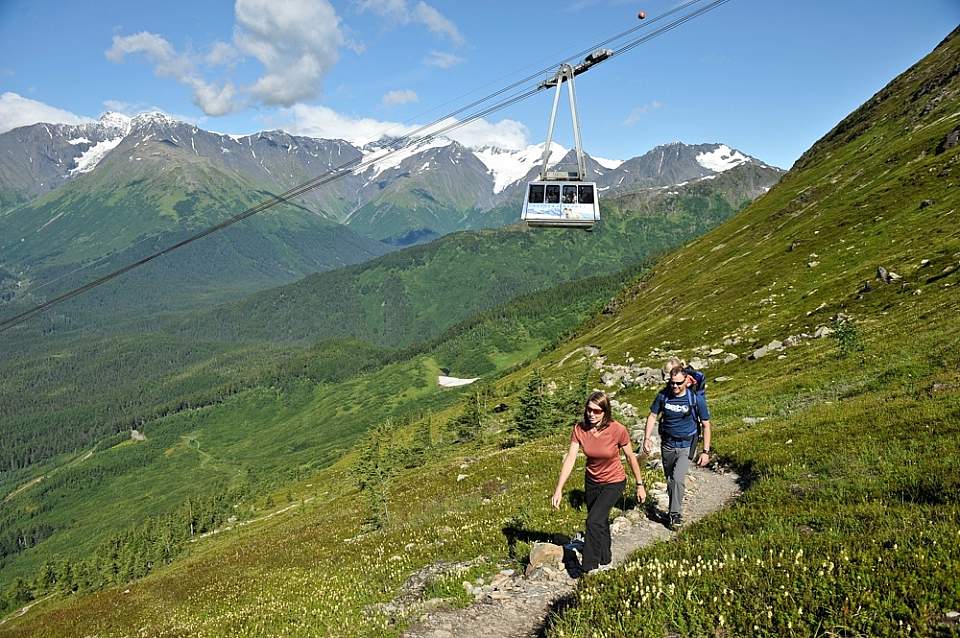 You have lots of options for cool hikes here. One choice is to go with a guide or on your own and hike the Winner Creek Trail, a six-mile round-trip through the rainforest, featuring a hand-pulled tram ride across Glacier Creek.
For more of a challenge, take the North Face Trail, an advanced hiking trail with switchbacks that winds up the face of Mount Alyeska. While you catch your breath at the top, take in the spectacular views—then relax even more as you take the free tram ride back to the bottom.
You can also take a ride both ways on the resort's 60-passenger tramway to the 2,300-foot level of Mount Alyeska, then hike around the alpine tundra. Or you can go for a guided glacier hike to the Alyeska Glacier, then rope up and learn some basic mountaineering skills. The hotel's concierge can set you up for these or a wide range of other adventures, from whale-watching, summer dog sledding, and flight-seeing to world-class fishing trips.
Roundhouse
Home of the original terminus for the resort's first chairlift in 1960, the Roundhouse was retired once the tramway was built. Now on the National Register of Historic Places, the Roundhouse is a newly renovated museum, covering the history of skiing and mining in the Girdwood area. Check out the displays of antique equipment from the days when skis resembled two-by-fours and rope tows were considered high-tech. You'll also find a relief map of the area, as well as staff on hand to answer questions.