Summer or winter, visit a champion kennel, meet friendly dogs and an experienced musher for a ride along private trails with gorgeous views! Tours depart from Willow, just an hour and a half scenic drive north of Anchorage.
There's hardly a sport more Alaskan than dog mushing, so going out for a dog sled ride with a real Alaskan musher gives you a real authentic experience. The owner, Matthew Failor, has run the world's most famous dog sled race—the Iditarod—10 times, and absolutely loves sharing the experience.

You'll spend some time with these friendly and energetic dogs and get an insider's view of this challenging sport. Then you'll hit the trail! Choose from a variety of year-round tours. In winter, you'll dash through the wilderness on a sled (and warm up with cocoa and cookies at the end); in summer you'll be on a specially designed cart with wheels.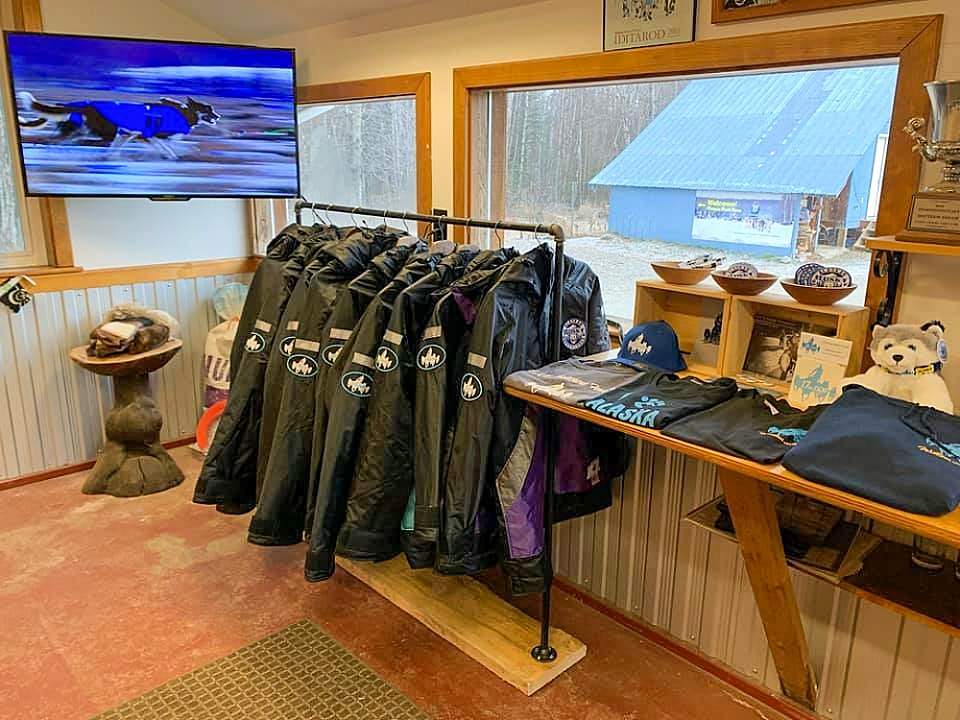 You'll cover several miles of trail as the pups pull your sled and you see just how excited they are to do it! Tours are on private trails, so you won't see anyone else during your run. Plus, you'll be surrounded by beautiful mountain views, including Denali on a clear day.
The owners and mushers live on site, and all the dogs are theirs, so this is a very personal experience—you'll feel like you're being welcomed into their family. Plus, every tour is customizable. If you want to spend more time playing with the dogs or focus more on riding the sled, just ask.
Pick Your Tour
Winter
Traditional Sled Ride
Mushed by an experienced guide, these tours allow you to relax and enjoy the trip…and the views! For 45–55 minutes, you'll travel some 5 miles as your guide navigates trails that include some fun corners and hills. Stop along the way and take photos of the dramatic landscape and the pups.
Tradtional Sled Ride Christmas Special add-on offered November & December: Guests can pick out & cut down a Christmas tree while out on their dog sled ride for $100 per tree.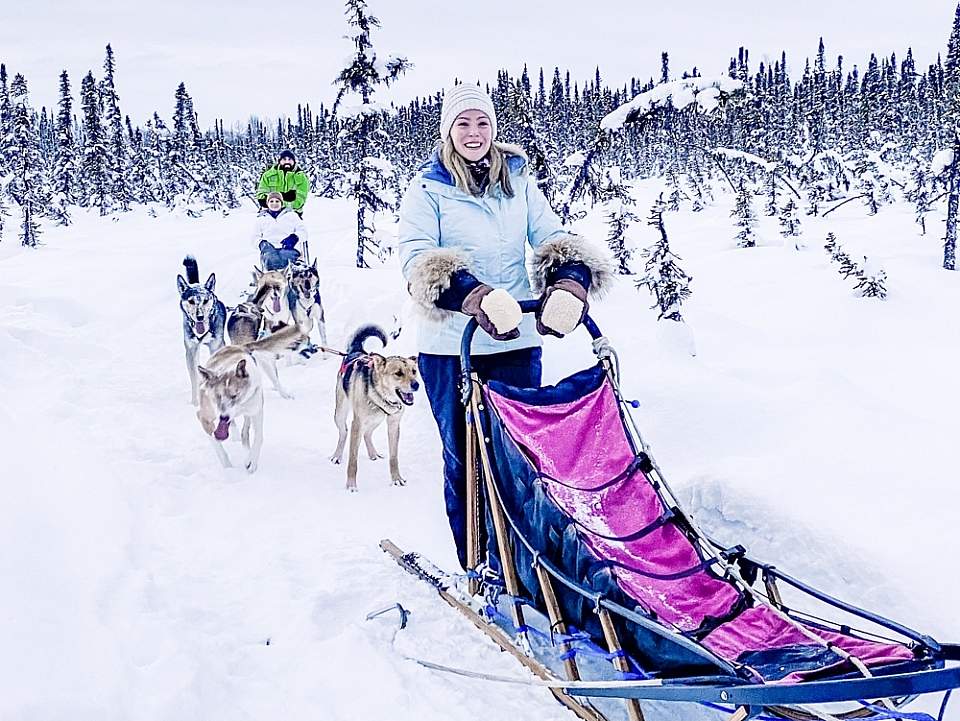 Mush Your Own Team
A once-in-a-lifetime opportunity! You'll learn the basics of how to mush, then head out on the trail, leading your own dog team (with an experienced musher on the trail for support) along a 6- to 8-mile route that takes around an hour.
Mountain Mushing Adventure
After learning about the kennel and the race team, you'll load up the dogs—just as they do for a real race—and head to historic Hatcher Pass. There, the dogs will pull your sled for 4–6 miles as you mush past an active gold mine in a gorgeous setting through the mountains—you'll feel like you're on top of the world!
Run with the Pack
Go on a training run for the real Iditarod race! You won't find a more authentic experience. You'll spend about 5 hours with the dogs as you help with everything from harnessing the them at the beginning to giving them snacks and water at the end. You'll travel 25–30 miles on the sled, learning how a real musher trains as you take in the magnificent views around you.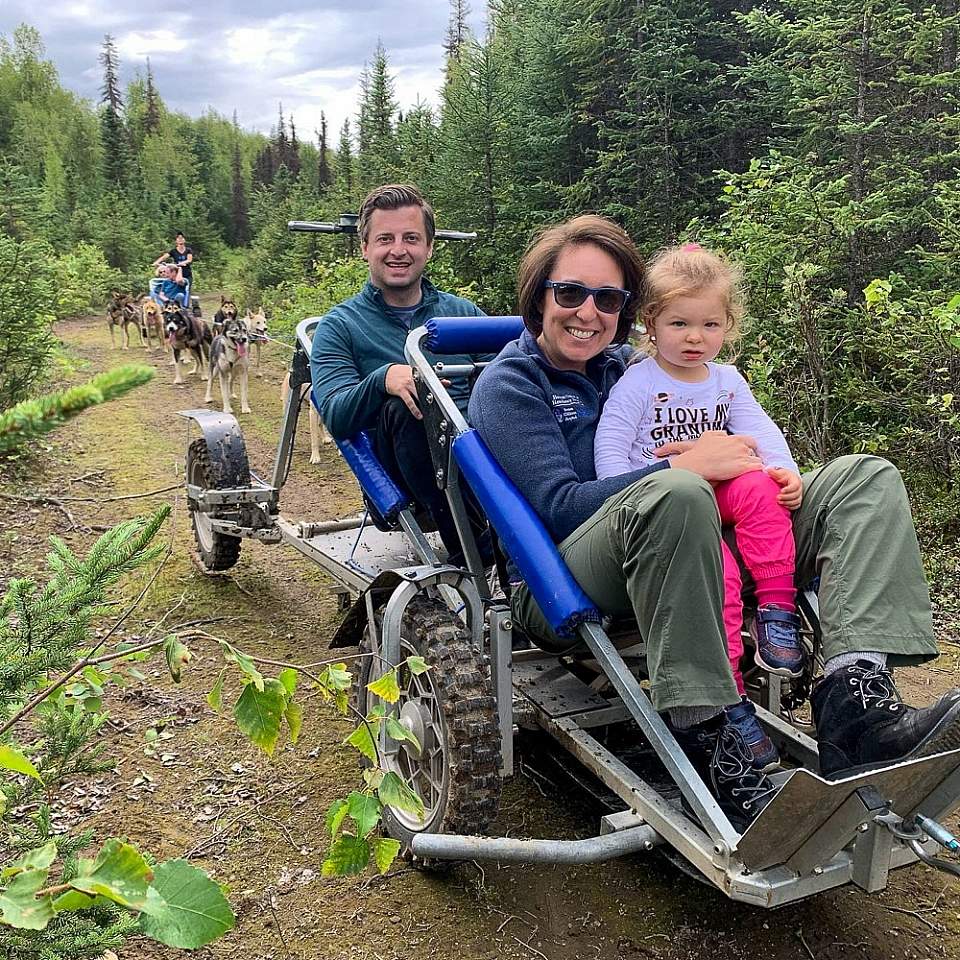 Summer
Summer Sled Ride
No snow? No problem! Hop aboard a specially engineered cart that simulates a sled for a couple-mile outing that lasts for 30–45 minutes (the dogs can't run as long as they can in the colder weather). The tradeoff is that you'll have even more time to learn about the gear and the sport of mushing from a real Iditarod racer. Plus, there are often puppies at the kennel! Cuddle them, and see them in action at the puppy training facility. They love the giant hamster-like wheel for exercise and entertainment.
Year Round
Kennel Tour
While there's no ride on this tour, this hour-long tour is a great opportunity to learn all about the sport of mushing, tour the kennel, and spend some time visiting with the dogs!
Groups & Special Events
Make your next group outing one to remember! Bring the gang for a birthday or retirement party, family reunion, wedding, or any special event.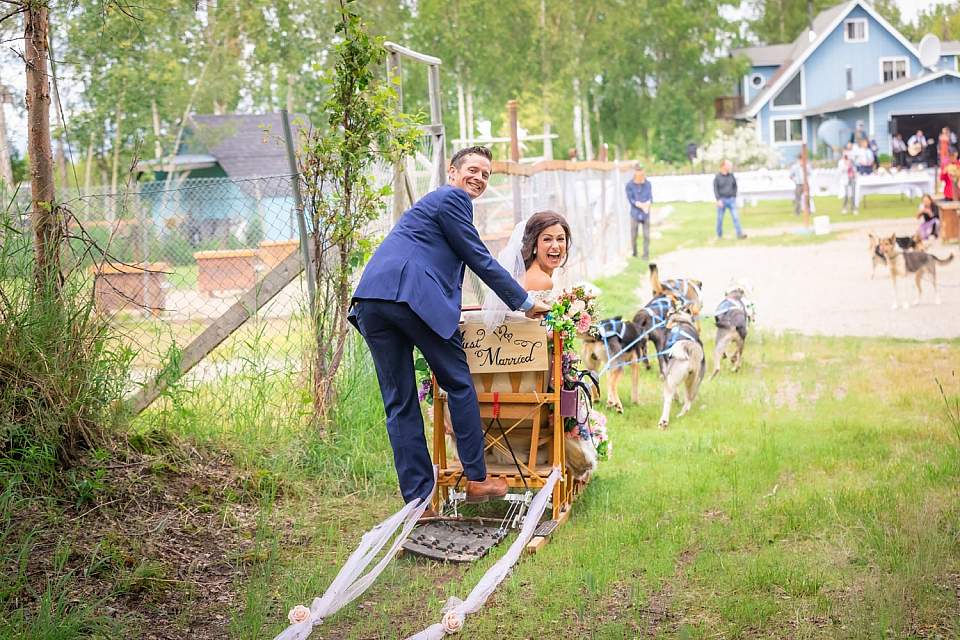 About Alaskan Husky Adventures
Liz and Matthew Failor are newlyweds with a dream to share Alaska's official sport with visitors and locals alike! The pair actually met on the Iditarod in 2018, when Matthew was racing and Liz was assigned to cover the event as a local news anchor. Matthew even proposed at end of a sled dog race! Now, this husband-wife duo has teamed up to share the joy of dog sledding with their guests. Their story has been featured in the New York Times and Oprah Magazine!