Plenty of people come to Fairbanks to look at the sky—for northern lights, or to bask in the midnight sun. But this dog-mushing experience outside of Fairbanks is proof that there's plenty more of Fairbanks to be seen at eye—or even paw—level.
Gone to the Dogs
The operation is run by a husband-and-wife team, Jeff and KattiJo, who first met in Juneau in 2010, while they were each working on tours. At summer's end Jeff invited her up to Fairbanks to try mushing herself and, as they say, they rode (or mushed) off into the sunset together.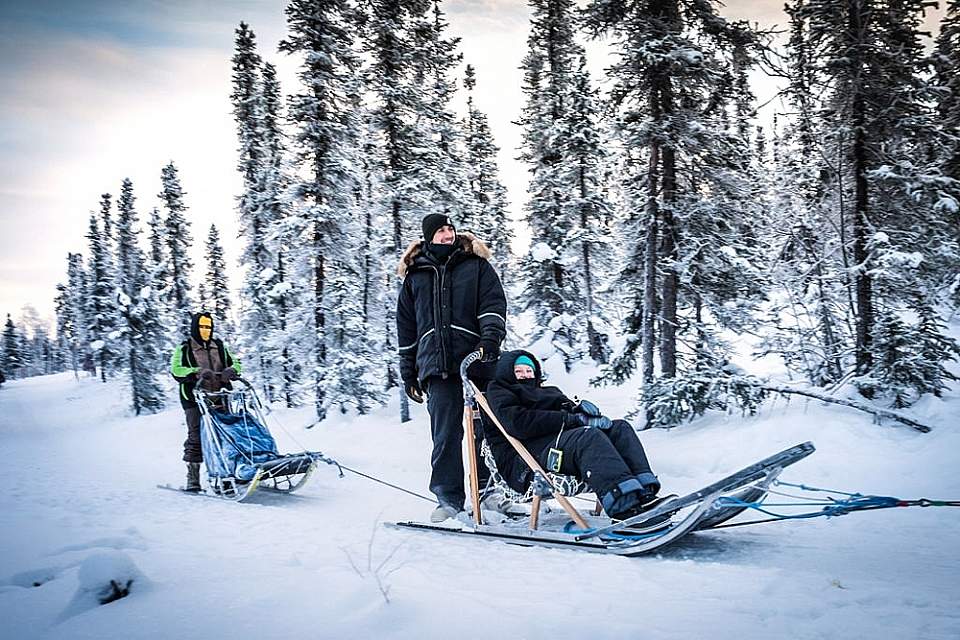 Today Jeff and KattiJo live off the grid, making their own energy, hauling their own water—and inviting people to come experience a bit of it, from the point of view of their adorable huskies. Jeff ran his first Iditarod in 2008, and since 2018 has run every year. KattiJo will be running her first in 2022!
The Mystical Trees
Why "Black Spruce"? Jeff and KattiJo's home base is on a property whose trail backs up to public land. From here you can see expansive views of the White Mountains, Murphy Dome and the Chatanika River Valley—as well as a dense forest of black spruce trees, which are distinctively skinny, even spindly, compared to some other evergreen trees. In fact, they rather look like Dr. Seuss creations when they get weighted down with snow.
Winter Play
Black Spruce's "Scenic Day Mushing Tour" gives you the chance to try both sitting in AND driving the dog sled! You arrive wearing your warmest clothes, and they help supply any outdoor gear you might be missing such as parkas, boots and mittens. After meeting the dogs and learning about the Alaskan Husky breed, they'll teach you how to harness the team, and then you'll learn how to mush! Groups of two or more people use a tag sled—this is a second sled that gets attached behind the lead sled. Tag sleds allow beginners to practice steering and staying upright, without the stress of actually controlling the dogs. It's fun, but you'll also realize why the sport is challenging: you may face plant at least once into the soft, deep snow.
Summer Fun with the Pups
Indeed, a lack of snow does not mean a lack of tours. During the summer and fall—from May through November— you can take a mushing tour with as many as 16 dogs hitched up to their 5-passenger "buggy" (UTV)! Did you know all dog mushers use engine-equipped vehicles for training their dogs during the "no-snow" times of year? This ride-along experience is a rare and unique treat! The seats are also way more comfortable than a dog sled.
The Sky's Not the Limit
So while the tour is ideal for people who love dogs, it's also great for anyone seeking a uniquely Alaska experience. When you're here, you get the freedom to explore and see the dogs in their home setting, without an overly structured schedule. The place—and the experience—just feel organic. As one guest said, "We came to Fairbanks for the northern lights, but this was the best thing we did while we were here."