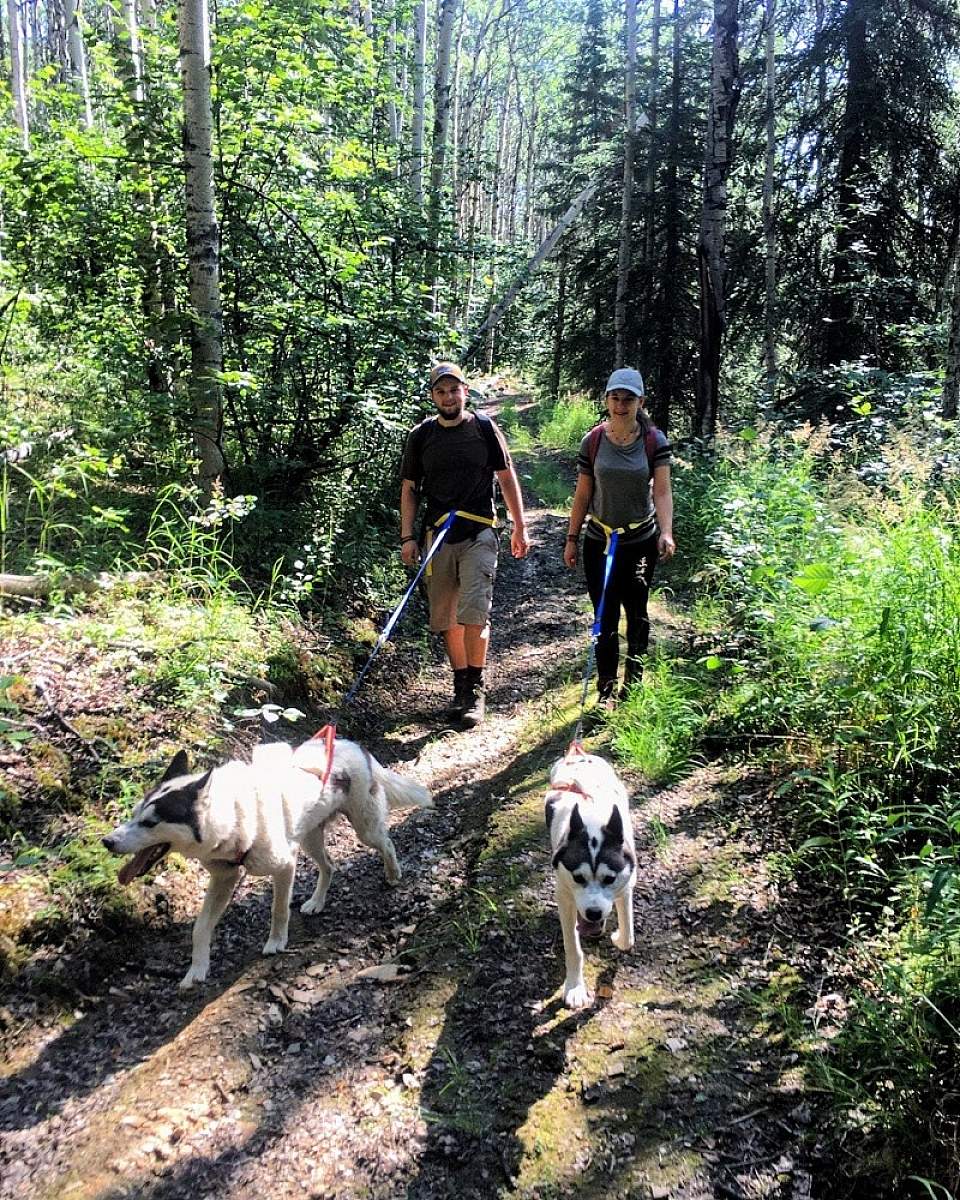 On a multi-day dog sledding expedition out of Fairbanks with Arctic Dog Adventure Co., you'll feel the thrill of powerful Siberian Huskies pulling you across the frozen tundra. Sled past snow-covered mountains, frozen rivers, and spruce forests; at night, witness the magic of the northern lights dancing across the sky.
If you're here in summer, come meet the dogs and go for an unforgettable hike on a 2-hour tour. But in winter, you can really feel what this exciting sport is all about, over a 2- to 7-day trip. You'll even learn how to drive a dogsled—no experience necessary. Pulled by 4 to 6 dogs, you'll speed over the ground at a comfortable pace.
Accommodations range from glamping to cozy cabins, and all food and winter gear is included. Your guide is Lisbet, who's also the company owner and a 3-time finisher of the world-famous Iditarod Sled Dog Race! She spent a lot of time in Norway growing up, has been guiding for almost 20 years, and runs Alaska's first certified ecotourism dogsledding company.
Outside of the stunning scenery, you'll also bond with the dogs and learn all about this amazing sport from a real insider. Lisbet is a third-generation musher – her kennel is the oldest Siberian Husky kennel in the world. Arctic Dog Adventure Co. is the only tour kennel in Alaska to have all Siberian Huskies—one of the original sled dog breeds! Lisbet takes a very holistic approach to her dogs—all are born and raised in the kennel and kept for life.
The Tours
Hiking Tours (Summer)
This 2-hour summertime tour lets you connect with the amazing sled dogs. You'll meet the dogs in an immersive experience, then go on a 2- to 3-mile hike! Geared for all ages.
Everything else below is a multi-day winter adventure!
Aurora Overnight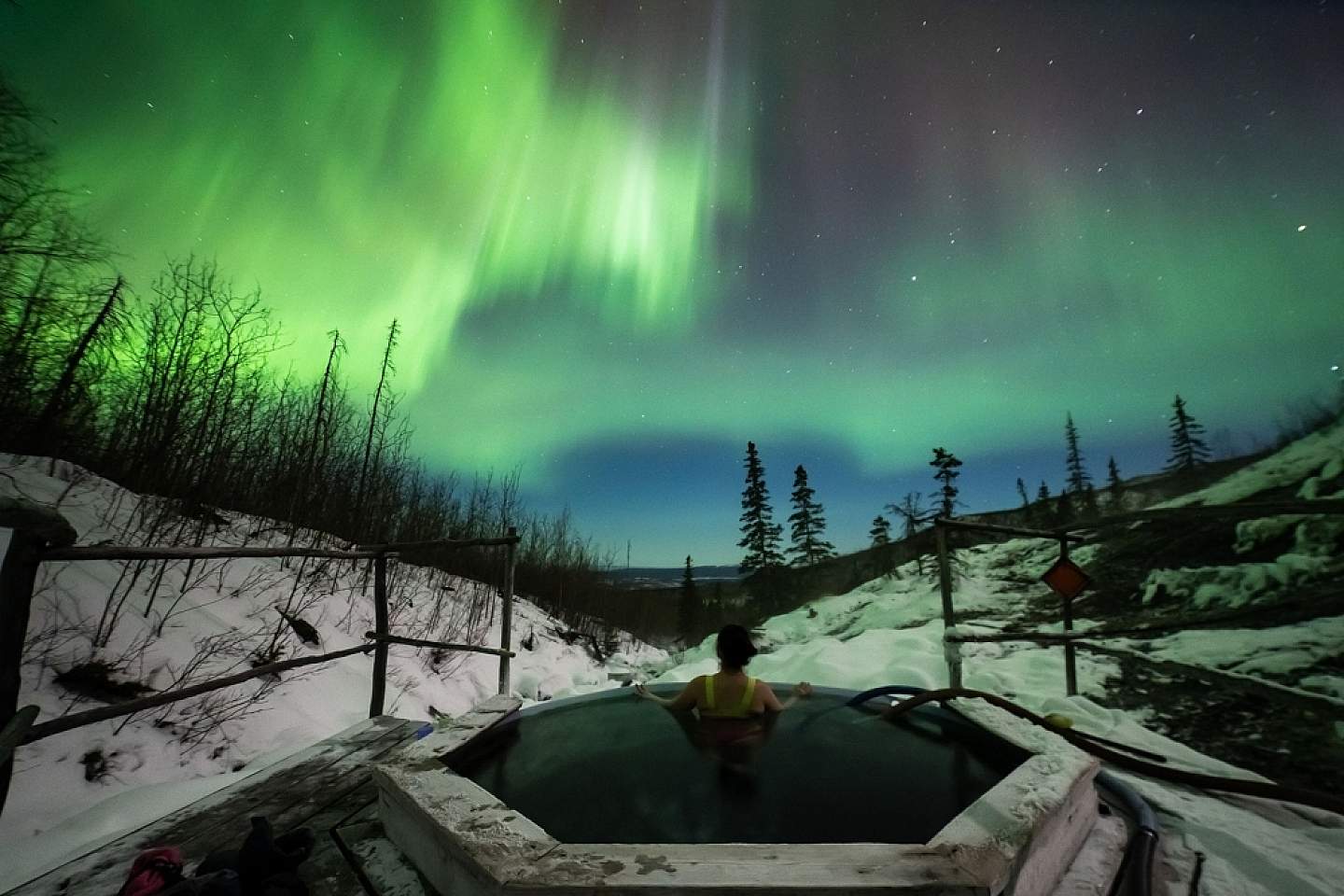 Spend a night glamping in the wilderness on this 2-day trip. Each tent is heated all night long and comes with two twin beds with sheets and goose-down duvets. In true Alaska fashion, there's no running water, but this is still no ordinary camping.
Tolovana Hot Springs Trip
Take a 4-day journey to an oasis that feels like an Arctic paradise. The focus is on seeing the northern lights and includes an extended stay at the hot springs, where you'll find 3 private hot springs with big soaking tubs. Retire each night to a comfy bunkhouse with shared accommodations. Private cabin upgrades are available upon request.
Hut-to Hut-Dog Sledding Adventure
The most popular tour is this 6-day trip through the White Mountains National Recreation Area. This trip is perfect for those who want to explore the backcountry with sled dogs, sleep indoors, and see the northern lights. You'll stay in a beautiful, heated, cozy cabin. There's an outhouse and no running water in these shared accommodations, but you'll hardly notice, as they're uniquely situated for northern lights viewing along high rolling ridges.
Cache Mountain Route
The 7-day trip is the most technical one on offer, due to the remote and rugged terrain. You'll cover 110 miles as you travel a scenic loop through White Mountains National Recreation Area past gorgeous scenery that includes towering rock formations of limestone and granite.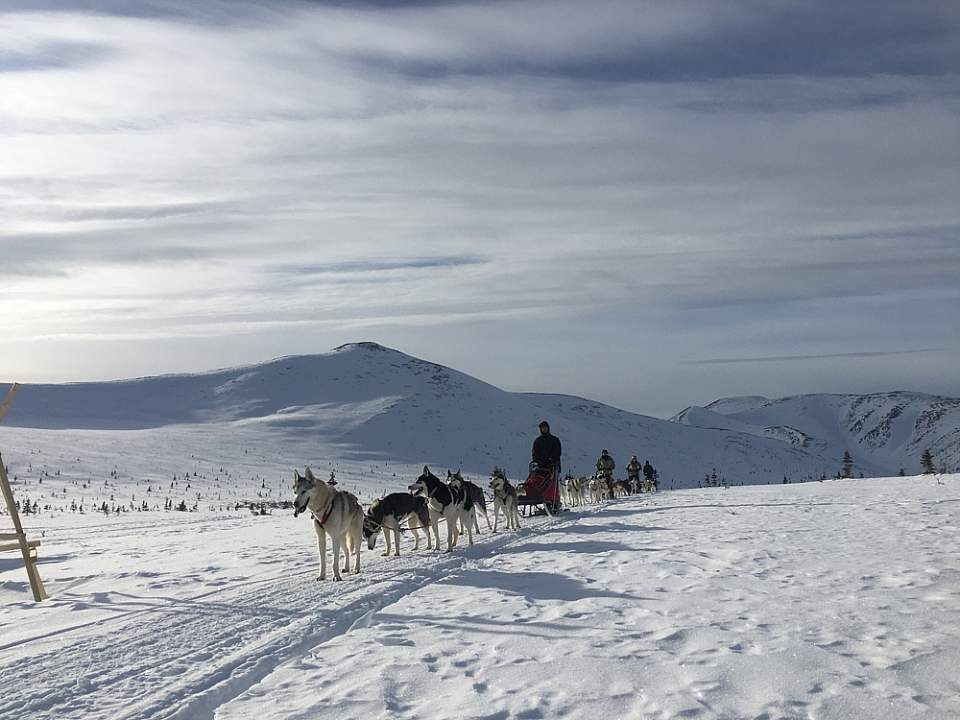 Arctic Circle Basecamp
Head up above the Arctic Circle on this 5-day bucket list adventure. Make a dramatic entrance by hiking in to beautiful private cabin accommodations alongside the Brooks Range, near Gates of the Arctic National Park. With just 2 people per cabin, you'll enjoy plenty of privacy—it's an awesome option for honeymooners!
Harness Your Power: Women's Arctic Dog Sledding Adventure
As nature returns to life in the spring, feel yourself awaken as well on this 5-day trip with a life coach. As you sled, you'll gain the tools to become more confident in the outdoors as well as in your personal life.