Take part in the thrill of winter and fall dog sledding out of Fairbanks. You'll experience the sport with one of Alaska's longest-running dog tour companies—and one of the state's most passionate dog mushers. You can even learn to be a musher yourself!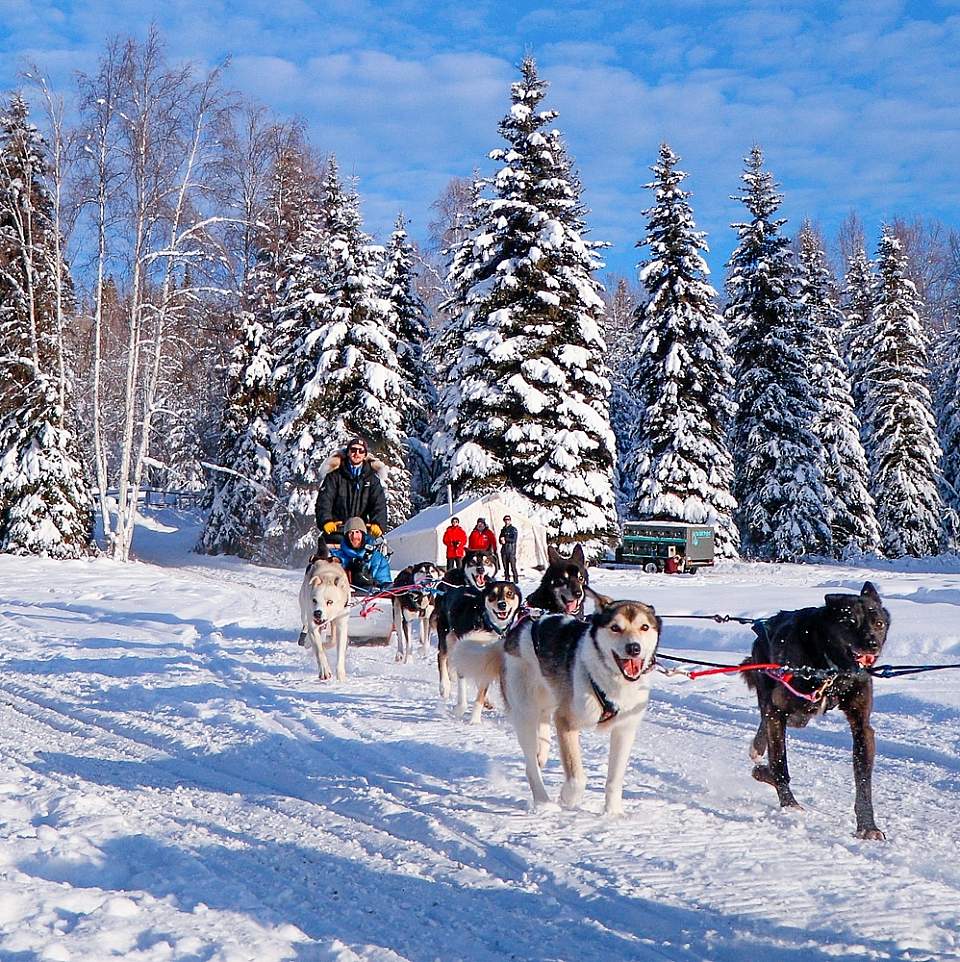 The Experience
If you've never had a team of excited dogs pull you through a gorgeous wilderness of spruce forest and open fields backdropped by the snow-capped peaks of the Alaska Range, this is your chance! Paws for Adventure lets you choose from a variety of tours—everything from a quick spin to a multi-day adventure—or go to mushing school and learn the tricks of the trade! Go in winter and you'll be on a traditional sled like Iditarod racers use; or come in fall, when you can be pulled around in an ATV—a truly authentic training vehicle for these racing dogs.
During your outing, you'll learn the history of dog sledding, some key facts about racing, and what it takes to care for these incredible dogs. Then spend as much time as you like with the cuddly pups at the kennel. It's run by Lesilie Goodwin-Williams, who fell in love with the sport in the 1990s and has created a warm, welcoming, family-style atmosphere. Leslie runs many tours herself; other professional mushers lead the rest, some of whom are finishers in the Iditarod and Yukon Quest races.
Paws for Adventure can take groups up to 10 or, with some advance planning, up to 80. The day tours are great for families (though not recommended for kids under 2), and no experience is required!
The Tours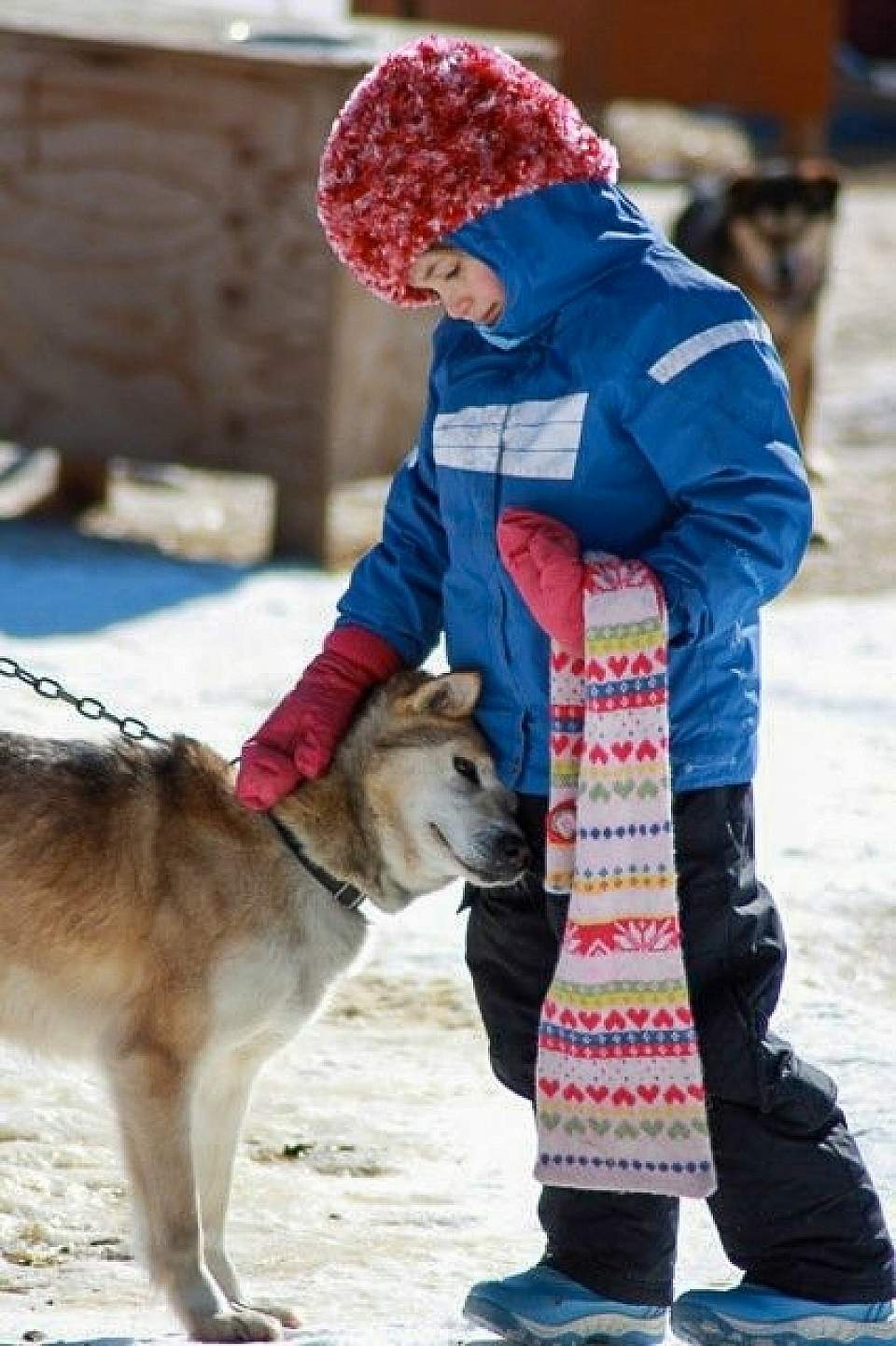 Day Tours
Short Alaska Dog Sledding Adventure (Winter)
Want to get a taste of mushing? You'll spend 20–30 minutes enjoying a thrilling ride in the sled, traveling about 5 miles. (Just be warned—it may give you a taste for more!) Then meet the dogs!
One Hour Dog Sledding Adventure (Winter)
Spend a bit longer on your sled experience—a full 60 minutes! You'll travel some 10 miles of Alaskan wilderness before meeting the pups up close.
Fall Cart Ride (Fall):
Hop on board a side-by-side ATV—an authentic training vehicle that Alaskan mushers use—and set off for anywhere from 20 to 30 minutes, depending on the temperature. (Dogs are able to run longer as the temperature cools.) Then spend some time with the dogs!
Mushing School
Paws for Adventure is about education as much as adventure—and this excursion gives you a hands-on learning experience of what it's like to be a real musher! For around 3 hours, you'll learn how to harness your team of 3–5 dogs and how to lead them over 6–8 miles of varied terrain—including some big turns!
Mushing requires good balance, good physical condition, and a solid level of confidence. Leslie will ask some questions when you sign up for this tour to ensure your success; most people are able to do it, but if you find that you can't, she'll still take you out for an exciting ride!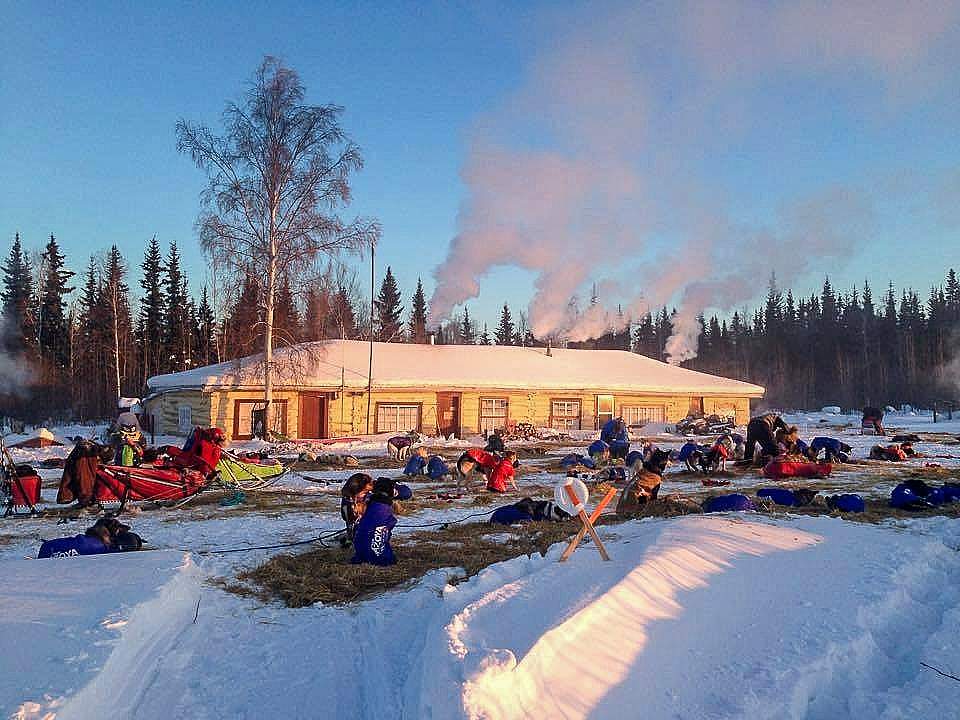 Multi-Day Overnight Trips to Tolovana Roadhouse
The Tolovana Roadhouse is a beautiful, rustic log structure set on the Tanana River and owned by Leslie and her husband, Dave. It's famous for being the first stop on the Serum Run of 1925 and is a stop along the Iditarod Trail (in years when the race starts in Fairbanks). There's a generator for power and no running water; in short, it's a real Alaskan destination! It's the perfect winter basecamp for snowshoeing, ice fishing, snowmobiling, and of course, mushing.
You have a few options to journey to this gorgeous, remote setting:
Fly/mush
Fly 40 minutes from Fairbanks and spend 2 nights at the Roadhouse, then return by dog sled, camping for 1 night along the way.
Mush/fly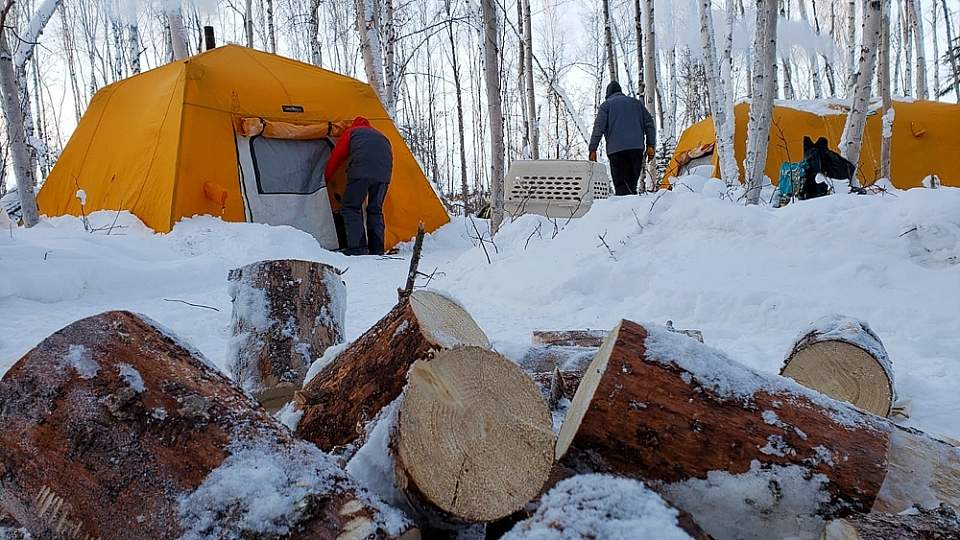 Drive 4 hours to Manley and camp in a warm tent, enjoying hearty Alaskan fare like moose spaghetti or Alaskan salmon. Wake to a warm breakfast such as blueberry pancakes and mush toward Tolovana. Spend a couple nights at the Roadhouse and fly back to Fairbanks.
Mush/mush
Let the dogs pull you each way! You'll camp 1 night in each direction. Once at Tolovana, you can spend a night or stay a few days.
Fly/fly
Skip the camping and fly both ways. You can still enjoy thrilling mushing outings from the Roadhouse.
Whichever way you choose to go, these fun, immersive trips will make you feel like you're part of a family, experiencing the wilderness together in a truly Alaskan way. No prior experience is necessary—Leslie will teach you what you need to know—and safety is paramount.
The History
Leslie came to Alaska in 1993 to teach in the Alaska Bush. She had always loved dogs, and when she participated in a local dog sled race, she was hooked. She got her first dogs the first year she was there, and after 5 years of teaching, she knew that dog sledding was going to be the next thing in her life!
She ran her first mushing school trips from Chena Hot Springs, then decided to pursue her passion on a homestead property close to Fairbanks. Education was always her primary focus, so she continued the mushing school, and the businesses later expanded into adventure tours. Today, Leslie has 50 dogs and operates at 5.5 mile Chena Hot Springs Road, on an original 300-acre Fairbanks Homestead that connects to an extensive system of trails in the Chena River Valley.