Everybody loves sled dogs, and Salmon Berry Tours offers you the chance to get behind the sled year-round.
Dallas Seavey Dog Sledding Tours
Winter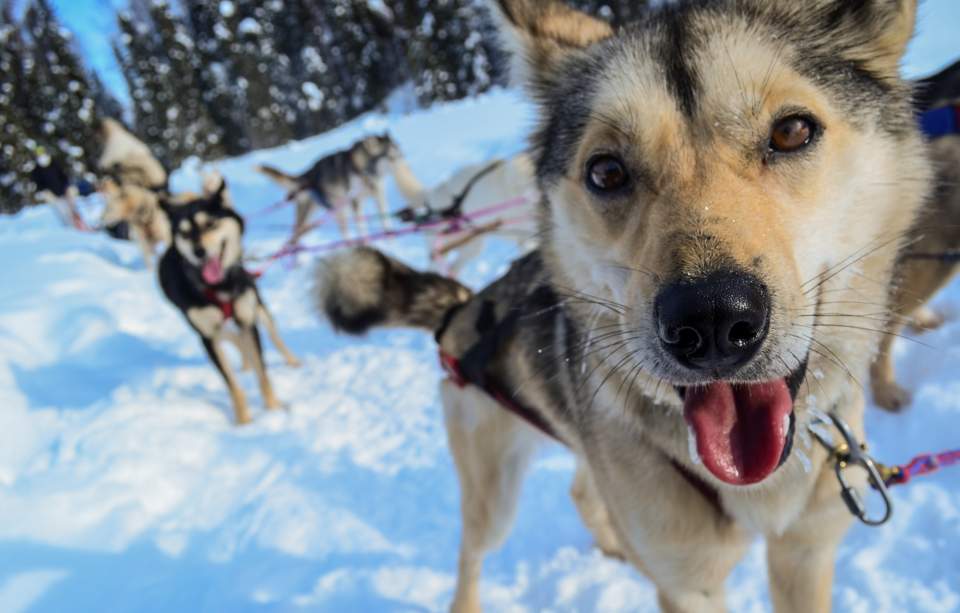 This tour gives you a front-row seat with Alaska's version of a dream team—the Dallas Seavey Racing team—as you learn about what it takes to train some of the best canine athletes in the world—and compete in the "Last Great Race." Your local guide will pick you up and take you along the snow-lined roads north into Talkeetna; along the way, you might stop for photos of Mt. Denali (if the skies are clear, you get a great view). Once at the kennel, you'll see a gear demonstration, get to ask questions of the mushers, and have a meet-and-greet with the dogs. Then, you'll really get hands-on. Each two guests will share a sled with a small team of 4 – 7 Alaskan Huskies, taking turns driving the sled on a 5-mile groomed trail through the beautiful boreal forest. Halfway through you'll enjoy a break to take in the scenery and photograph the dogs. The final half of your mushing journey is modeled after the Iditarod Trail where you'll pass by replica Iditarod Markers before you finish under the famous Burled Arch! After your tour, warm up over a hot lunch before heading back into Anchorage.
Summer & Fall
Just like the winter tour, you'll head north from Anchorage to Homestead of Dallas Seavey in Talkeetna. At the Kennel, you'll meet the dogs, learn about the gear needed to mush, and then it's time to mush! A wheeled dog cart and dog steam is shared by two guests, where you'll guide your team through the groomed paths of the boreal forest. There will be a lead guide and tail musher to ensure everyone stays together. Back at the kennel, it's time to meet the puppies (with plenty of time for photo-ops) before heading back to Anchorage.
Iditarod Ultimate Family Field Trip
This special 10-day itinerary offers both close-up access to the world-famous annual race and plenty of hands-on adventures for every family member. You'll start in Anchorage for the best of the pre-race festivities: a hike along the trail, admission to a dinner with the mushers, and fun at the annual Fur Rendezvous Festival. You'll watch both the ceremonial start in Anchorage and then the Official Start in Willow Lake. Once the Iditarod racers head toward Nome, you embark your own adventure, heading first to Talkeetna—including trying your skills along the training trails of Dallas Seavey Racing—then exploring the winter-friendly parts of Denali National Park, with a trek through the boreal forest. The trip ends in Fairbanks, with aurora-watching and ice sculpture viewing at the World Ice Art Championship.
Salmon Berry Tours' Creative Packages
When Candice McDonald left her job at a large tour company to start Salmon Berry Tours, her mission was to keep her groups small and personal. So she hired only Alaskans and used vans instead of buses. It's worked. From Candice's original Anchorage city tours and Portage Glacier trips, she's added dog mushing, glacier treks, flightseeing, gold mine tours, custom itineraries, and more. People love these tours not only because they're great trips with great guides, but also because they're all-inclusive: transportation, logistics, and entrance tickets are all taken care of. And your Salmon Berry guide will be with you the whole time, so you're guaranteed professional, seamless service.

Salmon Berry Tours offers a seemingly endless number of trips. In addition to their own creative itineraries, they also pair up with top-flight guiding companies to create dream trips. Or, they take popular tours and make them better—like adding an extra stop on their city tour to get a panoramic view of Anchorage. They also allow the guests to get out of the vehicle and walk around for a better view to take pictures! Salmon Berry Tours is open year-round, operating out of their downtown office, across the street from Anchorage's Log Cabin Visitor Center. Stop by or call and they'll help find a trip for you, regardless of the month. They'll even work with you to custom-craft itineraries, from half-day trips to multi-day adventures.