Alaska's glaciers are stunning to behold from a distance. But these rivers of ancient ice are even more beautiful and fascinating when you go walking on them with a knowledgeable guide! And that's exactly what you can do when you visit the Matanuska Glacier with Salmon Berry Tours.
Journey to the Glacier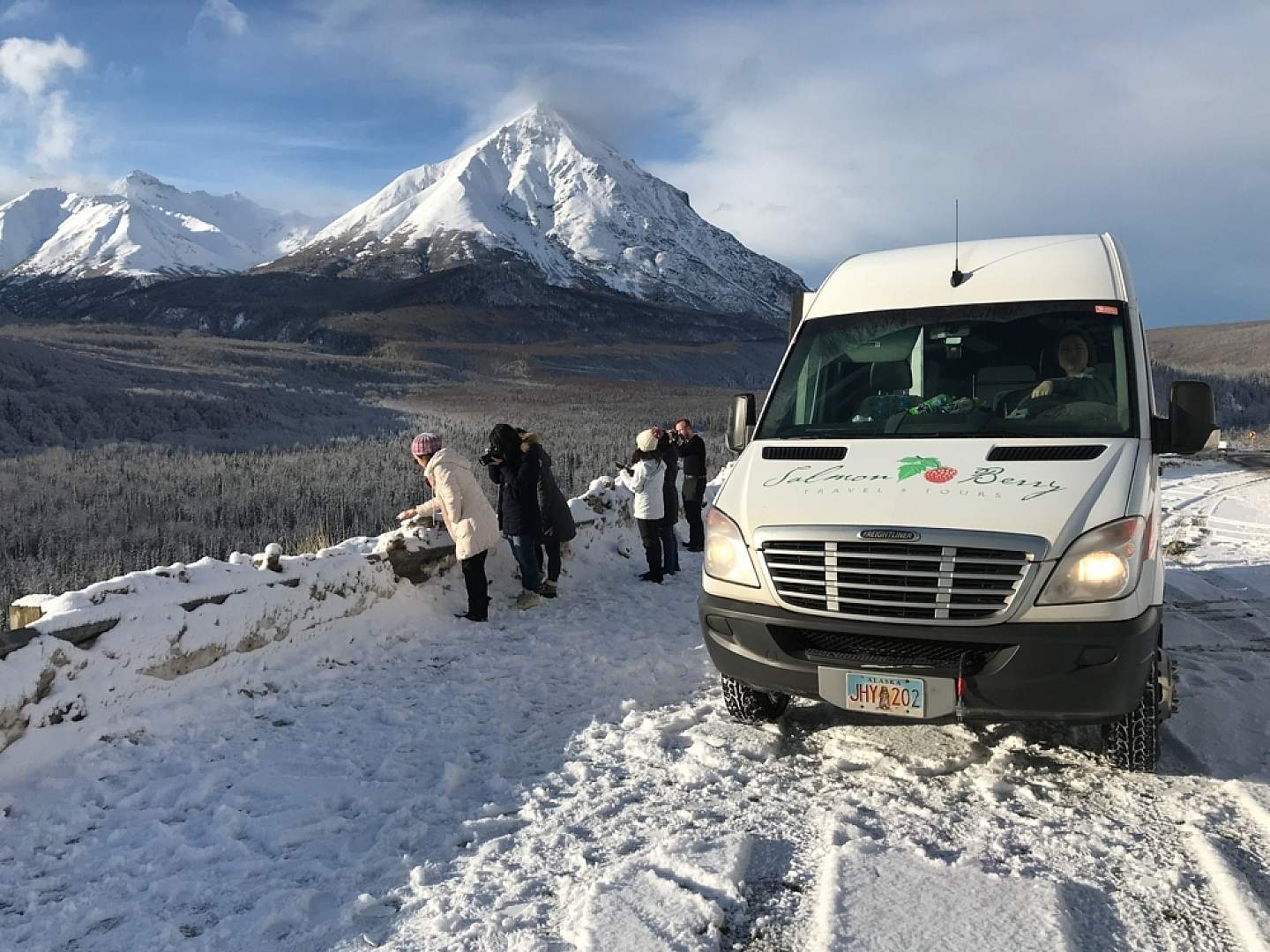 Walking out across the ice of Alaska's largest road-accessible glacier is an unforgettable experience that you can take advantage of year-round—and it's just a two-hour drive from Anchorage. Starting with a pickup at your Anchorage hotel, you and your small group will enjoy a guided tour up the gorgeous Glenn Highway, with stops to take photos of the glacier that you'll soon be walking on.
Once you arrive at the glacier, you'll get equipped for your unique walkabout with a helmet, trekking pole, and microspikes, which fit over your sturdy shoes. Then get ready to explore! You'll spend around two hours out on the ice with your local Alaskan guide (who's trained in wilderness first aid, rescue, and CPR), learning about its unique qualities as you take in the magnificent spectacle before you.
Summer on Ice
Every season brings a new twist on the experience, and all are endlessly fascinating. In summer, you'll hike over the moraine of the glacier toward the toe, walking around a melted pond to get to the ice. Even on a busy day, you'll have enough space to soak in all the sights and sounds of this living creature as it moans, pops, and crackles. Look for all of the colors of ice—white, black, and blue—as well as amazing glacial features like crevasses.
Winter Blues
Winter presents a really cool opportunity, as this season is often the best time to experience the bright blue of the glacier's ice. You'll take the same approach, but that melted pond is now frozen over, so you'll walk over the snow-covered moraine. And in winter, your provided gear also includes rechargeable electronic hand warmers to keep your fingers warm! (Also, if you're in Alaska to see the aurora borealis, you'll have plenty of time to return to Anchorage, grab dinner, and take a nap before heading out for the show.) The spring and fall shoulder seasons also present new faces of the glacier; during these transition times, the ice changes constantly and you never know what you'll get.
After filling up your phone's camera with dramatic photos, you'll enjoy an included lunch at a local lodge near the glacier before driving back to Anchorage.
About Salmon Berry Tours
When Candice McDonald left her job at a large tour company to start Salmon Berry Tours, her mission was to keep her groups small and personal, so she hired only Alaskans and used vans instead of buses. It's worked. From Candice's original Anchorage city tours and Portage Glacier trips, she's added dog mushing, glacier treks, flightseeing, gold mine tours, custom itineraries, and more. People love these tours not only because they're great trips with expert guides, but also because they're all-inclusive: transportation, logistics, and entrance tickets are all taken care of. And your Salmon Berry guide will be with you the whole time, so you're guaranteed professional, seamless service.
Salmon Berry Tours offers a seemingly endless number of trips. In addition to their own creative itineraries, they also pair up with top-flight guiding companies to create dream trips. They also take popular tours and make them better—like adding an extra stop on their city tour to get a panoramic view of Anchorage. Plus, they allow guests to get out of the vehicle and walk around for a better view—and better photos! Open year-round, Salmon Berry Tours operates out of their office in downtown Anchorage, across the street from the Log Cabin Visitor Center. Stop by or call and they'll help find a trip for you, regardless of the month. They'll even work with you to custom-craft itineraries, from half-day trips to multi-day adventures.