Experience the excitement of racing champion sled dogs at the Alaska Mushing School, just 75 minutes from Anchorage. Get a professional's look into the mushing lifestyle as you ride behind a team of energetic sled dogs on trails connected to the famous Iditarod route. Bundle up and ride in comfort, or brave the cold and drive the team yourself!
For thousands of years, sled dogs have been depended upon as a critical means of winter travel in Alaska's wild and remote reaches. In fact, up until the 1940s, people still relied on these hard-working dogs to help deliver U.S. mail to rural villages. You can learn more about this history and experience the thrill of mushing yourself through the Alaska Mushing School. The school is a cooperative venture of several professional mushers, who want to share their passion with visitors and teach them about the dogs and this unusual – but very Alaskan – lifestyle.
Mush On!
Most Alaska Mushing School rides begin at the Happy Trails Kennel in Big Lake, Alaska, operated by four-time Iditarod champion Martin Buser, who is also a 2017 Inductee into the Alaska Sports Hall of Fame. When you arrive, the first stop is the Visitor's Center, a large structure with huge glass windows, and racing memorabilia such as sleds and trophies. You'll watch a 19-minute video narrated by Buser that illustrates the year-round lifestyle of a dog musher, including clips from the trail. Check out the 10-foot map of the Iditarod trail, sleds, gear and then it's off to the kennel to meet sled dogs of all ages – from puppies to up and coming dogs, current leaders, and retired dogs who are sure they've still "got it."
The kennel accommodates about 50 dogs and is set up so you can walk through the middle, greeting dogs on both sides. Once you reach the yard, you'll hear how excited the dogs become as they bark loudly for attention and the chance to be chosen to run. You'll meet the dogs for your team, take some photos and try to remember their names. Maybe Flash will lead the way, or his sister Quick, who's just as excited but provides some maturity to Flash's sheer exuberance. Hooking them to the sled is a practiced art, as they literally jump for joy at the prospect of heading out on the trail once again. Any musher will tell you – it's easy to get dogs to go, but it takes some skill to get them to stop!
Personality and potential energy
Each sled dog offers its own talents, training, and personality. Your driver knows them well, and will take many factors into account when choosing which ones to hook up to your sled. Some work harder than others, or better with a sibling nearby. Some are in training, so look to lead dogs for guidance. Others might be so strong and fast that they are worth two other dogs. One commonality: they all love to run. Learning how to rest is one of their biggest challenges, and you'll see that during photo breaks on the trail. Even while stopped, you'll sense their potential energy, surprisingly powerful and seemingly limitless. Your driver can tell you about each dog, its best position, personality quirks – and what they'll try to get away with given the chance!
Out on the Trail
Head out over frozen tundra on trails at the end of the road system. Away from cars and communities, you'll get a sense of the quiet – of being out in the wilderness with just you and the dogs. Mount Susitna is usually always visible unless it's snowing, and on a clear day, Denali looms in the distance, about 140 miles north. Mush past thickets of birch and spruce, the sled runners sliding over snow and the dogs running swiftly, leading you on. If you let them keep going, you could mush on the Iditarod trail all the way to the Bering Sea.
When you're on a morning run, the sun sits low on the horizon, creating a pink glow perfect for photos. As the dogs muscle through this five-mile trail, there's always excitement for them and a question of what's around the next bend. About half the time you'll spot moose. Ravens abound. You'll hear them cawing, and sometimes they even provide an honor guard, flying ahead of the team.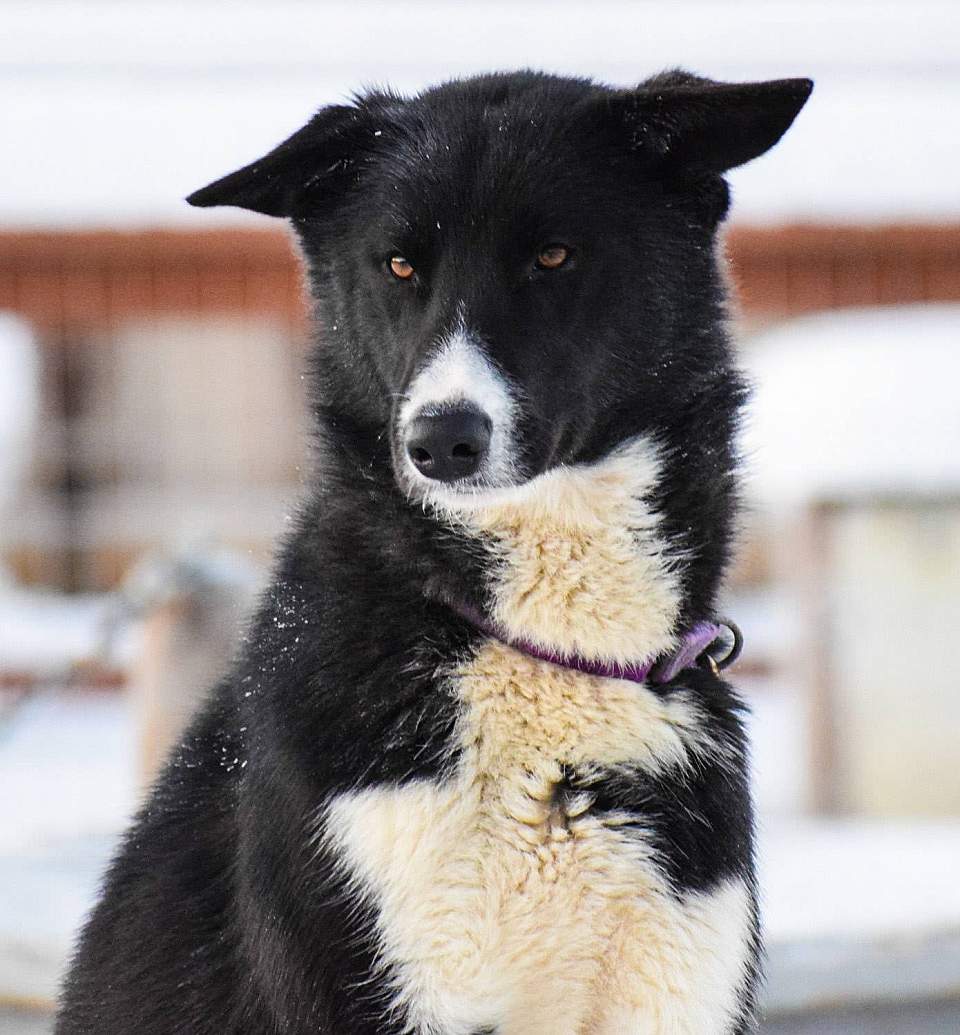 Tour Options
Winter Classic Dog Sled Ride
Sled dogs can do phenomenal things, and you'll get just a taste of their power on the classic dog sled ride. Choose to stand on a tandem sled with your driver, or get tucked in like a sardine for the 30-40 minutes out on the trail. The dogs grow loud and boisterous while being hooked to the sled, but once your driver calls, "Ready!" they snap to attention, pointing forward. With an "All Right" and a step off the brake, the dogs jump forward to do what they do best. While running, they are mostly silent, but you'll likely hear the rest of the kennel howling in unison as you mush off into the woods. Your driver will keep a marathon pace of about 10-11 miles per hour. At a couple of points along the trail, you'll stop for some quick photos, and then the dogs are off again. Once back at the kennel, they will be unhooked to run around and play for a few minutes before returning to their houses. You'll enjoy a hot drink to warm up, and can take more pictures under the Happy Trails burled arch, reminiscent of the one marking the Iditarod finish line in Nome.
Winter Half-Day Mushing School
It's the ultimate sled dog experience and a safe but adventurous way to experience the thrill of running your own team. Mushers will bring a working sled into the theater to show you its features (note: the brake is most important!). You'll check out the gangline where dogs are hooked up, and even try harnessing a few yourself. Before running with the dogs, your sled will be hooked up to a snowmachine (snowmobile). You'll get to practice everything while being pulled about a half mile to a mile up and down different turns. Finally, you'll meet your team. You can help harness them or get used to your place on the back of the sled while another driver deals with their exuberant antics. When you call "Ready" and then "All Right," hang on for a five-mile ride that will help you understand firsthand what the attraction is for drivers who make this a year-round commitment. To ensure the safety of yourself and the dogs, you will be escorted on the trail by a snowmachine, another dog team, or even both. Upon returning to the kennel, be sure to get more photos, and warm up with a hot drink or lunch. Now you can say you've driven a dog team in snowy Alaska, just miles from the Iditarod trail.
Winter Full-Day Mushing Adventure
Similar to the half-day mushing school, you'll be running your own team just like an Iditarod musher. This is the most hands-on of all of the tours offered by Alaska Mushing School. First you'll meet your team, learn about their personalities and which position each dog belongs in. Practice maneuvering the sled, learning the commands and how to outfit the dogs in their harnesses. From there, you'll take off down the trail to Alaska Mushing School's winter training camp where you'll park the team and feed them, just like at a race checkpoint! And, it's your turn to rest too. Enjoy a warm campfire and a hot lunch before getting back on the trail for the return trip. If you'd prefer to simply enjoy the ride, this adventure is also available as a full-day experience without learning to drive the sled. This adventure departs from Willow, about an hour and a half north of Anchorage. There is no shuttle provided for this adventure and advance reservations are required.
Buser Bed & Breakfast
Want to see more of the dogs or arrange a nighttime dogsled ride under the stars or maybe even the northern lights? Stay at the original Buser homestead, located right on the property at Happy Trails Kennel. This is where Martin and his wife Kathy raised their children, and his winning dog teams. The Swiss-inspired building greets guests with a central circular column and offers four cozy rooms, self-serve breakfast and lots of Iditarod memorabilia to pore over. It was converted to a bed and breakfast a few years ago, and is a charming place to enjoy a relaxed, extended mushing vacation.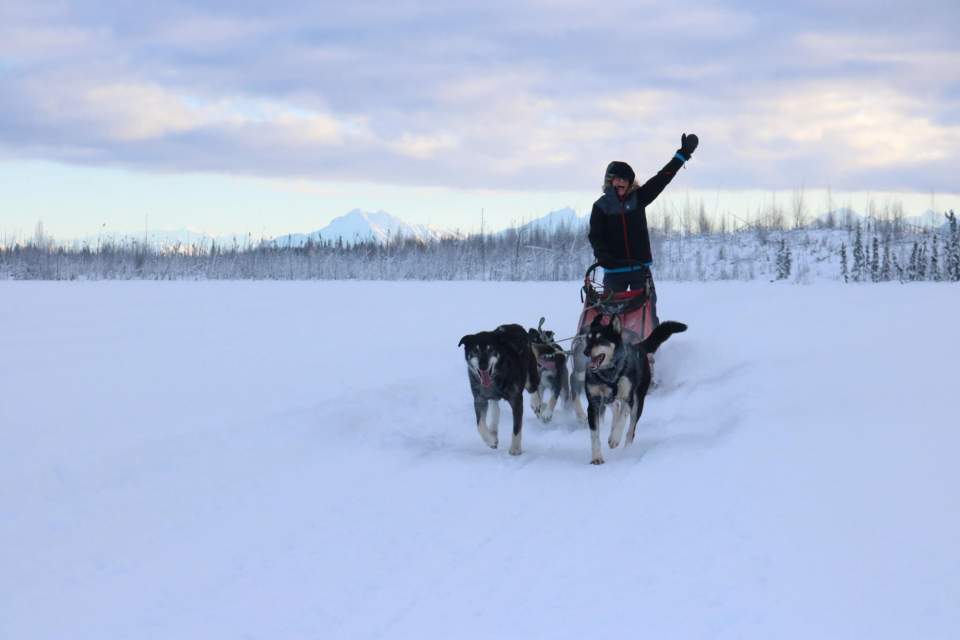 All you need are dogs, gear – and snow!
Your winter Alaska sled dog experience would not be authentic without snow! Alaska Mushing School operates from two locations, depending on the amount of snowfall. The default location is the Happy Trails Kennel in Big Lake. During low snow conditions, you'll travel to Willow, the official starting point of the Iditarod. Also 75 minutes from Anchorage, the Willow location highlights the 17th Dog Kennel, operated by six-time Iditarod veteran Matthew Failor.
Gear is an important part of enjoying the experience, and Alaska Mushing School provides parkas, snow pants, mittens and boots for all guests. To increase your comfort, be sure to choose wool or synthetic long underwear as your baselayer and wear any warm layers you already own or prefer.
About Alaska Mushing School
Voted "Best Winter Adventure Tour Company" in 2018 & 2019 for the Anchorage Daily News "Best of Alaska" awards, Alaska Mushing School is run by a small group of professional dog sledders who want to share the spirit of this incredible lifestyle with others. Every tour is led by a working driver who will give you an authentic look at what it takes to raise, train, and drive a team of dogs. All drivers are active racers, so you'll want to ask about their schedules so you can follow their progress later! Choosing an Alaska Mushing School tour not only gives you a truly Alaskan experience, but helps support local mushers and their dogs.