Step aboard Princess Rail, a double-decker car with 180-degree dome views, a dining area, and large open-air platforms. Princess offers a variety of packages—departures originating in Anchorage or Fairbanks, and staying one or two nights at either Mt. McKinley Princess Wilderness Lodge, a Denali-area hotel—or both.
Stay Awhile - Multi-Day Packages
Independent travelers can enjoy all the views and amenities of Princess Rail by booking a seat, however most opt for a multi-day package featuring rail transportation, hotel accommodations and transfers between the rail depot and their hotel. Guests can choose from blue or yellow packages departing from Anchorage or Fairbanks.
Blue Packages
Blue packages range from 1 – 4 nights with overnight accommodations in Denali, near Talkeetna in Denali State Park, or both. Tours depart from Anchorage or Fairbanks but do not include hotel stays or transfers to/from the rail depot in the departing and arriving cities.
Yellow Packages
Yellow packages range 3 – 4 nights and include overnight accommodations in Denali, near Talkeetna in Denali State Park, or both. And, they include accommodations in Anchorage and / or Fairbanks at the beginning and end of your tour.

Visit website for all itinerary options.
Onboard Experience
Plenty of Space for Enjoying the Views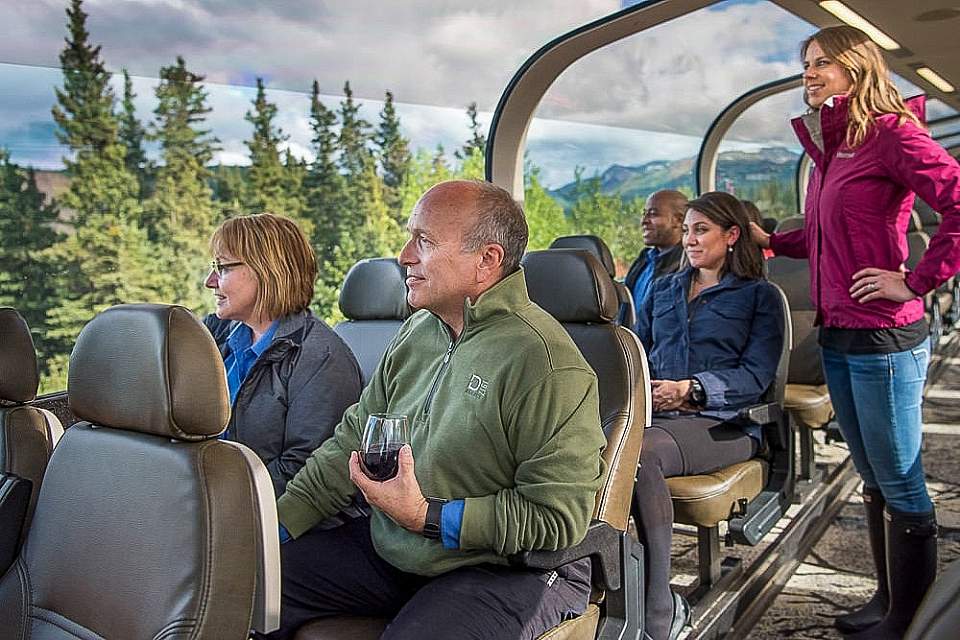 You'll be moving through the Alaskan countryside on large domed train cars. As you take in the 180-degree view, share the experience with your family, or meet new friends as you chug your way north from Anchorage or south from Fairbanks. Listen to the interesting commentary provided by your onboard hosts. Then step outside to take in some Alaskan fresh air. The large outdoor viewing platforms allow for many people to be outside at once and reduce crowding.
Cool Technology, Delicious Food
Check out the GPS system that maps your precise spot and offers historical facts about your current location. You'll travel past raging rivers, the towering peaks of the Alaska Range, the bridge spanning Hurricane Gulch, and endless forests.
When you get hungry, go downstairs to the dining room. Look out the five-foot picture windows as you sit down to delicious cuisine. Or settle in and get comfortable, there's also table side service.