Seeing Alaska's many scenic wonders by train is both relaxing and fun – and many travellers recommend a domed car for clear views in all directions. Wilderness Express domed cars are one option for great viewing on Alaska Railroad routes north of Anchorage. They provide an upgraded experience at a tremendous value.
Imagine your train making its way past the Chugach mountains, over trestles, and through Broad Pass, offering stunning views along the way. Take in every breath-taking moment with the unobstructed view offered by full-length glass windows – right at your own seat on the Wilderness Express.
The four Wilderness Express luxury cars were custom-built for use on the Alaska Railroad, and although privately-owned, they are pulled by Alaska Railroad locomotives on its Denali Star Route running between Anchorage, Talkeetna, Denali Park and further north, to Fairbanks.
Last Cars, Lasting View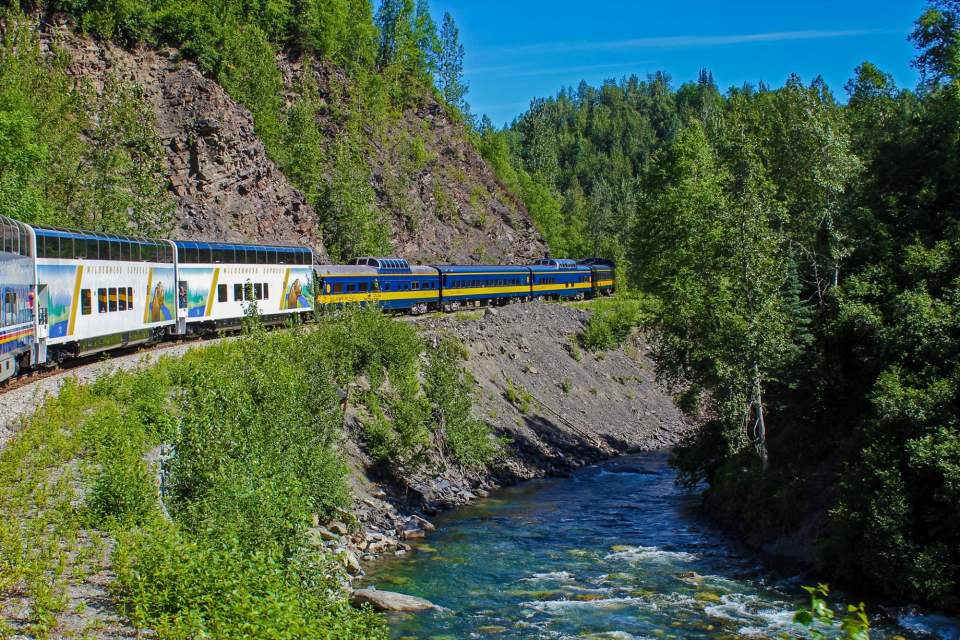 Ever want to ride in the caboose? Wilderness Express cars are typically the last cars on the train. This location provides unimpeded views of amazing Alaska scenery, as well as the train curving ahead of you as it winds its way toward your final destination. There are even points along the way when you can photograph the entire train ahead with Mt. McKinley in the distance.
Exceptional Value
Independent travelers will find seating on the Wilderness Express more affordable than other dome cars, offering an exceptional value for the price. (For quick comparisons to features, amenities, and rates for all dome cars on Alaskan routes, visit AlaskaTrain.com).
Each car features an upper level with a full-length curved glass dome, ensuring unobstructed views for 80 passengers. Reclining leather seats are forward facing and are considered by many to be the most comfortable seats available on any train service in Alaska.
Friendly Service, Flavorful Food
As you ride smoothly along the rails, a friendly host will point out highlights along the way, including wildlife sightings (keen eyes might help spot eagles or moose). Enjoy the convenience of a full bar service upstairs with espresso, cocktails and other beverages for sale.
For full meals, head down to the restaurant on the lower deck, which accommodates 36 diners at a time. Take in breakfast, lunch and dinner without missing a moment of the gorgeous scenery rolling past. Unique Alaskan items include favorites such as Dungeness Crab Bisque and Reindeer Sausage pasta. The menu offers variety for several palates, including gluten-free and vegetarian options. Delicious desserts, coffee cocktails and a range of specialty drinks and Alaskan beers round out your dining experience.

Travel tips
Royal Caribbean and Celebrity cruise lines often book passengers on Wilderness Express cars. Especially on a longer trip, you can make new friends from around the world who are also enjoying Alaska's majestic sights by rail.
Many travelers like to combine a train ride with coach service for a slightly different experience on the return trip. Booking for coach and train legs can be done at the same time.