It may be the same locomotive pulling all the cars on the scenery-rich ride from Anchorage to Denali, but Gray Line Alaska's private luxury McKinley Explorer railcars travel on a custom schedule. Visit the whistle-stop town of Talkeetna, or ride through the massive peaks of the Alaska Range, en route to Denali National Park.
Stay Awhile - Multi-Day Packages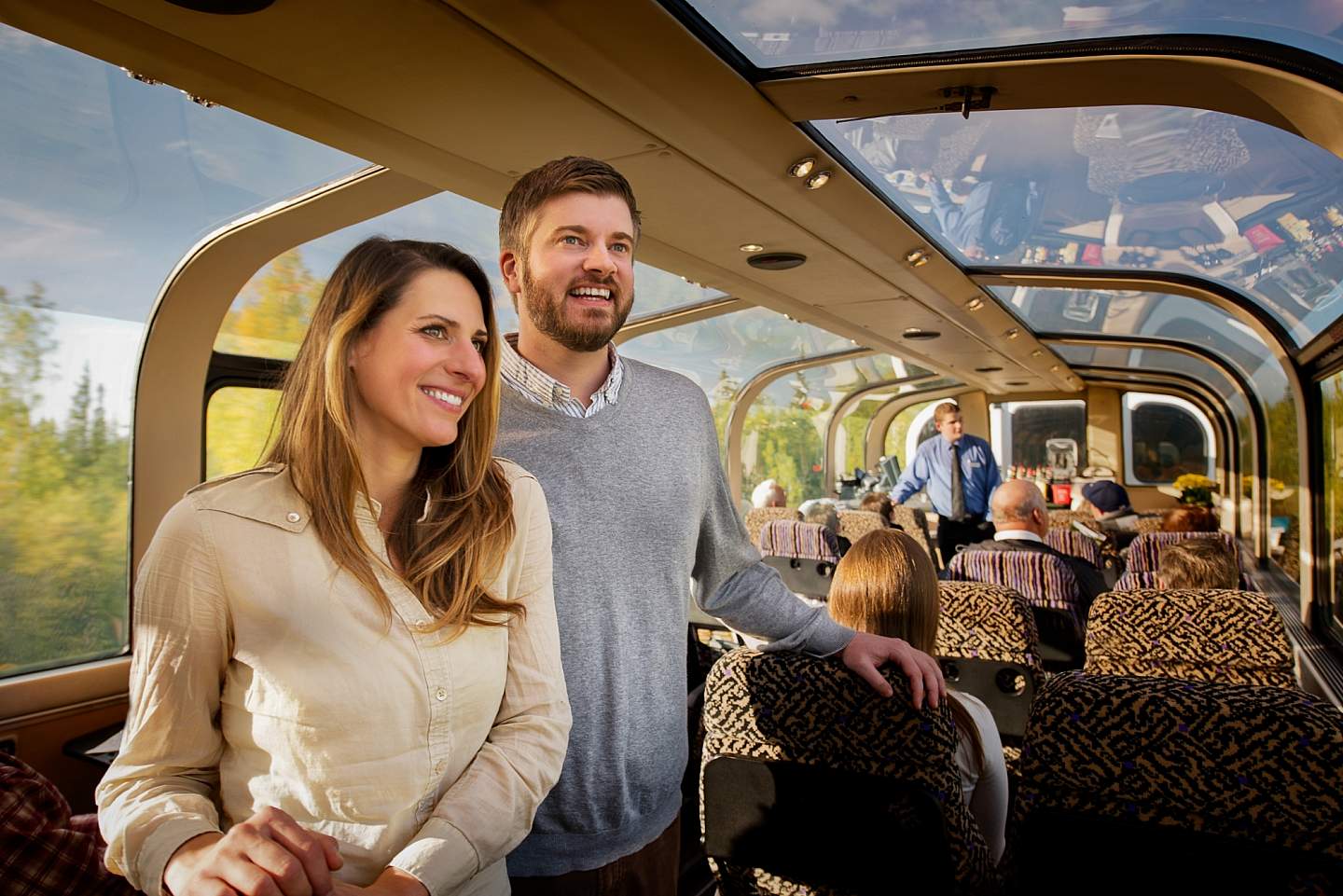 While independent travelers can book seats for this comfortable, amenity-laden service, most opt for a full multi-day package featuring rail transportation and lodging. Guests can choose from blue or yellow packages departing from Anchorage or Fairbanks.
Blue Denali Rail Tours
Blue packages range from 1 – 4 nights with overnight accommodations in Denali, near Talkeetna, or both. Tours depart from Anchorage or Fairbanks but do not include hotel stays in the departing and arriving cities.
Yellow Denali Rail Tours
Yellow packages also range from 3 – 4 nights and include overnight accommodations in Denali, near Talkeetna, or both. Plus, they include accommodations in Anchorage and / or Fairbanks at the beginning and end of your tour.
Gray Line Alaska also offers longer tours ranging from 5 to 8 nights featuring travel aboard McKinley Explorer railcars. Tour options include Explorer Tours, Self-Drive Tours and Escorted Tours.
Visit website for all itinerary options.
Onboard Experience
Double Level Cars with Domed Windows
Every seat takes advantage of the 180-degree dome view, and all of them face forward—a plus for those who don't like riding backwards. The glass is high overhead and there's plenty of leg room. Around you, you'll find wide aisles, tasty cuisine, and great service.
Dining Area
When it's time to eat, go downstairs to the dining area. With lots of space and only two sittings, you'll be able to eat at a convenient time. Depending on the leg you are on they serve breakfast, lunch and dinner. There is bar service under the dome from the friendly bar keep or in the dining room.
Narration Included
Your car manager will also be your tour guide. Providing an interesting and informative narration throughout your trip. Check out the GPS-assisted monitor in each car that tracks your exact location along with things like average speed. Or go out to the covered viewing platform, for a breath of fresh air. There is even a gift shop so you can pick up that perfect gift for someone back home.