Pedal past glaciers, mountains, water, and historic sites on this active, insider look at the Capital City with Cycle Alaska. The company features local guides, small group sizes, and a variety of bike tours. Here are your options.
Bike and Brew Tour
Cycle Alaska boasts that this tour provides a three-in-one experience: biking, the Mendenhall Glacier, and beer tasting. But it's even more than that. It's a bike ride, a short walk, a history lesson, a photographer's dream, waterfront views, and amazing Alaska beer sampling. And you'll see the mighty Mendenhall Glacier from three different perspectives.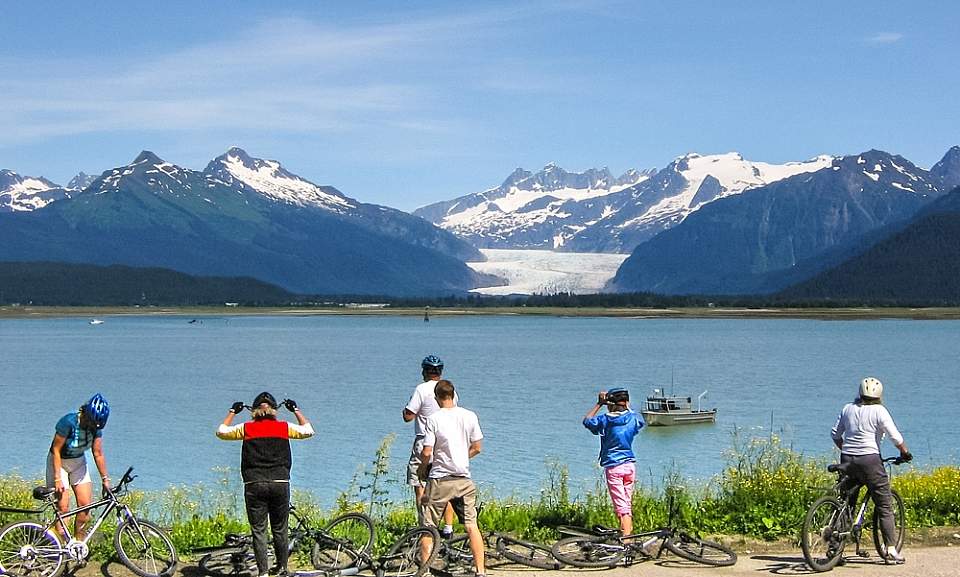 You'll start with a van ride to a quaint log chapel, Chapel by the Lake, beside Auke Lake, where you'll be outfitted with a custom bike and gear. Then you'll ride 8.5 gentle miles, stopping at photo viewpoints before arriving at the Mendenhall Glacier. Then it's off on a short walk to see a salmon-spawning stream, a landscape sculpted by ice, and the Mendenhall Glacier.
Then you'll take a short van ride back to town for a tasting of beers from around Alaska. Overlook the water at the old seaplane hangar and sample fine brews from microbreweries in Anchorage, Fairbanks, the Kenai Peninsula, and Juneau.
Bike and Tram Tours
If you're looking for a fun, family-friendly ride, this is the one. Mostly downhill, it's easy for the kids, and your tour will take you from mountainsides to the ocean with panoramic views along the way on Douglas Island where you can spot bald eagles.
One really cool part of this tour is traveling across the channel to Douglas Island. From here, you'll head up the mountainside of Juneau's ski resort and get a unique vantage point on the Capital City. Then it's downhill 1,200 feet on a paved road to the ocean! Ride along the shoreline where you have great views of the Mendenhall Glacier, then hop in a van and head back to town for a tramcar ride up Mount Roberts. One of Juneau's most popular attractions, the tram takes you 1,800 feet above town. From here, you're on your own: take a walk in the mountain alpine, explore the nature center and viewing platforms, watch a free movie on Tlingit culture, visit a gift shop, or dine at the restaurant and enjoy the best view in Juneau.
Custom Tours
Want to go on a guided custom designed ride? From endurance rides to tailored tours of Juneau, Cycle Alaska will work with you to create an itinerary to meet your personal interests. Call upon their knowledge on trails, roads, and riding conditions as you decide what ride is good for you. Or if there are specific places such as the Alaska Museum you want to visit, just ask. Whatever you choose, you'll go with their local guides and you can add van support. Just tell them what you're looking for and they'll make it happen.

About Cycle Alaska
Owners John and PeggyAnn McConnochie arrived in Alaska 32 years ago. Three decades later they're still here, still entranced by the beauty of the wilderness and the quality of life in Alaska's Capital City. Dedicated to protecting what brought them here, they have pioneered low-impact, high-quality tours.
Their bike trips combine van rides and cycling, so you'll see Juneau's landmarks without wearing yourself out on hill climbs or hugging the shoulder of busy roads. Cycle Alaska is dedicated to squeezing as much as possible into their tours—and equally dedicated to keeping the tours affordable.
On these trips you get the best of Juneau—biking to the Mendenhall Glacier and then Alaska-brewed beer tasting at the Flight Deck on the Bike and Brew Tour; or the view from Eaglecrest Ski Area while biking to the Mount Roberts Tram on the Bike and Tram Tour. Tours are in small groups and guided by locals. Or, customize your ride with a custom tour. Cycle Alaska has the bikes, guides, and knowledge to take you on a great adventure.
You can also rent a bike and explore on your own. You'll find a variety of quality rental bikes (road and mountain as well as street cruisers). All are in good condition and each rental comes with a helmet, lock, repair kit, bottle of water, and a granola bar.
Their guides are locals, ranging from teenagers to septuagenarians, so you're guaranteed interesting perspectives. All have gone through extensive training; they can relate facts about the flora and fauna of the area's temperate rainforest, and even have great stories about the old mining days.
Cycle Alaska will pick you up at your cruise ship dock or downtown, then take you to their store and get you outfitted. If you have some extra time, check out their shop for great Alaska biking accessories.