Anchorage may be Alaska's big city, but this bicycle tour operator offers quick proof that the city has a lot of wilderness. Choose one of these easy-access tours, and you'll go from downtown to Mother Nature—with mountains, coastal views, and the occasional moose sighting—in no time at all. Better yet, the tours often include beer tastings or lunch.
If You Can Pedal, You Can Explore
Choose your ride based on half-day or full-day options, as well as difficulty. When you make your reservation, they'll ask about your riding ability to find the best match for you. As long as you know how to ride a bike and operate hand brakes, you have enough skill for a lot of rides—and yes, it's okay if you haven't ridden any bike in a while.
Pack Some Basics, Pick Your Tour
Tours include a bike, helmet, a biking jacket and gloves, as well as snacks (even lunch, if your trip specifies that). The tour bikes for paved paths are either Kona hybrid bikes with lightweight aluminum frames—comfortable models meant for commuting and day trips, or Specialized Roll Elite Comfort Cruisers with a low clearance making it easy to get on and off the bike. For dirt trail rides, you'll hop on a Rocky Mountain fat bike. They feature 4" mountain bike tires, aluminum frames, and disc brakes. Fat tires make for a softer ride, easier rolling over obstacles and overall are a more stable bike. All you need to bring is the right clothing: lightweight layers (non-cotton is best), athletic pants, closed-toe shoes, a hat and sunglasses, and perhaps things like a rain jacket, day pack, camera and water bottle.
Summer Half-Day Tours
Coastal Cruise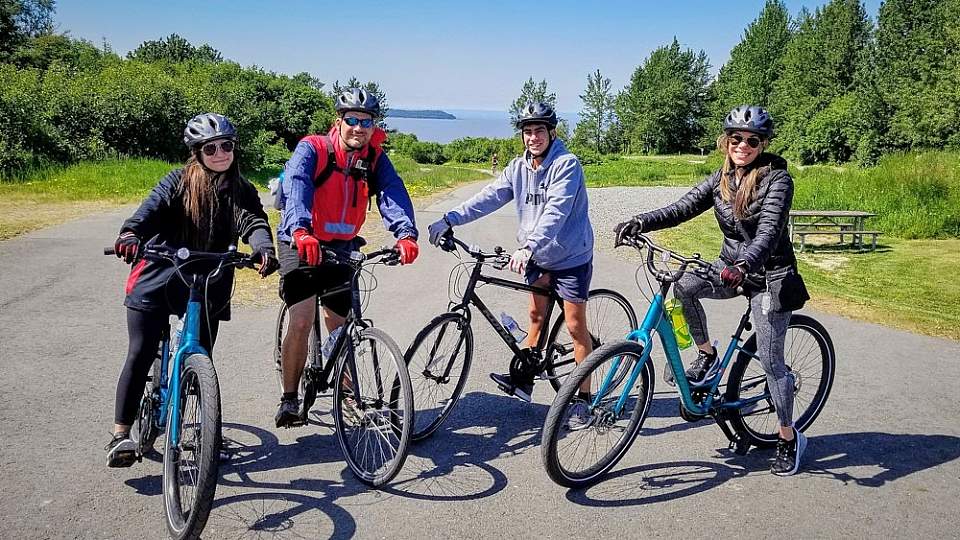 This tour on an easy, 9.5 miles of paved bike path and gentle grade starts with a pick-up at the downtown Visitor Center Log Cabin Shuttle Stop. You'll head to Kincaid Park and bike the (nice and flat) Tony Knowles Coastal Trail to Westchester Lagoon. Kincaid Park and the Tony Knowles Coastal Trail are known for their wildlife, especially moose and black bear!
Chugach Mountain Fat Tire Tour
This moderate to difficult ride takes you above Anchorage, back into the Glen Alps Valley. Ride a fat tire bike down a wide double track trail to an alpine lake. Ride where the wildlife roams.
Summer Full Day Tours
A full-day option allows for exploration beyond Anchorage, and a favorite route of the locals: "Bird to Gird." Get picked up in Anchorage and drive out to Bird Creek along Turnagain Arm. You'll pedal about 12 miles at the pace of the group (typically up to 3 hours). This ride is moderately difficult with some hills and plenty of stops and photo ops along the way. Your guide will talk about the sights and back stories—like the natural history of the glaciers, the Gold Rush, and looking out at the water for a bore tide or beluga whales. Once in Girdwood, you'll load into the van and go on one of three extended excursions:
Bike & Tram Tour
After your bike ride, take the tram up Mt. Alyeska to have lunch at the top. You'll spend about 1 hour enjoying breathtaking scenery at this charming ski resort, along with a visit to the roundhouse museum at the top. The guides then drive you back to Anchorage.
Kenai Peninsula Mountain Bike Adventure
Head into the Chugach National Forest on the Kenai Peninsula for an all-day tour, ideal for avid mountain bikers with intermediate to advanced experience. As you climb, you'll ride through open meadows and forests, taking in breathtaking scenery.
Winter Fat Tire Bike Tours
The bicycle tours don't stop just because snow starts falling in winter. Alaska Trail Guides also offers winter tours using fat-tire bikes that have good traction in the snow. While not technically challenging, these bike rides do require more effort than mountain or road biking due to the added resistance that makes them a great stable winter bike. This is a great option for those who are active and get regular exercise.
Four tour options cater to different fitness levels and interests, whether it's staying in town, checking out the Iditarod Trail or even exploring a glacier. All tours include pick-up and drop-off at your hotel, instruction, snacks and use of a fat bike, helmet, hand warmers and a head lamp (great if you're pedaling after sunset). You'll need to bring your own basic layers (ex: a puffy jacket, hard shell, gloves, long underwear, snow pants and stiff-soled winter boots), and a sense of adventure!
Paws & Pedals
Mix and match on this tour with 1.5 hours of fat tire riding and lunch in Anchorage and then drive out for dog sledding in Willow, official starting point for the Iditarod Trail Dog Sled Race. Experience first hand the exciting sport of dog mushing. This full day trip is available from November through April (depending on snow conditions). Maximum riders: 6.
Anchorage Fat Tire Bike Tour
Anchorage has over 150 miles of multi-use forested trails to discover in winter. It's the perfect opportunity to try the locals' new favorite winter sport – fat tire biking. Alaska Trail Guides will show you the best of what Anchorage has to offer. You'll get 1.5 hours of biking, and the tour is around 3 hours total including transportation.
Private Winter Fat Bike Tour
This adventure is for the avid mountain biker looking to put some winter miles under their belts! And, it's a private experience on purpose. Alaska Trail Guides will cater the ride to your specific skill and fitness hour. In total, it's about 2.5 hours of biking.

Girl-Powered Operation
The company is run by co-owners Elly and Frankie: Frankie, who's from Fairbanks, is the business manager and driver, providing transportation to trail heads. Elly, meanwhile, started her Alaska tourism career guiding sea kayak tours, but found a passion for cycling, and is the guide out there on the trails and roadways with you. Their groups always stay small: up to 10 people max for the coastal rides, and up to five for mountain biking.
Gear provided
Rocky Mountain Fat Tire Bike with studded tires
Pogies (bar mits), biking gloves and hand warmers
Insulated helmets
Ski goggles
Over boots if needed (Wind blocker; keeps out snow. Goes over your own winter boot.)
You may also want
Sunglasses
Extra layers
Water bottle
Camera