Alaska has long been known for its legendary rugged wilderness and inspiring beauty. In particular, Southeast Alaska is home to the Tongass National Forest, where nearly 17 million acres of glaciers, mountains, rivers, and fjords complement old-growth forests of spruce, cedar, and hemlock. Walk among these giant sentinels, some well over 500 years old, and breathe in the pristine air that they provide in one of North America's largest carbon sinks. Experience this world renowned gem of a rainforest on a guided hike or an SUV tour when you stop in Ketchikan!
The Tours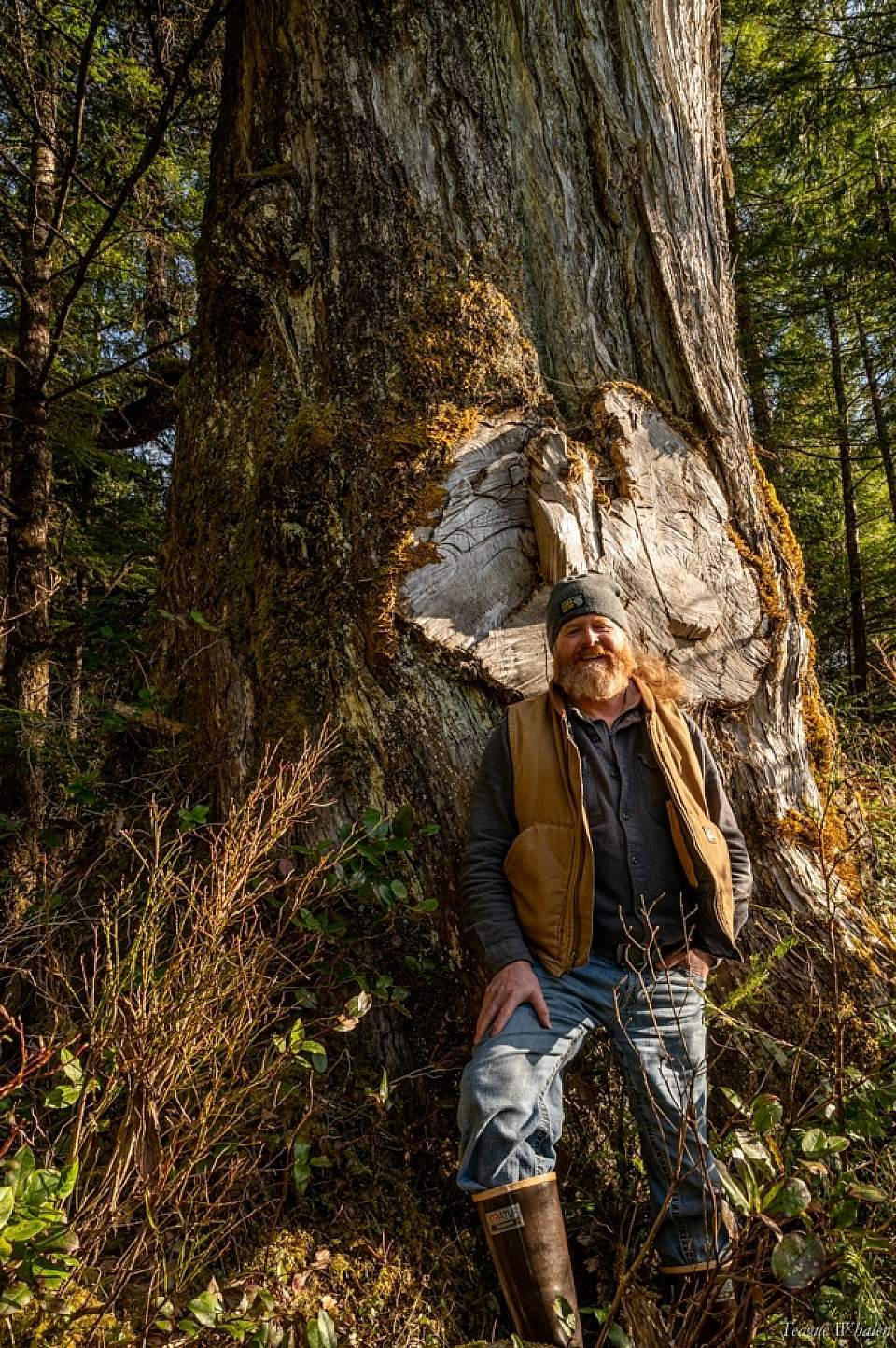 Ketchikan Magical Old-Growth Creek Trek
A lovely 3.6-mile roundtrip hike through an Alaska State Park into the Tongass National Forest. Enjoy a small group of up to 7 guests! First relax on the forty-minute scenic drive to the end of the road. Then hike an improved gravel trail alongside a river with glimpses of waterfalls. Walk through a magical old-growth rainforest displaying impressive specimens of Sitka spruce and western red cedar fencing in the trail. Conclude at a waterfall that flows into ocean views.
Ketchikan Mountain Lake Trek to Avalanche Chute
A stunning 4-mile roundtrip tour! Hike an improved gravel trail alongside a forested lake below a mountain. Plenty of spots for picture taking. From there, the second mile's more natural tread is mixed with gravel, large rocks, and roots as you ascend through an old-growth rainforest displaying large specimens of Sitka spruce. Ask about how to protect our old-growth forests! At 1100 feet of elevation, you arrive at the bottom of an avalanche chute, our destination. Be one of only two tours a day allowed on this cherished trail.
Ketchikan Mountain Lake Extended Trek to Alpine Overlook
A breathtaking 5.5-mile roundtrip hike! In addition to the Avalanche Chute hike, another 1.5 miles roundtrip is added on. Past the avalanche chute, the next 3/4 of a mile ascends another 550 feet to a panoramic alpine overlook at 1650 feet, your destination. Be one of only two tours a day allowed on this cherished trail.
Ketchikan Tongass Backcountry SUV Tour
Join Teague on a picturesque 2-hour driving tour in a 4x4 SUV! See where the locals like to play. Experience the beauty of the Tongass National Forest while being chauffeured up a dirt road filled with switchbacks through backcountry vistas of surrounding mountains and valleys. Learn about why we need to protect our old-growth forests.
Custom Tour
If you are interested in being guided on one of the other commercially approved trails in the Ketchikan area, contact Teague. Additionally, here are a few custom-tour packages that are offered:
Tongass Old-Growth Tree Tour
Landscape Photography Tour
Get Married or Renew Your Vows in Alaska Tour
Ready for rugged?
Due to the rough nature of some of the terrain, the hiking trails are not wheelchair accessible. Trekkers should be able to handle a crushed-rock trail with uneven surfaces, some roots, rocks, steps, and an ascending and descending trail at times as well as adverse weather and temperature conditions.
Participants are typically 18 and over. Families are welcome, however, with children accompanied by an adult. Reduced child prices for under 18 are available. Children under 8 must be accompanied with their own car seat during transportation. (The tour can be adapted as needed to accommodate).
Private and Custom Tours
Each of the tours offered can also be booked as private tours for an additional cost. Consider a custom tour if you want flexibility in the length of your tour or if you would like to experience something that they don't regularly offer. Custom tours are private tours as well. Please know that unfortunately, Tongass Teague LLC cannot take you where they are not commercially permitted to go.
About Tongass Teague LLC.
Formerly Mindfulness Rainforest Treks LLC, Tongass Teague LLC rebranded. This company is Alaska owned, commercially permitted, and insured, and is CPR and first-aid certified. They:
Are pro-ecotourism, pro-environmental conservation, and pro-clean air and clean water.
Stand for increasing awareness of the perpetual need to conserve and protect the Tongass National Forest's stands of old-growth spruce, cedar, and hemlock.
Donate 1% of their profits to the Southeast Alaska Conservation Council.
Promote a healthy lifestyle through their motto: Get outside and move!