Alaska inspires the dreamer and philosopher in us all. Its wilderness invites contemplation and reflection. Experience the Ketchikan rainforest and ocean environment on a 2-mile round-trip guided walk through dense stands of cedar and spruce to a rural ocean beach, where you may glimpse whales, orca or harbor seals. Here you can connect with the land and sea – and to others and yourself – through activities such as creative writing, meditation or tai chi.
The Tour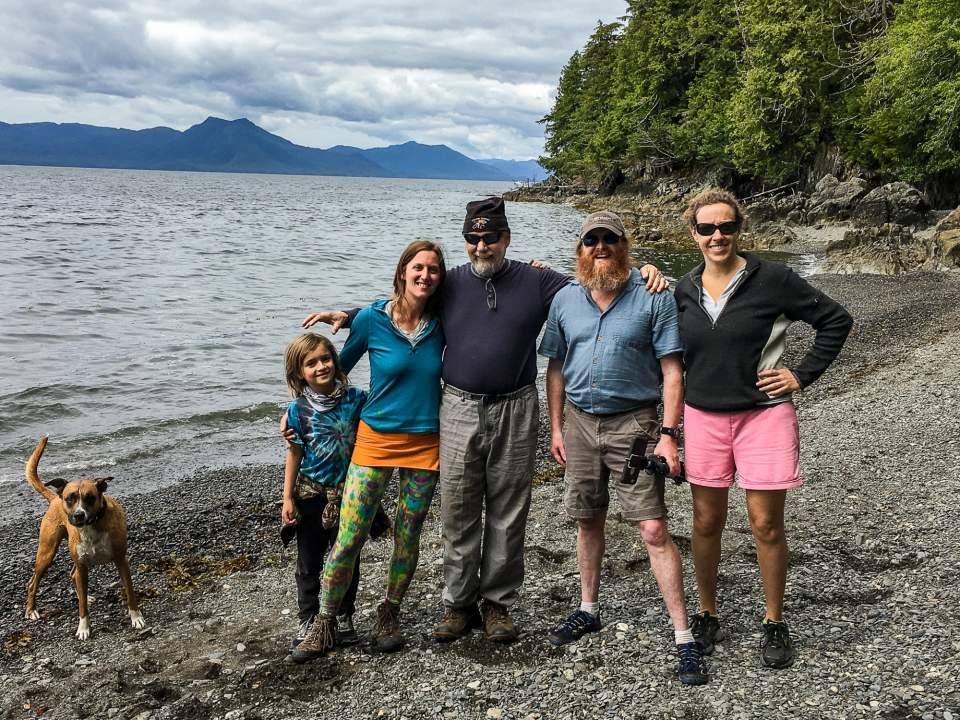 Meet your local guide, Teague Whalen, in downtown Ketchikan and enjoy a scenic 15-mile ride along a coastal highway until you get to the trailhead leading down to secluded Coast Guard beach. Your trekking group will be no larger than seven people plus Teague. The trail regularly reveals new habitat, from open muskeg with a mountain backdrop, to dense forests thinning out to views of the Tongass Narrows, and rocky trails finally leading down to a broad wave-polished stone beach.
Along the hike, giant Sitka spruce and western red cedar show their age, with some girths as large as three-people's joined arm-lengths around. Bald eagles abound, and waterfowl populate the beach area. The sound of the ocean waves and the fresh, ocean air instantly create a resonating sense of peace and wellness. Enjoy your time here beachcombing, taking in the spectacular views of Cleveland Peninsula and Prince of Wales Island, or watching for signs of spouting whales or pods of orca.
Add-ons
Fully explore the area through add-ons that increase your understanding and connectedness with this peaceful place.
• Meditation – Learn how to be fully in the moment, wherever you are. Practice meditative techniques while on the hike, and then learn standing or sitting meditation on the beach.
• Tai Chi – Relax and energize your body with a guided 40-minute tai-chi form on the beach. Learn how to move slowly, with less tension, and be healthier!
• Creative Writing – Jot down your inner thoughts rain or shine, with a lovely bound journal featuring waterproof pages. Sit on the beach and collect words, images and sounds, or follow the provided writing activities to capture the essence of your Alaskan experience on paper.
Ready for rugged?
Due to the rough nature of some of the terrain, the trail is not wheelchair accessible. Trekkers should be able to handle a crushed-rock trail with uneven surfaces and some steep (through brief) descents and ascents. They should be ready for up to 1.5 hours of sustained exercise, as the 1-mile hike is followed by activity time at the beach and a 1-mile, 700-foot ascent back to the trailhead.
Due to the nature of the trek, which emphasizes a quiet, meditative connection with nature, participants are typically 18 and over. Families are welcome, however, with each child under 18 accompanied by an adult. (The tour can be adapted as needed to accommodate).
Private tour
Consider a private tour if you want flexibility in the length of your trek, the departure time, or the time spent on the beach. Perhaps you'd like a more leisurely pace during the hiking portion, as well as time at the beach without feeling rushed to get back. Just contact Teague for options.
About Mindfulness Rainforest Treks
Mindfulness Rainforest Treks (MRT) is operated by Teague Whalen, an associate professor of English and communication at the University of Alaska Southeast who enjoys the outdoors, connecting with people, creative writing, and mindfulness activities like meditation and tai chi. Whalen has guided groups hiking in Michigan's Upper Peninsula, upstate Maine and the White Mountains of New Hampshire. He holds an MFA in creative writing and is has also taught and facilitated workshops in meditation, tai chi and chi-gong. MRT harnesses Teague's strengths and passions, and provides an option for tourists who want to experience a deeper connection with Alaska.