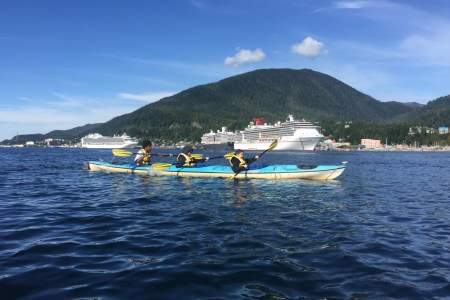 Season: April 1 - Sept 30 $190+ per person 3+ hrs
Expe­ri­ence kayak­ing in Alas­ka the way it should be — away from the crowds — with these unique Ketchikan pad­dling tours that make you feel like a true explor­er. Your small group (usu­al­ly just 4 peo­ple) will board the company's com­fort­able boat and set off from the Ketchikan cruise-ship dock, leav­ing the big ships and the crowds behind. Choose from a 3‑hour tour, or 5‑hour kayak and hike tour.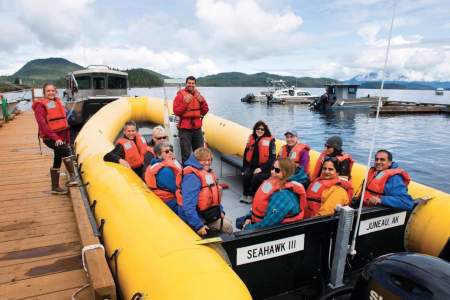 Season: Late April-early October $147 per person 4 hrs
Board a rigid-hull inflat­able boat for a 20-minute ride out to a seclud­ed island. Weave through a series of small islands with mas­sive cliffs that rise hun­dreds of feet out of the ocean, check out active bald eagle nests and look for sea lions and seabird rook­eries along the way. Once at the island, you'll climb out on the beach, break out into small­er groups, and set off on a stun­ning hike on a board­walk that snakes through the rainforest. ...more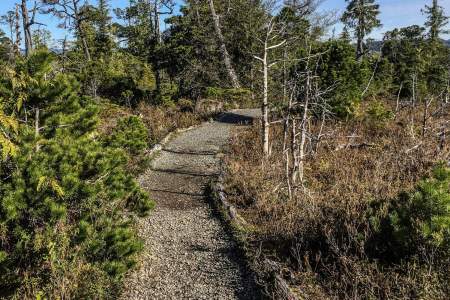 Season: May - September $125 3-4 hrs
Alas­ka invites con­tem­pla­tion and reflec­tion. Expe­ri­ence the qui­et side of Ketchikan on a guid­ed walk through dense stands of cedar and spruce to a rur­al ocean beach. Here you can con­nect with the land and sea through activ­i­ties such as cre­ative writ­ing, med­i­ta­tion or tai chi.