If you're a beer snob—or just like soaking up the personality of a city through its brewpubs—this creative tour company offers a few different tours, each of which provide an interesting look at life in Alaska, as well as through a taste of the state's legit craft beer industry.

Big Frontier, Charming Beer Scene
Big Swig was launched in 2014 by Bryan Caenepeel, a craft beer enthusiast originally from Asheville, NC, who had moved to Alaska in 2005 to work in the tourism industry: he cut his teeth working in the cruise industry before leading tours around Alaska for adventure travelers and then adventurous foodies. During his first years as a tour guide in Anchorage, he had a realization: one of the best lenses he knew into the Alaska experience was through its thriving brewing scene. "I've always felt that brewpubs bring an assortment of people under the same roof to enjoy a common theme—good beer," says Caenepeel. "It's at the breweries that you can connect with the locals and really get a good feel for the place you are visiting. I wanted to extend this experience to visitors stopping through Anchorage."
As the tour company has grown, its beery adventures have deepened within, and extended beyond, Anchorage's city limits.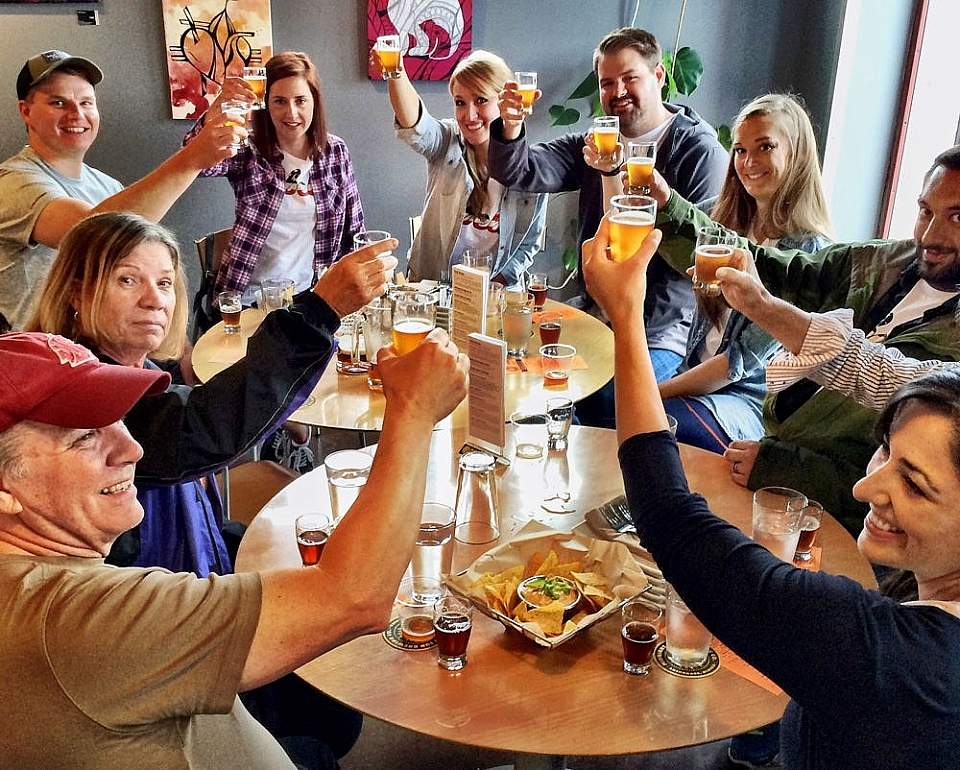 Tours for Different Tastes
You can sample the unique brew scene in Anchorage even if you only have a few hours. Big Swig has designed tours ranging from an afternoon to full day excursions out of town.
Anchorage Brews Tour
This 4-hour afternoon tour offers a friendly, personalized experience in Alaska's biggest city (and its biggest city for beer). You'll meet up with Caenepeel (your "hoperator") outside downtown Anchorage's Log Cabin Visitor Information Center, and then ride in his van to visit Anchorage's finest breweries—from King St. Brewing Company, to Midnight Sun Brewing Company, the oldest brewery in town. We will finish the tour at Cynosure Brewing or Turnagain Brewing, depending on the day of the week. You'll get a behind-the-scenes look at each brewery's operations from the brewers themselves and along the way, you'll encounter your fair share of Alaskan characters who live off the tourist grid.
Bike & Brew
Experience the perfect blend of Alaska urban adventure – a little exercise, gorgeous views from start to finish, and a satisfying peek into the city's microbrewery scene. For obvious reasons, the day begins with the biking portion of the tour. You'll meet downtown, load up bikes and head out to Kincaid Park, one end of the non-motorized paved Tony Knowles Coastal Trail, an Anchorage gem. On your 2 hr ride, you'll find gorgeous views of Cook Inlet, Mount Susitna and even Denali when the weather is clear. Watch for wildlife (especially moose) along the way. Your guide will put everything in context with regular stops to point out features of the natural landscape and historical events that have shaped the city. After arriving back downtown, enjoy lunch on your own and time to freshen up before visiting King Street Brewing Company, Midnight Sun Brewing Company, Cynosure Brewing, or Turnagain Brewing depending on the day of the week. Bike & Brew includes your bike rental, a minimum of 14 tastings, and light appetizers.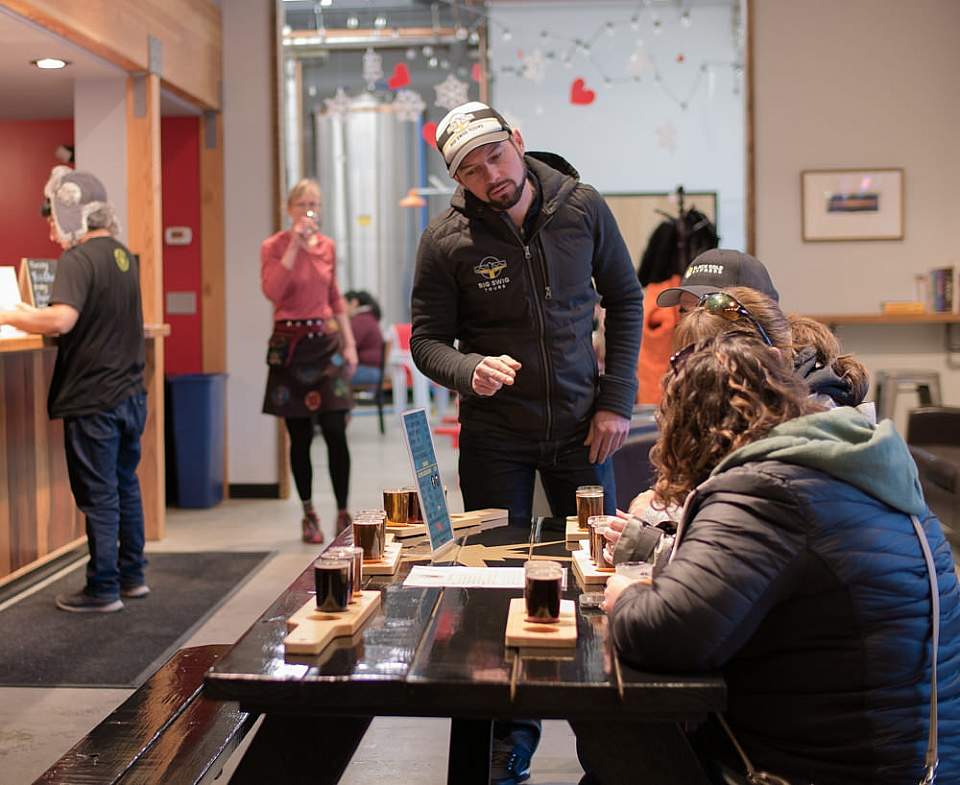 Alaska Crafted and Cruise Transfer
This tour is a ONE-WAY tour from either Seward or Whittier to Anchorage. Big Swig will pick you up at the cruise port. Your first stop is Alyeska Resort, where you'll board the Alyeska Aerial Tram to the top of Mt. Alyeska (2,300 ft). The tour includes lunch at the Bore Tide Deli while taking in the incredible views of the Chugach Mountains studded with glaciers. Your next stop is Girdwood Brewing, newly opened in 2017. Drive back to Anchorage, stopping at the largest distillery in Alaska. Sample the spirits straight, or in a cocktail. The final stop is Double Shovel Cider Company, the first micro-cidery in Alaska. Big Swig Tours will drop you off at your Anchorage hotel or the Anchorage Airport after the tour.
Small Groups, Un-Touristy Vibes
Whichever tour you choose, your tour group is never larger than 14 people at a time, and Caenepeel is always happy to gear the tour toward your particular interests or taste in beer. And since you have your guide as your designated driver, you can enjoy the beers and the whole experience, worry-free. "A tour where guests can not only learn a bit about Alaska through the eyes of a local," says Caenepeel, "but also experience some of the great beer brewed up here, is a winning combination."
I want to get visitors and locals off the beaten tourism path and connect them with something hyper local
Meet me