Visit the home of the bears on a personalized, guided, bear viewing excursion with Pack Creek Bear Tours. You will avoid the crowds with this small-group trip with a maximum of five participants.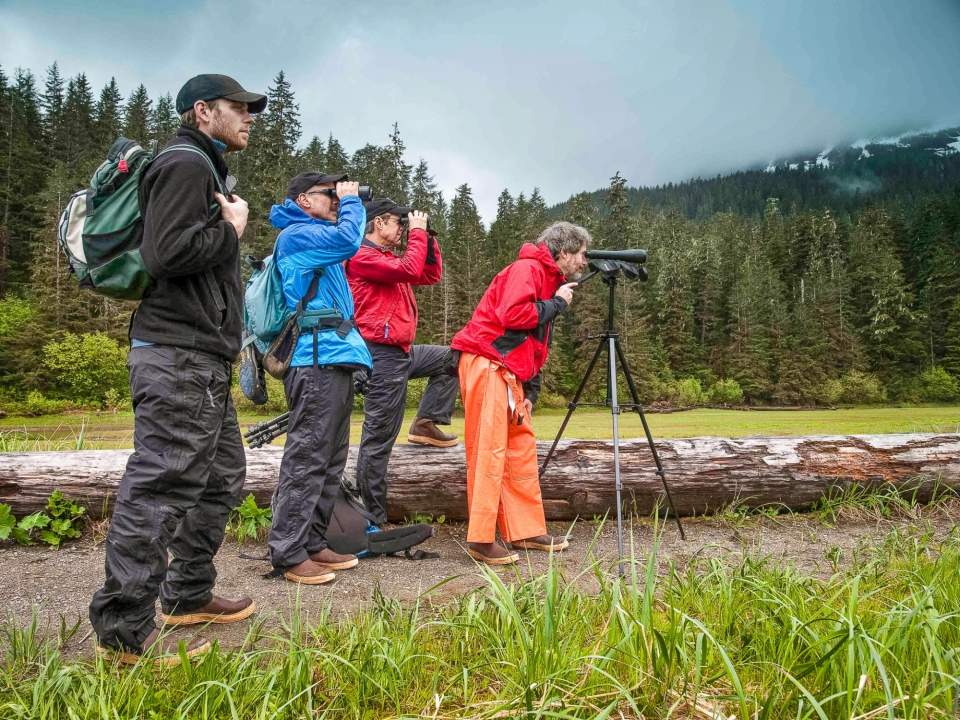 Fly from Juneau into the wilderness in a classic Alaskan float plane. The trip includes flights, permits, lunch, outfitting and an experienced bear guide to make sure that you get the most out of your time in bear country. They'll read the bear behavior, tides and weather to give you the best opportunities for outstanding wildlife viewing. Pack Creek Bear Tours only hires guides with years of experience leading wilderness trips in Southeast Alaska's bear country.
Depending on when you go, you'll have the chance to see bears and their mating displays, foraging, browsing or fishing for salmon. You might get up close to mothers teaching cubs how to catch salmon, spot sleeping bruins in grassy day beds, and wander trails stamped out by bears.

Both trips are an immersion in bear country. You'll walk on the same ground as the bears.
Quick Hop in a Bushplane
Your guide will meet you for an orientation and outfit you with rubber boots and gear you'll need for a day in the wilderness. The 25 - 30 minute floatplane ride takes you over turquoise coves, rocky shores and green islands as you look for whales, eagles, and bears. Touching down a float plane is very gentle, as they say, like "landing on liquid glass." It's a short step down off the float and into the wilderness.
Two Options with Hours of Bear Viewing
Pack Creek
Visit the renowned Pack Creek Bear Viewing Area on Admiralty Island. This is their premiere trip, designed by guides with decades of experience at Pack Creek. A short quarter-mile along a rocky beach takes you to a low spit overlooking a meadow where you can observe bears fishing in the creek or foraging along the shoreline. There is also the possibility of a one-mile hike through towering, 500-year old spruce forest to an observation tower, where you may see spawning salmon and bears.

Pack Creek gives you the most time of on the ground, which means that you'll have more opportunities to see bears as they use this area. This option has you in bear habitat for about 5-6 hours.
Waterfall Creek
A shorter trip to Waterfall Creek offers excellent bear viewing opportunities during the peak of the salmon runs in late July and August. Pack Creek brings their exclusive, small-group experience to this bear viewing area, however, they can sometimes accommodate larger groups here. After landing on the beach, you'll walk a quarter-mile over easy terrain. Then you'll spend up to three hours watching bears chase salmon in the creek, with a roaring waterfall in the background.

For all trips, participants must be able to disembark from the floatplane onto the beach and walk on moderately challenging, uneven and occasionally slippery terrain. Participants may be asked to sit still for extended periods of time.
A vast wilderness, veteran guides, scenic flights, and the potential for seeing brown bears in their natural habitat make these tours a top-rated opportunity for bear viewing in the Inside Passage.
About Above & Beyond Alaska
Since 2002, owners Becky and Sean—passionate environmentalists and longtime guides themselves—have run Above & Beyond Alaska. Their excursions marry their love of the Tongass National Forest and Inside Passage areas with their excitement for sharing this special place with visitors. All of their trips are by kayak, foot, boat, or plane, and all are in intimate, small groups—the best way, they say, to experience Alaska, since that's how they would want to do it themselves!