This rafting trip offers a double benefit: You get the bragging rights of a serious rapids trip (you'll receive a "I Shot the Mendenhall" pin at the end) but also the comfort of a reasonably calm-water ride.
Eagles, Bears and Lots of Ice
The prime focus of the 3 ½-hour Mendenhall Glacier Float Trip is getting great views of the namesake glacier, which stands at 1 ½ miles wide and 150 feet high and is the most famous part of the massive Juneau Icefield (even John Muir once raved about it). The tour picks you up at either your downtown hotel or Juneau's dock, and once at the lake, you'll suit up in lifejacket, rain gear and rubber boots. Your raft, which can hold between 8 and 12 people—a nice small crowd, when compared to other tours, which means you get more interaction with your guide, who will be a strong-armed pro. If you have some experience, you can also opt for a raft that you help paddle yourself.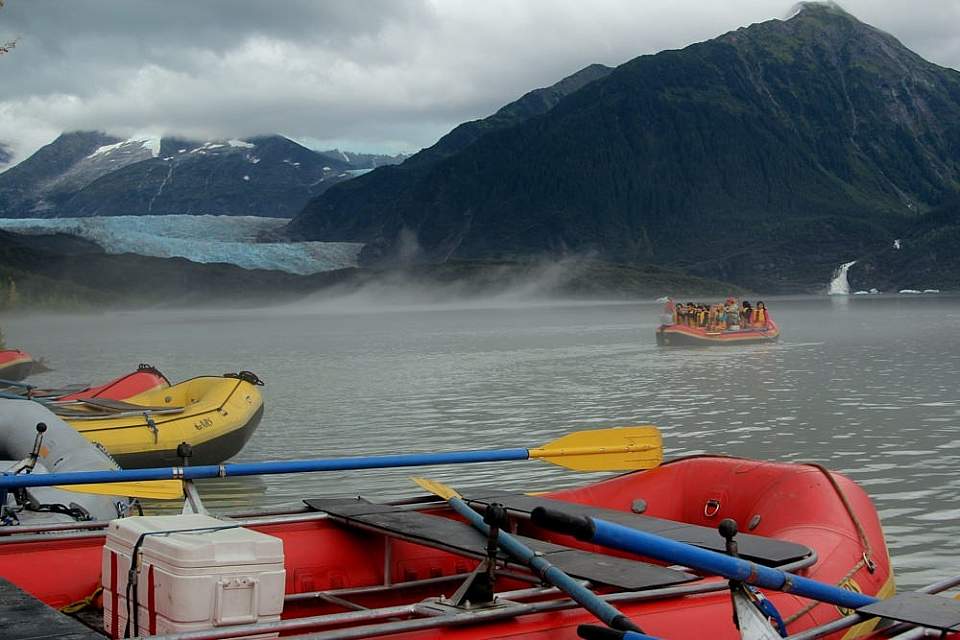 As you glide along the iceberg-studded lake, you can scope out the glacier, getting up-close views of hanging glaciers and towering peaks. Keep an eye out for birds nesting in the rocky cliffs, as well as otters, seals, black bears or even bald eagles. Your guide will point out such natural phenomena as beaver dams, spawning salmon and avalanche veins on Thunder Mountain.
How Does Class II or III Feel?
Then, as your raft starts the four-mile leg down the river, the ride becomes a little more hoppin', with some Class II and III rapids—which means you'll feel rolling water beneath you, and your raingear will come in handy, with the occasional spray.
Reindeer Sausage and Crackers
Once ashore, you can tuck into an "Alaskan snack" of reindeer sausage, salmon spread, cheese and crackers, along with hot or cold cider and water. Along with your pin, you can also pick up souvenir shirts, hats or a photo of you that was taken from ashore.