Photo Credit: Mendenhall Glacier Float
Embark on an unforgettable rafting adventure in Juneau. Paddle along a river as you cast your eyes on the iconic Mendenhall Glacier, or take a scenic float plane ride and touch down on Glacier Lake in front of Norris Glacier to begin a packrafting journey.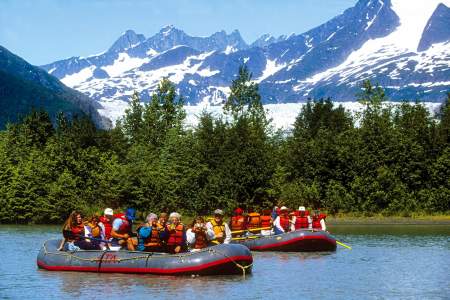 $179 3.5 hrs
The focus of the 3.5‑hour Menden­hall Glac­i­er Float Trip is great views of the name­sake glac­i­er, which is 1.5 miles wide, 150 feet high, and the most famous part of the mas­sive Juneau Ice­field that even John Muir once raved about. Glide along the ice­berg-stud­ded lake and scope out the glac­i­er, get­ting up-close views of hang­ing glac­i­ers and tow­er­ing peaks. Keep an eye out for birds nest­ing in the rocky cliffs, as well as otters, seals, black ...more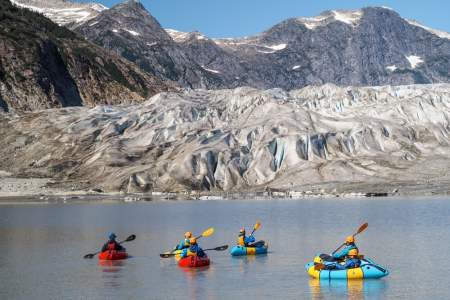 Season: June 1 – Sept 15 $749 5 hrs
Expe­ri­ence the ulti­mate Alaskan adven­ture with Above & Beyond Alaska's Fly-In Glac­i­er Hike & Pack­raft tour! Explore glac­i­ers in a 5‑hour jour­ney, includ­ing flight­see­ing, hik­ing, and pack­raft­ing. Max­i­mum 6 peo­ple per tour.