Photo Credit: TEMSCO Mendenhall Flightseeing & Glacier Walk
TEMSCO Mendenhall Flightseeing & Glacier Walk
Most visitors to Juneau hear about the Mendenhall glacier, whose terminus is easily visible on a drive from the airport to downtown. You can get a close-up look at the glacier – and even walk around on it – when you take a helicopter tour with TEMSCO. In Juneau, you're already at the southern end of the 1,500-square-mile Juneau Icefield, so within minutes you'll be taking in some amazing scenery.
Glacier Landings
Choose from two tours that bring you right to the glacier. At either 55 minutes or 80 minutes, they are the perfect length for cruise ship passengers hoping to make the most of their day in the city – and the TEMSCO pilots pack a lot into each excursion.
Glacier Walk
From Juneau, Mendenhall Glacier stretches an impressive 12 miles into the distance. That's easy to contemplate, but hard to envision, unless you see it from the air. On board a TEMSCO helicopter, you get some amazing perspective on this part of the Juneau Icefield. From above, you can see how far the glacier extends and how its ice undulates over the rugged terrain. The 15-minute flight also offers spectacular views of rain forests, ice spires, and meltwater pools, and a closer look at the 7,000-foot-high rock sentinels called the Mendenhall Towers. The only thing better? Landing on glacier ice that is thousands of years old! Explore this chill part of the Tongass National Forest for about half an hour before you hop back in the helicopter for more scenic views on your flight back to Juneau. Total excursion time is about 55 minutes.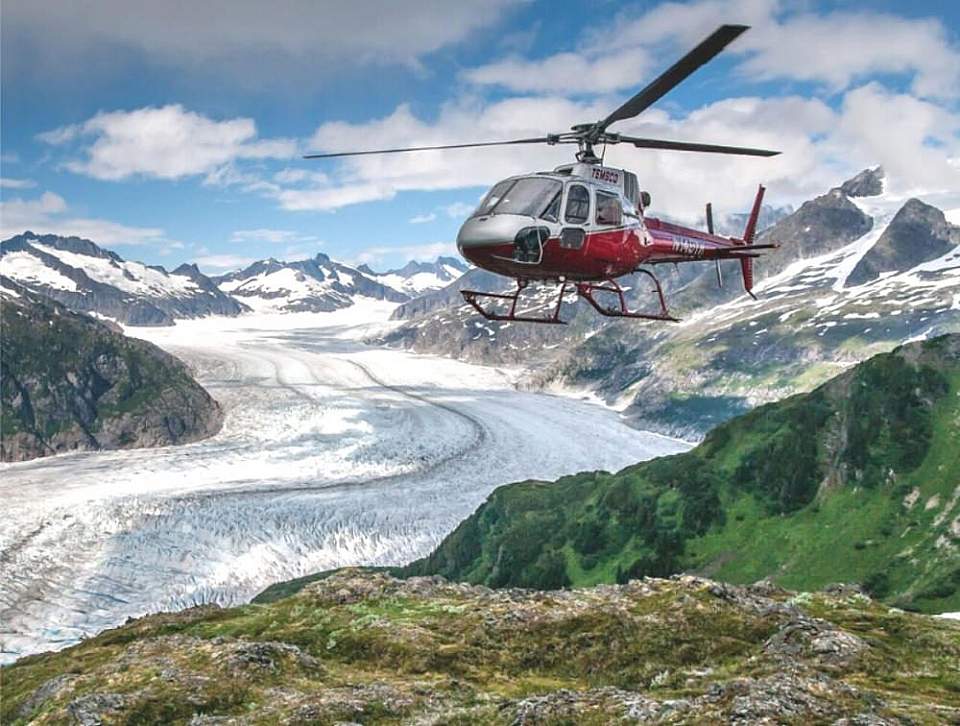 Pilot's Choice Tour
Stunning and remote terrain greets you on the Pilot's Choice tour, which gives your pilot the flexibility to take you to the most ideal spots given the conditions of the day. Your pilot will point out and describe notable sites such as Glacier King, the Mendenhall Towers and Devil's Paw. In the 50 total minutes of flight time, you will also learn about the geology and environmental forces that shaped glaciers and created moraines, seracs and crevasses. After seeing vast ice fields, high alpine lakes and "ice falls" hanging off cliffs, you get to land for about 15 minutes of walking and up-close exploration at two different spots. Amazing views greet you in every direction, here on top of the world. It's a place you'll want to capture in your memory as well as on your camera. Total excursion time is about 80 minutes.
TEMSCO
When TEMSCO launched in 1958, its mission was pretty straightforward. An acronym for Timber, Exploration, Mining, Survey, Cargo Operations, the Ketchikan-based helicopter company was founded to provide support and rescue capabilities for the lumber, fishing and mining industries, since its aircraft could reach places that fixed-wing planes couldn't—namely, by landing on ice.
Great Views, Unparalleled Access
In the 1980s, TEMSCO added tourism to its repertoire, offering travelers both amazing views of the mountains, glaciers and vast, untouched landscapes, as well as unparalleled access once the helicopter lands. TEMSCO's tours – based out of Juneau or Skagway – give you the chance to walk on glaciers, drink glacier water straight from the source, or go dogsledding in some of the most beautiful and pristine environments imaginable.
Though there are no age requirements for TEMSCO tours, they do require a moderate level of activity. Guests will need to be able to walk a minimum of 100 feet to and from the helicopter, over uneven snow, as well as have the ability to get on and off the helicopter (which requires navigating two 13" steps).
What to Bring
Dress in layers to stay warm and comfortable
Bring sunglasses: glaciers are bright even on a cloudy day
Camera, binoculars
For security reasons, no carry-on bags are allowed on the helicopters, but you can safely stow a bag of other personal items at the TEMSCO office
Prices & Dates
| | |
| --- | --- |
| Season | May 9 - Sept 30 |
| Duration | 2-3 hrs |
| Rates | Mendenhall Flight & Walk // $359 | 2.25 hrs |
| | Pilots Choice // $515 | 2.75 hrs |
| Rate Notes | Guests will need to be able to get into and out of the helicopter unassisted (or with a little assistance). |
| | Guests will be able to stay in the helicopter, if they choose, on the landings |
TEMSCO Mendenhall Flightseeing & Glacier Walk