Photo Credit: TEMSCO Mendenhall Dog Sledding
TEMSCO Mendenhall Dog Sledding
Seeing Juneau from above reveals a town nestled between glaciated mountains and the Gastineau Channel. TEMSCO helicopter pilots have been sharing this view with visitors for decades, perfecting satisfying excursion opportunities for busy travelers. One of their most popular trips packs in scenic flightseeing and a glacier landing at a sled dog camp, where you'll experience the ultimate in Alaskan adventure: riding (or driving!) a sled while an energetic team of huskies tours you around an ancient, snow-packed glacier.
Your journey begins with a safety briefing, snow-boot fitting, and lift-off from the helicopter dock. A 15-minute flight reveals rainforests, icy mountain peaks, and the southern end of the Juneau Icefield. Check out moraines, seracs, and crevasses from above before landing on Mendenhall Glacier, where a summer dog camp houses dozens of dogs who simply love to run. They'll get excited when they hear your helicopter approaching, as they know adventure is soon to follow. The next 20-25 minutes is spent talking with veteran mushers, holding puppies and riding behind an energetic team that whisks you over the snow-packed glacier with astonishing ease. You can even try driving the sled yourself to get the full experience of Alaska's state sport. Before heading back, you'll have time to get some photos and appreciate the remote and rugged beauty of this place, just a short flight from Alaska's capital city.
Dog Sledding Summer Camp
Your adventure begins on the breathtaking drive along Gastineau Channel, through the historic AJ Gold Mine site and into the remote and scenic Sheep Creek Valley. As you arrive at the summer camp training site, you will be greeted by a professional dog musher and some of the state's most famous athletes: the Alaskan Huskies! You'll go on an educational tour of the camp, visit a 19th century replica Iditarod Outpost and enjoy fresh baked cookies. Next, climb aboard a comfortable wheeled cart and relax as your energetic Alaskan husky team guides you along the one-and-a-half-mile trail through beautiful landscapes. You'll return to Dog Sledding Summer Camp to meet the dogs and snuggle the next generation of great Alaskan athletes: sled dog puppies!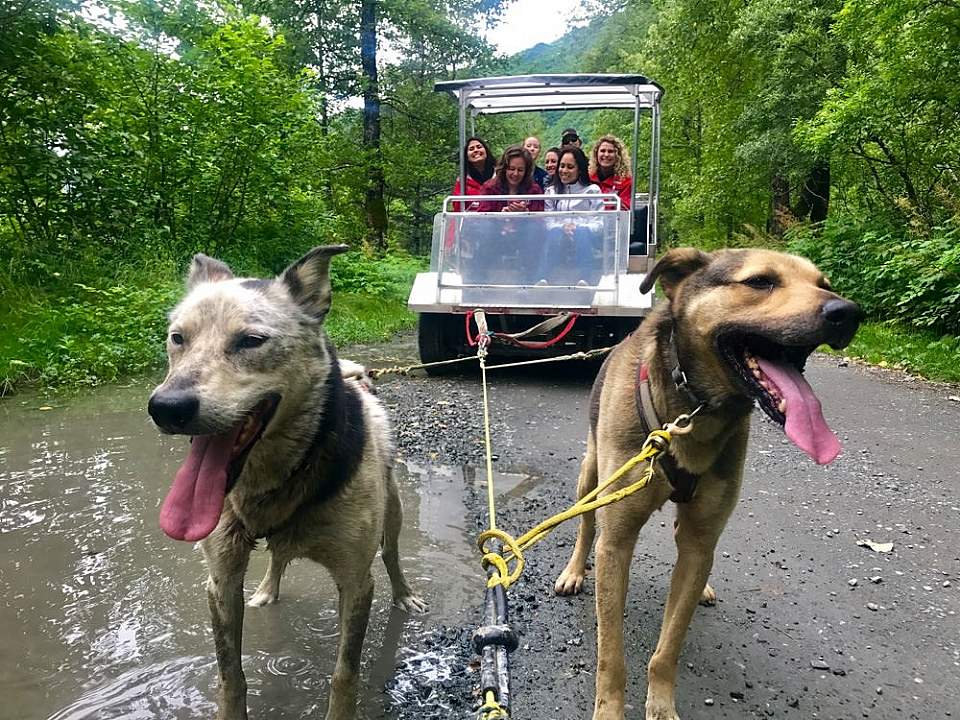 TEMSCO
When TEMSCO launched in 1958, its mission was pretty straightforward. An acronym for Timber, Exploration, Mining, Survey, Cargo Operations, the Ketchikan-based helicopter company was founded to provide support and rescue capabilities for the lumber, fishing and mining industries, since its aircraft could reach places that fixed-wing planes couldn't—namely, by landing on ice.
Great Views, Unparalleled Access
In the 1980s, TEMSCO added tourism to its repertoire, offering travelers both amazing views of the mountains, glaciers and vast, untouched landscapes, as well as unparalleled access once the helicopter lands. TEMSCO's tours – based out of Juneau or Skagway – give you the chance to walk on glaciers, drink glacier water straight from the source, or go dogsledding in some of the most beautiful and pristine environments imaginable.
Though there are no age requirements for TEMSCO tours, they do require a moderate level of activity. Guests will need to be able to walk a minimum of 100 feet to and from the helicopter, over uneven snow, as well as have the ability to get on and off the helicopter (which requires navigating two 13" steps).
What to Bring
Dress in layers to stay warm and comfortable
Bring sunglasses: glaciers are bright even on a cloudy day
Camera, binoculars
For security reasons, no carry-on bags are allowed on the helicopters, but you can safely stow a bag of other personal items at the TEMSCO office
Getting There
View on Map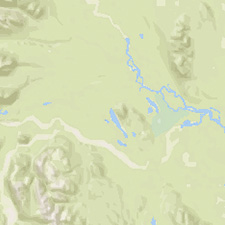 1650 Maplesden Way
Juneau, AK 99801

By Car: TEMSCO is located at the Skagway airport on the northwest side of town.
Driving Directions
Prices & Dates
| | |
| --- | --- |
| Season | May 15 - Sept 27 |
| Duration | 1.5 hrs (approximate) |
| Rates | Dog Sledding on Mendenhall Glacier // $629 |
| | Dog Sledding Summer Camp // $145 |
| Rate Notes | Due to weight and balance limitations, as well as guest safety and comfort, passengers weighing 250 pounds (113kg or 18 Stone) or more will be charged an additional $100.00 to reserve adequate space onboard the helicopter. Total weight includes shoes and clothing. Surcharge must be paid at time of booking. |
| | Guests will need to be able to get into and out of the helicopter unassisted (or with a little assistance). |
| | Guests need to be able to walk a minimum of 30 meters over potential uneven snow and stand/walk for the 1 hour while at the dog camp. |
| | Guests are not able to stay in helicopter, as the helicopter will drop them off on the glacier and return to town with other passengers. |
| | For each tour, allow about 45 extra minutes for transportation to and from the helicopter dock, as well as a safety briefing. |
| | Pick-up: TEMSCO can arrange to pick you up at downtown Juneau hotels, from Juneau's airport or ferry terminals, or from the Mt Robert Tramway, which is a short walk from the cruise ship port. |
| | TEMSCO tours are conducted under the Tour Operators Program of Safety (TOPS), a stringent safety management program. |
| | Flight routes and landing sites may vary due to weather and glacier conditions. |
| | TEMSCO also complies with the flightseeing and wildlife viewing practices adopted by the Alaska Visitor's Association, in order to ensure the continued viability of area wildlife. |
TEMSCO Mendenhall Dog Sledding