Photo Credit: TEMSCO Skagway Dog Sledding and Glacier Flightseeing by Helicopter
TEMSCO Skagway Dog Sledding and Glacier Flightseeing by Helicopter
Dog sledding on a glacier is the ultimate blend of Alaskan adventure, as you also get there by helicopter! Board a flight that whisks you thousands of feet above sea level to the Denver glacier and a dog sled camp hidden away on a remote snow field, where Alaskan Sled Dogs will greet you energetically, ready to take you on the ride of your life.
The journey begins at Skagway's historic waterfront, where you'll step into a TEMSCO helicopter that can access areas you can't get to any other way. Seeing Alaska and its stunning vistas from the seat of a helicopter is itself a unique experience, topped only by the opportunity to land on a glacier and spend time in a dog camp that is host to 300 Alaskan sled dogs!
These dogs were bred to run, and their world will be opened up to you as you talk with professional mushers who tend the dogs all summer in the largest sub-arctic sled dog camp in the world. Learn about the rich history and cultural significance of the mushing tradition. Then meet your team and get insight into their individual personalities before getting ready for an amazing ride.

The dogs know they are going to run, and they let you know how excited they are through a chorus of energetic barking before take-off. Each team hauls two sleds, with a musher and two guests in the first sled and two guests in the last sled. You can choose to ride or stand on the rails and feel what it's like to drive the team.. In either case, the dog-team gets down to business the moment the sled takes off, focused on running in one of the most beautiful settings you can imagine: an ultra-white snow field surrounded by the pristine snow-capped mountains of the Coastal Range which lies between Canada and the United States.
Before you fly back to Skagway, there's one more "little" highlight that awaits: a chance to snuggle with the puppies, which are possibly the cutest, most lovable creatures you'll meet during your entire Alaskan adventure.
The TEMSCO dog sledding and glacier experience is truly a once-in-a-lifetime adventure – highlighting the state's dramatic nature scenes as well as dog mushing, its popular and unique state sport.
TEMSCO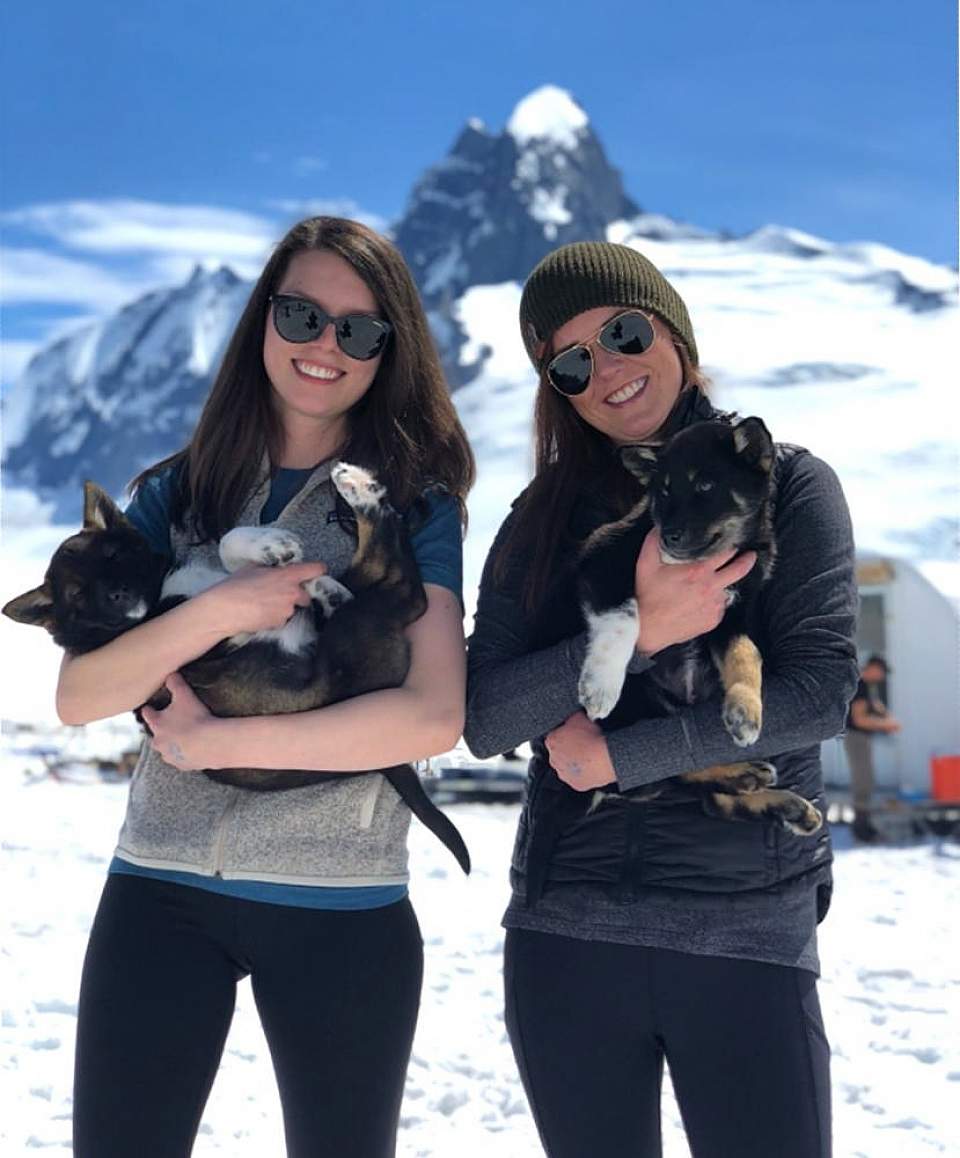 When TEMSCO launched in 1958, its mission was pretty straightforward. An acronym for Timber, Exploration, Mining, Survey, Cargo Operations, the Ketchikan-based helicopter company was founded to provide support and rescue capabilities for the lumber, fishing and mining industries, since its aircraft could reach places that fixed-wing planes couldn't—namely, by landing on ice.
Great Views, Unparalleled Access
In the 1980s, TEMSCO added tourism to its repertoire, offering travelers both amazing views of the mountains, glaciers and vast, untouched landscapes, as well as unparalleled access once the helicopter lands. TEMSCO's tours – based out of Juneau, Skagway, or Denali National Park – give you the chance to walk on glaciers, drink glacier water straight from the source, or go dog sledding in some of the most beautiful and pristine environments imaginable.
Though there are no age requirements for TEMSCO tours, they do require a moderate level of activity. Guests will need to be able to walk a minimum of 100 feet to and from the helicopter, over uneven snow, as well as have the ability to get on and off the helicopter (which requires navigating two 18" steps with minimal assistance).
What to Bring
Dress to stay warm and comfortable—done best by dressing in layers
Bring sunglasses: even on a cloudy day, glaciers are bright
Be sure to bring your camera or binoculars, too
For security reasons, guests are prohibited from taking the following items on the aircraft/tour: bags or cases of any kind, iPads or tablets, tripods, selfie sticks or other extendible items, drones, water bottles or liquids. You can safely stow a bag of other personal items at the TEMSCO office
Prices & Dates
| | |
| --- | --- |
| Season | May 2 - Aug 17 |
| Duration | 2 hrs |
| Rates | Dog Sledding and Glacier Flightseeing // $629 per person |
| Rate Notes | Due to weight and balance limitations, as well as guest safety and comfort, passengers weighing 250 pounds (113kg or 18 Stone) or more will be charged an additional $100.00 to reserve adequate space onboard the helicopter. Total weight includes shoes and clothing. Surcharge must be paid at time of booking. |
| | Guests will need to be able to get into and out of the helicopter unassisted (or with a little assistance). They will also need to be able to walk a minimum of 30 meters over uneven snow. |
| | Guests are not able to stay in helicopter, as the helicopter will drop them off on the glacier and return to town with other passengers. |
| | For each tour, allow about 30 extra minutes for transportation to and from the helicopter dock, as well as a safety briefing. |
| | TEMSCO tours are conducted under the Tour Operators Program of Safety (TOPS), a stringent safety management program. |
| | Flight routes and landing sites may vary due to weather and glacier conditions. |
| | TEMSCO also complies with the flightseeing and wildlife viewing practices adopted by the Alaska Visitor's Association, in order to ensure the continued viability of area wildlife. |
TEMSCO Skagway Dog Sledding and Glacier Flightseeing by Helicopter