Glide through the waters for up-close looks at wildlife—and get a great workout while you're at it. The 3 1/2-hour, soft-adventure Glacier View Sea Kayaking tour gives you a lesson in kayaking, so that you can then confidently navigate the scenery-surrounded waters and get a front-row view of the legendary Mendenhall Glacier.
The tour operator—which has over 37 years' experience— will pick you up from Juneau's dock or a downtown hotel, and take you for the 20-minute ride across the bridge to North Douglas Island, set on Auke Bay.
On the island's rocky beach you'll get outfitted with rain gear and life jackets, and then given a lesson on paddling techniques, as your guide also tells you about the area's colorful history. This tour is definitely meant for people looking for a little adventure—and some calories-burning—but you don;t need to have had any kayaking experience to get into the swing of it.
Paddle Under the Radar
Once you board your two-person kayak, your guide will lead you, along with four or five other kayaks, around the bay. The kayaks are both stable and easily maneuverable, to help you better concentrate on the scenery around you: the massive Mendenhall Glacier, the state game refuge Mendenhall Wetlands, and spots such as Smuggler's Cove, where illegal booze was traded during the Prohibition years.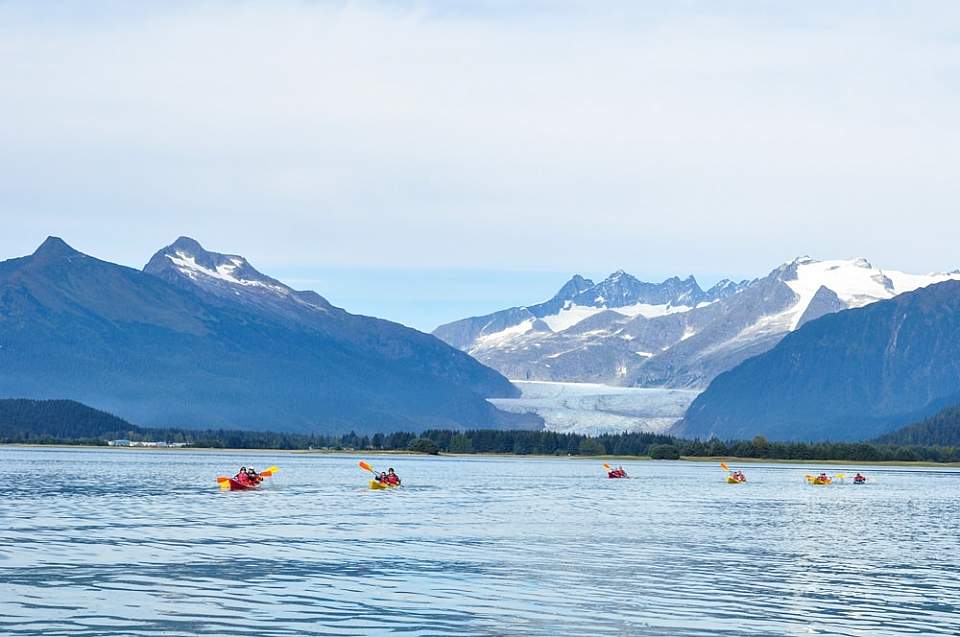 As you paddle, you'll also see the huge advantage to exploring these waters by kayak: since they're quieter than motorized boats—and you're closer to the water's surface— you can paddle under the radar, as it were, and get closer views of the nearby porpoises, sea lions, seals, dozens of bird species, and perhaps even bald eagles or a whale.
Afterward, Alaskan Delicacies
Back ashore, you'll recharge with an Alaskan-flavored snack of reindeer sausage, salmon spread, crackers and water. While today's kayakers don't go home with a pelt or any contraband, you can proudly take home a pin and, if you like, a souvenir t-shirt.