Photo Credit: Glacier View Sea Kayaking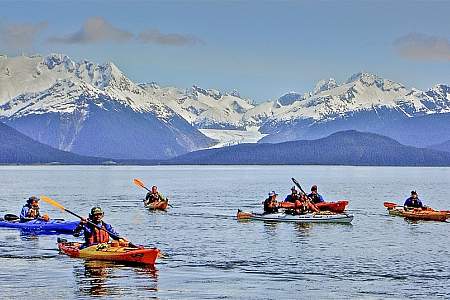 Season: May 02 to Sep 10 $419+ per person 6 hrs
Take a scenic cruise and kayak through gor­geous sur­round­ings as mag­nif­i­cent whales pierce the sur­face of the water on this six-hour expe­di­tion from Juneau. Your des­ti­na­tion is the Chan­nel Islands, the whales' annu­al feed­ing ground — and your guides will assess where the most whale activ­i­ty has been happening.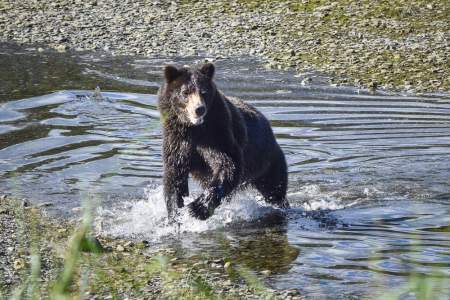 Season: May 15 – Sep 10 $939+ per person 8 hrs
If you've dreamed of see­ing brown bears in the wild — in one of Alaska's best spots for brown bear view­ing — as well as expe­ri­enc­ing flight­see­ing and kayak­ing, this trip is for you. You'll fly from Juneau to a remote wilder­ness loca­tion, then kayak to Pack Creek Bear Sanc­tu­ary on Admi­ral­ty Island, home to more than 1,600 brown bears.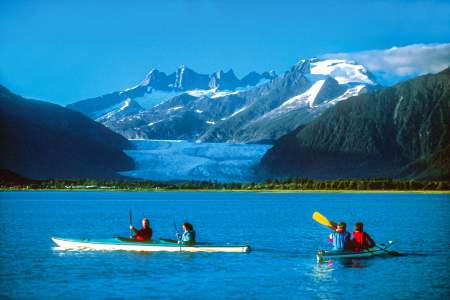 $139 3.5 hours
Glac­i­erview Sea Kayak­ing with Alas­ka Trav­el Adven­tures offers the oppor­tu­ni­ty to kayak through Auke Bay while enjoy­ing views of Menden­hall Glac­i­er. You'll also have the oppor­tu­ni­ty to see wildlife like whales, sea lions, seals, and bald eagles. Kayak­ing offers a much more inti­mate and qui­et expe­ri­ence than oth­er boat tours; at the same time, it is per­fect for trav­el­ers who want an adven­ture. And even if you've nev­er pad­dled a kayak before, a ...more