Photo Credit: Gold Creek Salmon Bake
Experience the ultimate Alaskan adventure with gold-panning tours in Juneau. Try your hand at panning for gold and get a glimpse into Alaska's rich gold rush history. You can even keep whatever gold you find! Then satisfy your hunger at a salmon bake, where you'll enjoy all-you-can-eat fresh Alaskan salmon.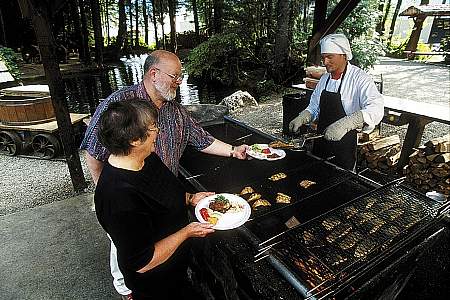 $69 1.5-2 hrs
Get a serv­ing of his­to­ry along with a clas­sic Alaskan feast. The Gold Creek Salmon Bake, a two-hour expe­ri­ence out of Juneau, has been run­ning for more than 30 years. It's a great meal and an Alaskan tra­di­tion. You're dis­patched from your hotel and brought to a cor­ner of the South­east Alas­ka rain­for­est, which saw lots of activ­i­ty dur­ing Alaska's Gold Rush.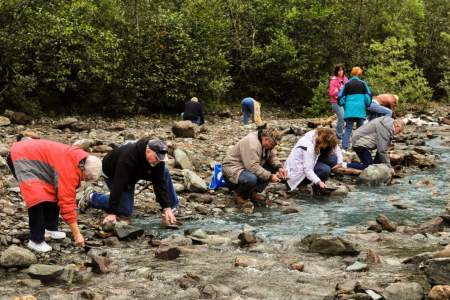 Season: Late April - early October $87 1.5 hrs
Come on this 1 ½‑hour tour out­side Juneau, and you'll get a big appre­ci­a­tion for prospec­tors who arrived here more than 100 years ago: This water is seri­ous­ly cold. But this quick stroll into Alaska's gold-fever-influ­enced past offers a fun his­to­ry les­son, as well as a pleas­ant­ly short turn at pan­ning in that icy water your­self — with a guar­an­tee that you'll score a lit­tle gold to take home. Alas­ka Trav­el Adven­tures' His­toric Gold Mining & ...more