Plenty of wilderness, plenty of privacy—and just the right amount of service. When you stay at the family-owned Currant Ridge, your guest house—a 21st-century cousin of the traditional cabin—will allow you to experience the beauty of a remote Alaskan community, yet have all the comforts of home.
Custom-Built Log Guest Houses
Located just outside of McCarthy, Currant Ridge opened in 2005 and is made up of six custom-built log guest houses that have been designed with "creature comforts" in mind: a full kitchen, a private bathroom, a separate bedroom, dining areas both inside and outside on the deck, all the hot water you could ask for, and—no small feat this far from any sizeable town—24/7 electricity.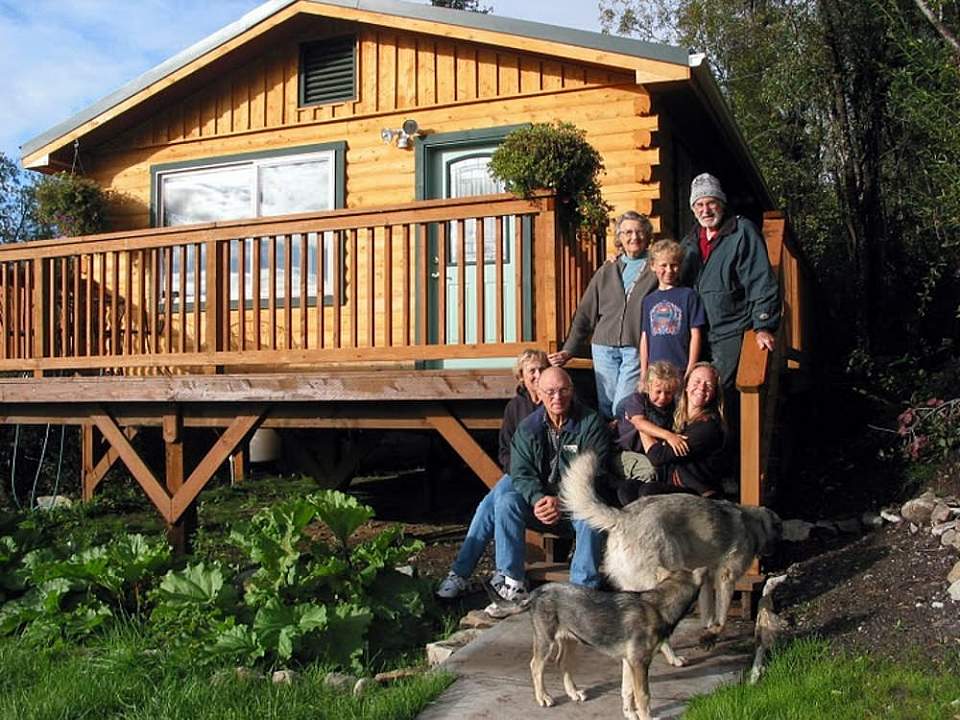 Eco-Friendly & A Help-Yourself Garden
In fact, Currant Ridge is the "greenest" place you can stay in the McCarthy and Kennecott areas. It's one of the few lodging establishments in the McCarthy area that uses solar panel arrays to provide electricity—enough to become virtually independent of the diesel generator otherwise used to charge its battery bank. The guest houses also offer large windows to provide natural lighting, supplemented by eco-friendly compact LED and halogen lighting; propane appliances; and a recycling system for organic waste and trash. There is even an on-site garden that offers complimentary fresh herbs and vegetables for your meals from mid-July to early September.
Well-Appointed Guest Homes
Seeing the McCarthy-Kennecott area really requires two nights, and staying at Currant Ridge lets you make yourself at home during your stay. Each guest house is a roomy 560 square feet, and done in sunny-warm woods, with contemporary furnishings and giant windows that look out onto the mountains.
All of the guest houses share a similar floor plan and each one has a master bedroom with a queen bed; a full private bathroom with tub and shower; a living room with a queen size sleeper sofa; a spacious deck with a full-sized propane grill; and a kitchen with stove, oven, fridge and a full set of pots and kitchen utensils. You'll even get complimentary tea or coffee for your guest house's French press (one boost to the guest houses' energy-efficiency: no drip coffee makers).
The Shidners Will Take Care of You
While Currant Ridge offers the chance to enjoy plenty of privacy and independence, the Shidners pride themselves on the personal attention they devote to their guests—whether it's recommending a good flightseeing or river rafting tour, encouraging you to play badminton and other games on the lawn or inviting you to help yourselves to any herbs, vegetables or salad fixings from their Alaskan-sized garden.
Drive Right Up--A Rarity in McCarthy!
An added bit of convenience: Many people who stay in the McCarthy-Kennecott area have to drive to the end of the gravel McCarthy Road, park, and then cross a pedestrian foot bridge with their luggage to catch their shuttle to their lodging in McCarthy or Kennecott. When you stay at Currant Ridge, you'll stop 2.5 miles before the road ends, and park right at your guest house, so you can keep your car with you and avoid any transfer hassles.