At this year-round B&B just outside the heart of Homer, the notion of being a guest takes on a new meaning. In her sunny two-story home, innkeeper Paula caters to just one party at a time—whether you are traveling on your own, or have up to six in your group. That means the B&B caters entirely to your needs during your stay—and you have easy access to quaint Homer, just outside the doorstep.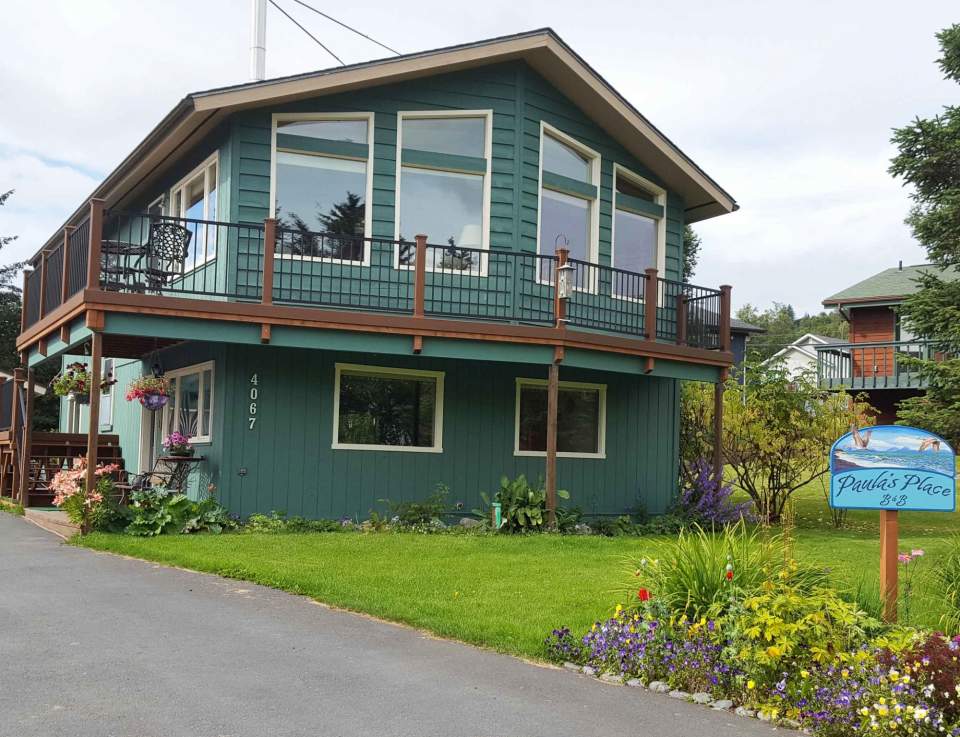 Room to Spare
Paula started her B&B because she wanted to share her own home. She had moved to Homer in 2008 to be closer to her daughter, and soon after realized that her "place" was too big for just her and her corgi Bear (who acts as the B&B's "greeter," but stays upstairs). So she opened her lower floor to guests and hasn't looked back. "It's the best thing I ever did", she says. "I'm having a ball."
Quiet Street, Bustling Village
Located on a quiet residential street, the B&B is just two blocks from Homer's main street, making it a quick stroll to the town's restaurants, shops, art galleries, the Pratt museum and the Islands and Oceans visitor's center. (If you're traveling with kids, there's even a nice playground just four blocks away.) You're also close to lots of local hiking and biking trails.
Alaska Flavor
Paula has embraced her Alaska lifestyle: she's taken local history and geology classes—making her a good resource for any guests with questions—and she has decorated the house with local artwork and handmade quilts. In the back yard, there's a grill, a firepit for roasting marshmallows and a garden of local plants.
Even from inside the house—especially from the upstairs breakfast room—you have beautiful views of nature: Kachemak Bay, and the mountains and glaciers across the bay. You also have good views from your downstairs suite: it has two bedrooms, one bathroom, a living area with sofabed, a large flat-screen TV with DVD player, a fridge, microwave, antique furnishings and an antique cook stove. The suite also comes with wifi, as well as a washer-dryer.
Ranch-Style Breakfast
While there is a fridge, coffeemaker and microwave, you won't need them in the morning, when Paula (who grew up on a ranch in Colorado) will make you a hot and hearty breakfast. She always starts with fresh fruit, then a main dish—perhaps ham-and-cheese crepes, or quiches—alongside homemade fresh bread, biscuits or muffins. She's happy to cater to different diets, and she can also make you a to-go breakfast if you're heading out early for a fishing trip or other activity.
If you're staying in for breakfast, though, she'll sit with you and help you plot your day. If you're interested in Native art, she'll tell you the best shops or galleries to check out. And if you want to go on a hike but don't know where to start, she'll even lead a walk for you if you like (perhaps bringing Bear along, if everyone agrees).
International Community
Paula's had guests from all over the world—like the visitors from Australia, who excitedly took pictures of a moose and her baby by the garage—and everyone gets to put a pin on the map in the front entryway, to mark where they have traveled from. Her guests rave about the personalized attention they get, and the experience they had of living like an Alaskan—so much so that Paula says she has regular repeat guests who feel like family.