Live off-the-grid, Alaska-style, at this family-run bed-and-breakfast lodge off the Denali Highway, in the heart of Alaska. Camp or stay in a lodge room and indulge in the natural beauty surrounding you.
The Wild & Beautiful Denali Highway
In summer, you'll drive the gorgeous and historic Denali Highway to this rustic, charming setting. The Denali Highway was created to shorten the drive (previous route was Anchorage to Fairbanks to Denali) to access Denali National Park. Today, it's used by locals and visitors who want to experience Alaska a little more off-the-beaten-path. The road is gravel, but well maintained. Still, not all rental-car companies allow you to drive it. Clearwater Mountain Lodge can recommend companies that do. In winter, the road is not maintained, so travel will be by snowmachine or even by dog sled! No matter the season, you'll find that although Clearwater Mountain Lodge is located off the grid, generators provide hot water and electricity, and the Kelley family provides a warm, inviting welcome.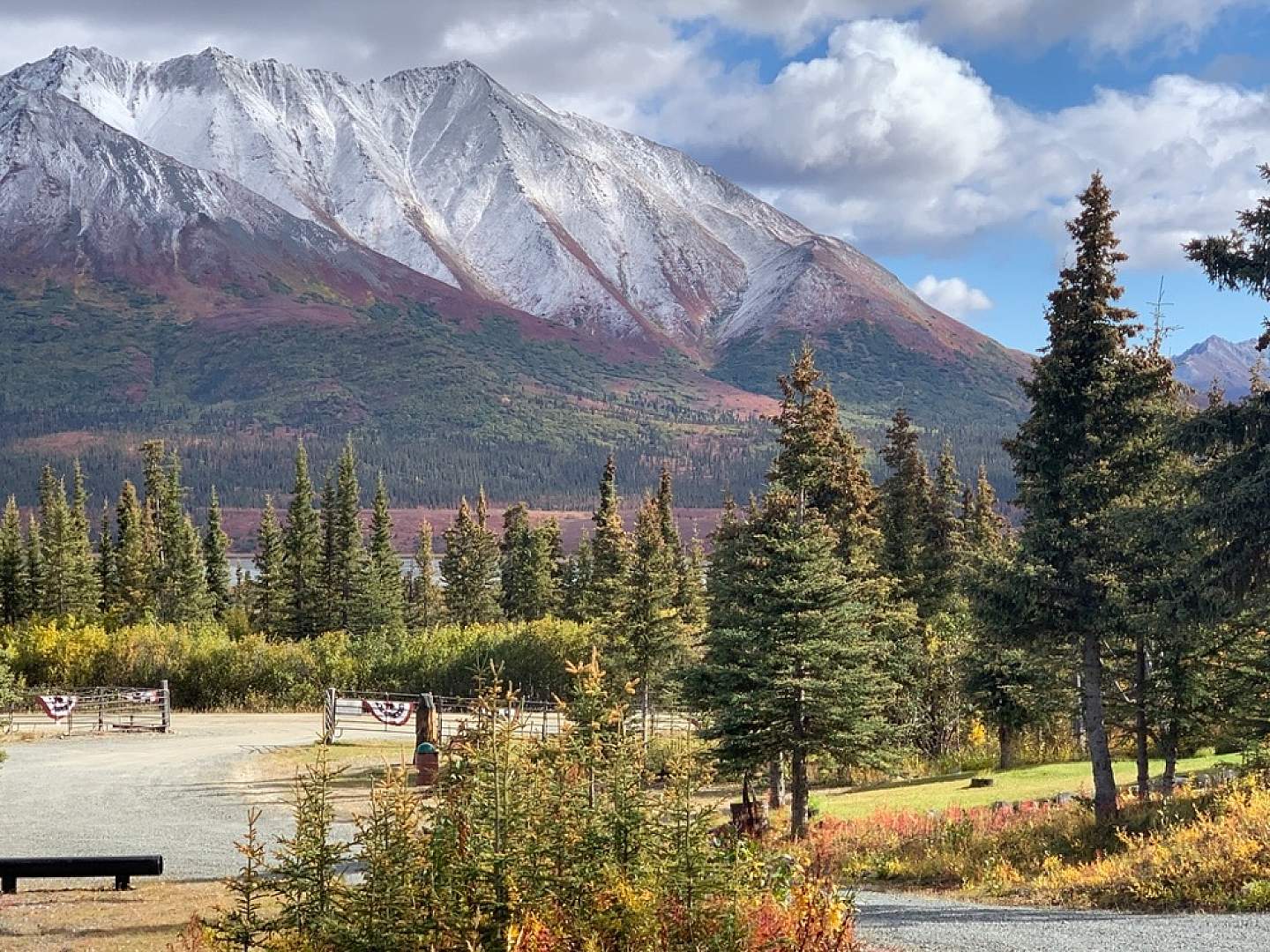 Wildlife and Activities
You'll be awestruck by the view, facing Clearwater Mountain and surrounded by the Alaska and Talkeetna mountain ranges, with the Windy Creek valley nearby and the Susitna River. Set in old mining country of Valdez Creek valley, there is an active gold mine a copper mine nearby. As you drive through the Valdez Creek area, you will notice the old post office at the site of the original town of Denali. You will also see old cabins near the former site of Cambior Gold Mine (closed 1995) that remain.
Pick Your Room (or Campsite)
At the lodge, you'll find a variety of accommodation options for all group sizes and budgets. There's a campground for campers; homey lodge rooms with shared baths; and cabin-style rooms and suites that can accommodate 3–6 people, some with queen beds or pull-out sofas and all have private bathrooms. Plus, the entire lodge is available to be rented if you have a large group—say, for a wedding or company or church retreat.
Rooms include breakfast (or, if you're camping, you can choose to add it), with a selection of things like eggs, biscuits and gravy, pancakes, oatmeal, cereal, and fresh fruit. The Sluice Box Bar became famous in mining times for its pies and cinnamon rolls, which you can still enjoy today, along with pulled pork sandwiches, hamburgers, brats, and hot dogs. Have dinner in the dining room (with advance notice and for an additional fee), including an entrée, salad, side dish, vegetable and homemade dessert. You also have the option to purchase a brownbag lunch, including sandwich, chips, and a candy bar to fuel your daytime adventures!
Always keep an eye out for Alaskan wildlife around the lodge; you might see moose, birds, caribou, bear, lynx, fox, or swans. When it's time for activities, try your hand at panning for gold or fishing; or go bird-watching or hiking. Rent out the lodge's 4-wheeler for up to 5 people, and your driver/guide will take you on a 6-hour tour to explore and enjoy even more stunning scenery; the fee includes equipment, snacks, and a picnic lunch. In winter, enjoy snowmachine riding, cross-country skiing, backcountry snowboarding, and fat-tire bike riding.

Many visitors stay at Clearwater Mountain Lodge as a stopover point while exploring the 135-mile Denali Highway. Or, because it's located at Mile 82, it makes a great basecamp for day drives.
The History
Gold was discovered here back in 1903, and the area became a hotbed for mining. Many of those operations closed during WWII, but there are still active claims today. The Denali Highway was completed in 1957, and the Gratias family built a lodge, following by a gas station, car repair, and restaurant. The Gratias family provided air taxi flights for hunters and flightseeing. You'll find an airstrip and hangar on property. The Sluice Box bar opened in 1982 and became famous for its pies and cinnamon rolls.
The Kelley family bought the lodge and started operating it in 2016—the dream of a soon to be retired FedEx Captain Bob Kelley. Bob passed away, but his wife Colleen continues to run the lodge with her family. In addition to the homey lodge, they still run the gas station and tire repair, in keeping with tradition of helping travelers who run into trouble along the Denali Highway.