This intimate 4-room B&B, just 45 minutes from Anchorage in charming Palmer, is set on six gorgeous acres and comes with great views, delicious breakfasts, and hosts who are passionate about making you feel right at home.
Feels Like Home
Our Alaskan Dream B&B feels like coming home—and that's entirely by design. Hosts Bill and Lauren opened the inn because of their love of people, and their hospitality, combined with a beautiful property, makes for an unforgettable stay.
The B&B is surrounded by nature, set on a tree-lined road and surrounded by woods—your only neighbors are the nearby mountain peaks. Check them out as you sit in the great room by the cozy fireplace, or grab a book and head out on the wraparound decks, where you can listen to birds. Some mornings, you may even see moose wandering onto the property!
Roomy, open, and relaxing, the dog- and family-friendly inn is wheelchair accessible and has Wi-Fi and cable TV. Relax in the large media and game room, where kids can play video games, or in the library, where there's a comfy recliner.
The B&B's location makes it the perfect launching pad for adventures in the Mat-Su Valley. Bill and Lauren can help you with plans, whether you're interested in hiking the nearby trails in Hatcher Pass, exploring Independence Mine State Historical Park, touring the Matanuska Glacier, or visiting Talkeetna. You can also go horseback riding, try a fishing charter, or have a fightseeing adventure.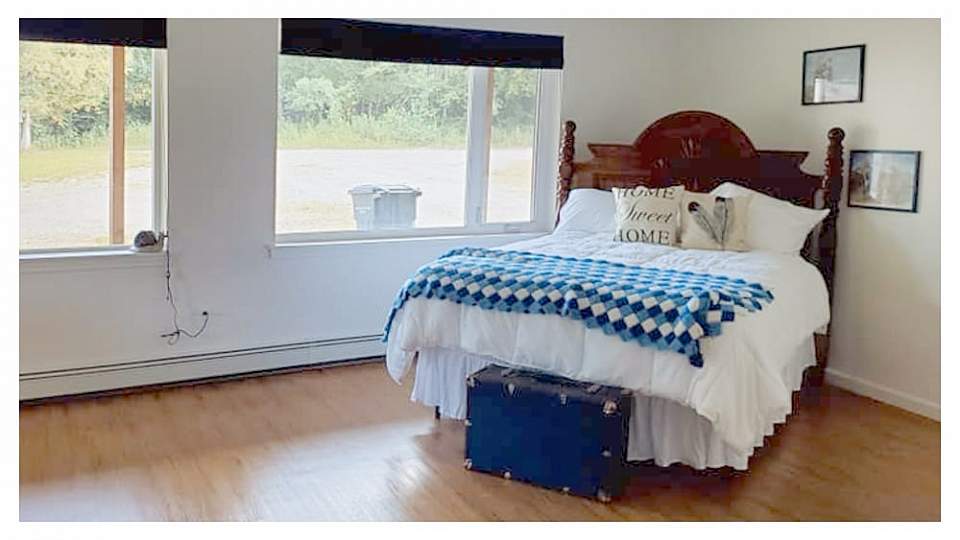 The Rooms & Breakfast
Upstairs, you'll find two rooms with king-size beds and have separate entrances. There's even a recliner that can lay flat for another person to sleep on. The shared bathroom includes a walk-in Jacuzzi tub and shower with two showerheads.
The additional rooms are downstairs, with queen-size beds. They also share a common bath, as well as an arctic entry and laundry.
When you wake up from a quiet, restful sleep, you'll be treated to a delicious breakfast, served from 8–10am. Some regular menu items include waffles, pancakes, breakfast croissant sandwiches, bacon and eggs, as well as quiches. Plus, you'll always find yogurt, granola, fresh fruit, and oatmeal. Rising early? No problem—there will be plenty of homemade grab-and-go options. If you're planning a day trip, you can bring snacks with you, like granola and protein bars, as well as tuna lunches. Just try to make it back by the afternoon, so you can enjoy homemade pastries, along with the soda fridge and coffee bar.
In all, the B&B can accommodate a group of up to 15 people, and they can prepare dinner for as many as 20 people. They've done weddings and honeymoons, and they're open in winter as well!