If you're looking for elegance Alaska-style, you've found it. Tonglen Lake Lodge is an exclusive lakeside oasis with hideaway cabins that feels like a fly-in resort, but is easily accessible by car and only seven miles south of the doorway to Denali National Park. Along with tranquility, you'll find an art gallery, an artisan bakery, and a spacious lawn with a campfire circle, swings, and even an outdoor performance stage. The two-story, hand-scribed central log lodge is itself a gallery radiating with artistic touches — handcrafted log furniture, stained-glass accents, pottery, paintings, and sculpture. There's nothing else like it, comfortable and intimate, with a lovely view of the Alaska Range.
Artistic Living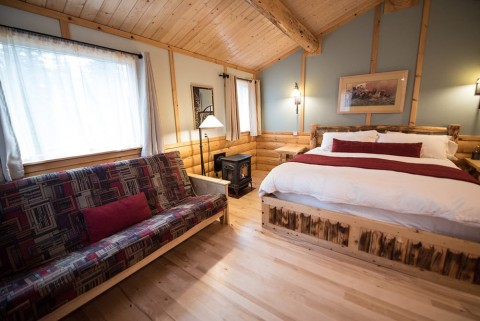 Owner Donna Gates welcomes you to her homestead. She came to Denali in 1980 to work a summer job as a backcountry ranger, stayed the winter to run sled dogs, and never left. In its previous life, the property was a hunting camp with an eight-by-eight plywood shack and a trail heading up into the rugged Yanert River country. Donna has lived on this land for 40 years, and her love of the place has transformed it.
She raised her daughters here, and with them now grown, she was ready for a new adventure. An accomplished artist, she wanted to create something beautiful, something that would do justice to the land while incorporating all the things that were dear to her — friends, family, community, art. Talented friends and local artists and craftspeople helped turn her vision into reality, including her neighbor, Ken Wilbert, the man behind the log furnishings.
You'll find Donna's works in watercolor, oils, and pencil in the gallery, as well as the creations of other local artists, from pottery to metal works. With its emphasis on the arts, the lodge has an outdoor stage for performances where guests can relax on the lawn under the midnight sun. The great room above the Café provides a workshop space for the musicians, photographers, writers, and others who gather here to share their talents. There couldn't be a more idyllic setting for a wedding — or a family reunion, conference or retreat. Guest can round out their days in Denali with a yoga class, evening nature hike on local trails, or an art walk of the property – all are available to guests at Tonglen Lake Lodge.
Luxury Log Cabins & Cozy Guest Rooms
Each of the lodge's 11 log cabins comes with privacy, a cast-iron hearth, a king-size bed, a queen-size futon, and a bathroom with an oversized shower and heated floors. A short private path leads to the cabins, making each feel like a secluded hideaway. There are also five rooms in the guest house; perfect for a multigenerational party or travelers looking for a simpler atmosphere. The rooms have a variety of bedding options; two full bathrooms are located off the main landing and are shared between the five rooms.
An artisan bakery breakfast— quiche, yogurt, homemade granola, fresh fruit, sandwiches and pastries—is included in a stay. Most dietary restrictions can be accommodated. To-go sack lunches can be arranged for a day's adventure. In the evenings, the Café is open for complimentary snacks, as well as appetizers, desserts, and beverages for purchase.
Donna, who's thought through every detail right down to the thread count of the sheets, is proud to say there's not a single television set on the entire property. (There is, however, Wi-Fi.) But after spending time here, you may be tempted to wing that laptop into the lake.