Photo Credit: Wedgewood Resort Wildlife Sanctuary
Explore these highlights of a modern city which also take you deep into the wild, and to the literal and figurative places at which they meet. Fairbanks is both the bustling urban heart of Alaska and a tiny speck of pavement dwarfed by vast tracts of open land surrounding it at every turn.
The Trans-Alaska Pipeline is a man-made symbol of Alaska's abundant natural resources resting mostly in complete isolation atop the Alaskan tundra. A viewing point gets you up close to a stretch that runs just north of Fairbanks for a chance to admire this modern marvel bisecting 800 miles of wilderness.
The unofficial end to another engineering marvel—the Alaska Highway— is marked in downtown Fairbanks at Milepost Circle, also part of the Chena Riverwalk. If you traveled north via this route, you should definitely stop for a photo opportunity to mark the end of the road. If not, it's still worth a stop to check the distances from major cities inscribed on the sides.
Chena Hot Springs Road is a narrow band of black pavement stretching sixty miles into wilderness for a glimpse of the boreal forest and rolling hills that frame the city on all sides. At the end—a luxurious hot springs that has attracted visitors for a century.
The Cold Climate Housing Research Center addresses the problematic point at which modern-day dwellings intersect with the frigid and harsh climate of Alaska. The challenge is to keep the heat in, and the cold or driving wind and rain out. The research here informs building practices across the state.
These and other points of interest in the Fairbanks community illustrate the ways in which Fairbanksans make their lives within the natural world, still reliant on and striking a balance with it, each and every day.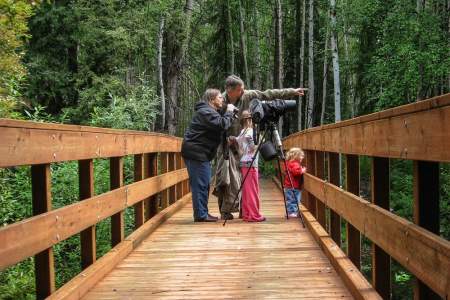 Wildlife view­ing oppor­tu­ni­ties in Alaska's sec­ond largest city. Look for migra­to­ry birds, moose, salmon & more.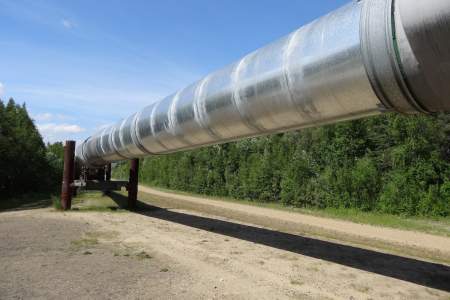 Get a close-up look at one of the world's engi­neer­ing mar­vels. Here you will find infor­ma­tion­al dis­plays about the pipeline and an exam­ple of a pig, the device used to clean and inspect the inside of the pipeline.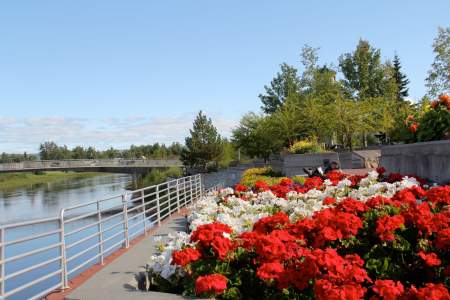 Difficulty: Easy
The Chena River­walk makes for a relax­ing self-paced stroll along the Chena Riv­er and through the most scenic parks and plazas of his­toric down­town. It's best when flow­ers are in full bloom (July-August). The path stretch­es approx­i­mate­ly 3.5 miles between Pio­neer Park and Air­port Way, with longer options avail­able. Or — park at Immac­u­late Con­cep­tion Church or in the Down­town Trans­porta­tion Cen­ter for a short­er jaunt. In Sum­mer (May — Sep­tem­ber), The Denali Star Train ser­vices Anchor­age, Wasil­la, Tal­keet­na, Denali and Fair­banks. In Win­ter (Octo­ber — April) the Auro­ra Win­ter Train oper­ates as a flag top train between Anchor­age and Fair­banks. It stops here head­ing North on Sat­ur­day, and South on Sunday.