Although it receives far fewer visitors during the winter, Denali National Park is open year round. Late September through early May, while cold, is when you can see the park transformed by a thick blanket of snow. The scene is luxuriously unhurried, offering winter visitors a peaceful experience in one of the most popular parks in the country.
Join a guided day trip led by Northern Alaska Tour Company, which leaves from Fairbanks in the morning and travels through the bold winter landscape of the Tanana Valley and the towns of Nenana and Healy, on the way to Denali National Park, home of Denali, the tallest mountain in North America.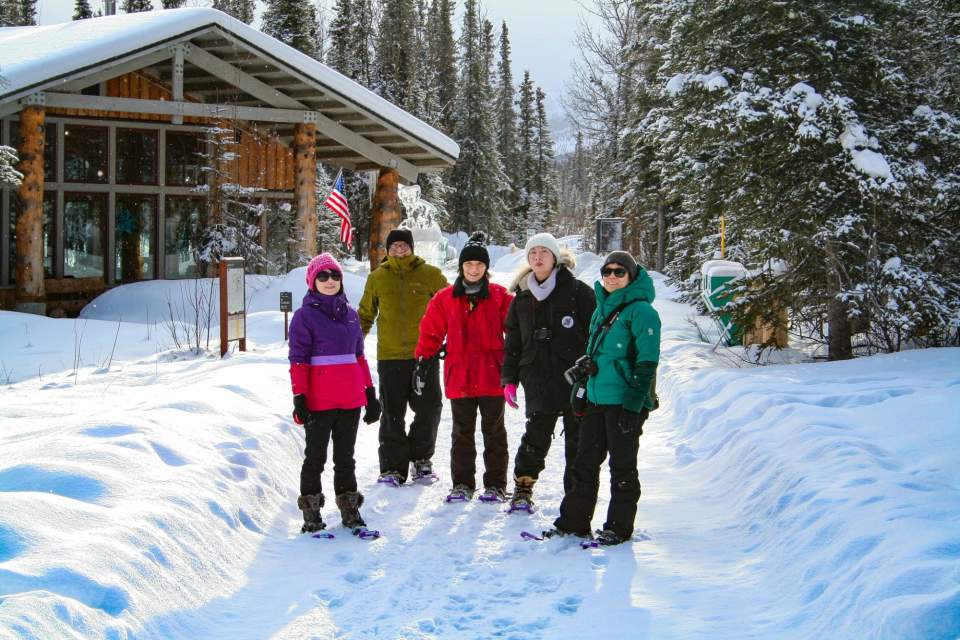 Nenana is a small hub community at the confluence of the Nenana and Tanana Rivers that started as an important trading community, especially during the gold rush to Fairbanks in the early 1900s. And just like in those frontier days, you'll want to be sure your supplies are replenished for the rest of your journey. You can stock up on snacks and lunch items at the general store before leaving Nenana for the drive to Denali.
Once in the park, you'll visit the Murie Science and Learning Center, where several digital exhibits highlight ongoing research. Learn about Denali's resident wolves, its pollinators, changing landscape and the dinosaurs that made this park home during the Creteceous period.
The Murie Center is a cozy, warm place to eat your lunch before heading outside to explore nearby trails within the boreal forest. Depending on weather conditions and which month you visit, you'll be braving temps ranging from a frosty sub-zero on up to a "balmy" 30 degrees. You'll walk or snowshoe through the glistening white landscape on trails that have been broken by the enthusiastic sled dogs that allow park rangers to travel across the landscape in the winter.
While the grizzlies will be hibernating, you may notice ravens, ptarmigan, chickadees or redpolls in search of twigs or berries, or moose munching on willow branches. Snowshoe hares and lynx do stay awake during the winter, but would be rare to spot. You might find their prints in the snow, though, so keep a look out.
In the late afternoon it's time to head back to Fairbanks. If you're interested in a return trip by train, select the Alaska Railroad add-on (only available Saturdays) and you'll get flag-stop service right on the Denali Park Road!