Photo Credit: Alaska Wildlife Guide: Chena Hot Springs Northern Lights Tours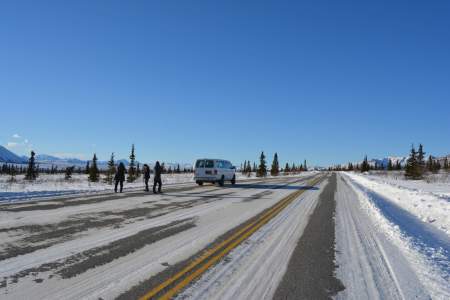 Season: Sep 25 to May 07 $199+ per person 10 hours
A guid­ed day trip out of Fair­banks reveals the qui­et win­ter land­scape of the Tanana Val­ley and Denali Nation­al Park. Walk or snow­shoe on pic­turesque trails through the bore­al for­est, deep in the heart of the Alas­ka range.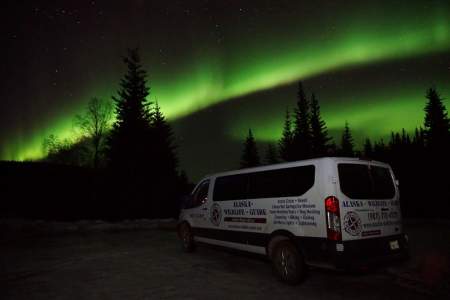 Season: Aug 22 to Apr 03 $175 per person 10 hours
Join Alas­ka Wildlife Guide in explor­ing one of Alaska's most desired attrac­tions, Chena Hot Springs Resort. From vis­it­ing the most north­ern Ice Muse­um, soak­ing in the all-nat­ur­al hot springs to view­ing the breath­tak­ing North­ern Lights dance across the sky, this tour will be a high­light of your Alaskan experience.
Season: Sep 19 to May 09 $63+
Win­ter in Alas­ka is a mag­i­cal time, with few­er vis­i­tors and a serene, snow-cov­ered land­scape. If you're here from mid-Sep­tem­ber to mid-May, you can take it in from the com­fort of the Auro­ra Win­ter Train, which runs between Anchor­age and Fair­banks. It's an easy and mem­o­rable way to trav­el north and expe­ri­ence the auro­ra bore­alis, or even do a week­end get­away to Talkeetna.