Denali Zero-Landfill Project
More than 2.7 million visitors explore Alaska's incredible national parks each year and they leave behind more than footprints. Practicing Leave No Trace ethics, choosing reusable bags and water bottles, and recycling are easy ways to reduce waste while you travel. Together, we can keep Alaska wild so that future generations can experience the natural beauty we enjoy today.
Alaska is remote and recycling services are very limited. Follow these sustainable travel tips from the Denali Zero-Landfill Project to help minimize waste:
Bring a reusable bag to carry your souvenirs and supplies.
Bring or buy a reusable water bottle and coffee mug to refill.
Choose groceries with minimal packaging and recycle as you pack.
Opt for paperless tickets and receipts.
Where recycle bins are available, please recycle properly. Recycling services are more often available in larger cities than remote areas. If you pack it in, please pack it out.
Share these travel tips with your friends and family.
Post photos on social media of how you reduce, reuse and recycle while you travel. Tag #DontFeedTheLandfills.
What is the Denali Zero-Landfill Project?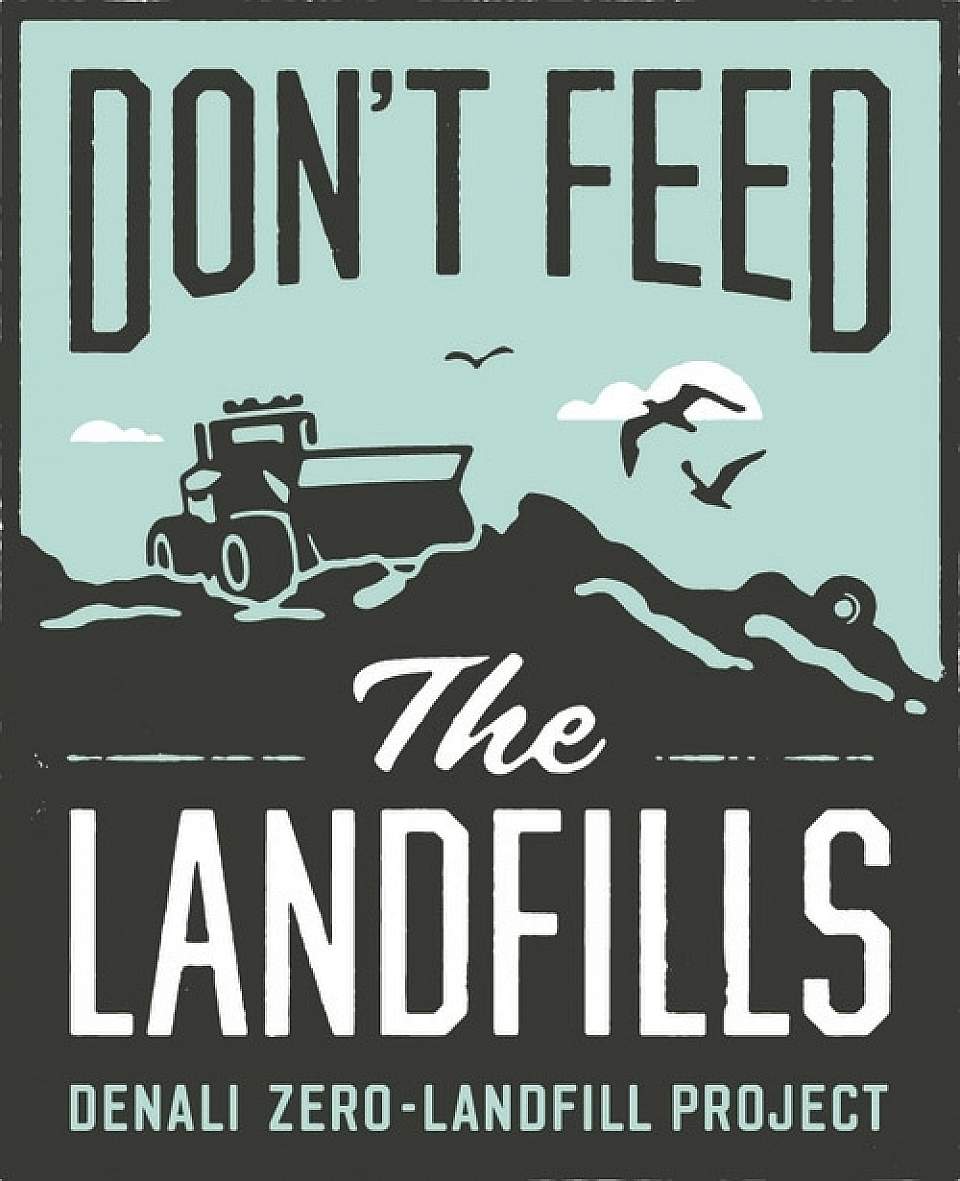 Denali National Park and Preserve is known for its incredible views, abundant wildlife and towering mountains, including Denali, the highest peak in North America. But visitors to this popular site – and tourism destinations worldwide - leave behind an enormous amount of trash, which creates a big challenge for park managers and local communities.
In 2014, Denali joined with Grand Teton National Park and Yosemite National Park in a pilot project to reduce waste, invest in sustainable solutions, and educate visitors about easy ways to minimize their personal impact on the environment.
Help and inspiration came from partners like Subaru of America, the only zero-waste automotive manufacturing facility in the United States. By sharing its expertise with national parks and providing innovation grants, Subaru is helping the National Park Service prepare for its second century of serving visitors and protecting America's most treasured places.
Good news: it's working! Thanks to the efforts of the Denali Zero-Landfill Project, the amount of trash sent from the park to the landfill decreased 46% from 2016 to 2018. In 2018, 30% of the waste collected in the park was diverted away from the Denali Borough Landfill and instead was recycled or composted. More visitors and less trash is progress we can all celebrate and support!
How is the initiative making a difference? At Denali, new recycle bins are available at visitor facilities throughout the park to collect aluminum cans, glass and plastics #1, #2 and #5. Many boxed lunches and snack wrappers sold in the park are now fully recyclable. Behind-the-scenes, waste management operations have been upgraded to run more efficiently and food scraps are collected for composting. Reusable bags, mugs and water bottles sold in gift shops make great souvenirs and are a responsible alternative to disposable, single-use items.
Who we are is what we leave behind. Choose to reuse, reduce, and recycle to keep Alaska wild!