Photo Credit: Out to Sea Expedition Company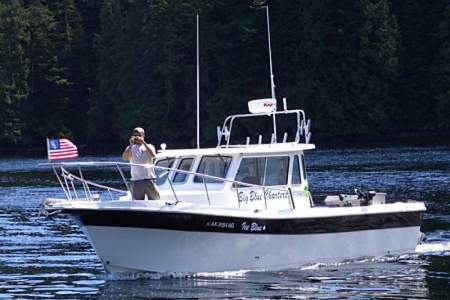 Season: May to September $200+ Fishing, $100 Wildlife Viewing 2 hours - Full Day
You'll find out why Ketchikan is famous for salmon with Cap­tain Jared of Rainy Day Char­ters. Leave the cruise ship crowds behind for an authen­tic Alaskan expe­ri­ence, sur­round­ed by water, wilder­ness and wildlife. It's a per­fect excur­sion for a half-day in port, even bet­ter if you have more time to fill your entire box with fish.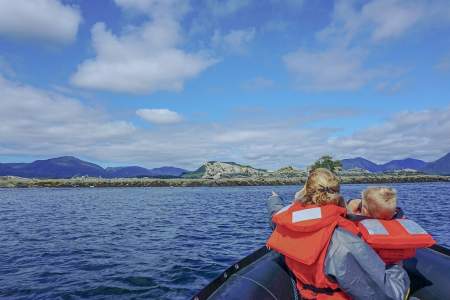 Season: May 02 to Oct 09 $155 2.5 hrs
Explore the gor­geous, dynam­ic scenery and wildlife around Ketchikan by get­ting out on the water in a low-impact Zodi­ac — an authen­ti­cal­ly Alaskan way to trav­el! Every expe­di­tion is dif­fer­ent as there's flex­i­bil­i­ty for some spon­tane­ity. You can spend extra time in a place if there's a mag­i­cal, Nation­al Geo­graph­ic-type moment happening!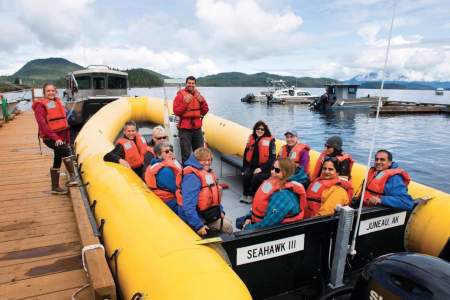 Season: Late April-early October $147 per person 4 hrs
Board a rigid-hull inflat­able boat for a 20-minute ride out to a seclud­ed island. Weave through a series of small islands with mas­sive cliffs that rise hun­dreds of feet out of the ocean, check out active bald eagle nests and look for sea lions and seabird rook­eries along the way. Once at the island, you'll climb out on the beach, break out into small­er groups, and set off on a stun­ning hike on a board­walk that snakes through the rainforest. ...more