Don't miss this one-of-a-kind opportunity in Ketchikan to don a wetsuit and peer below the water's surface at Alaska's unique marine life, thanks to Snorkel Alaska.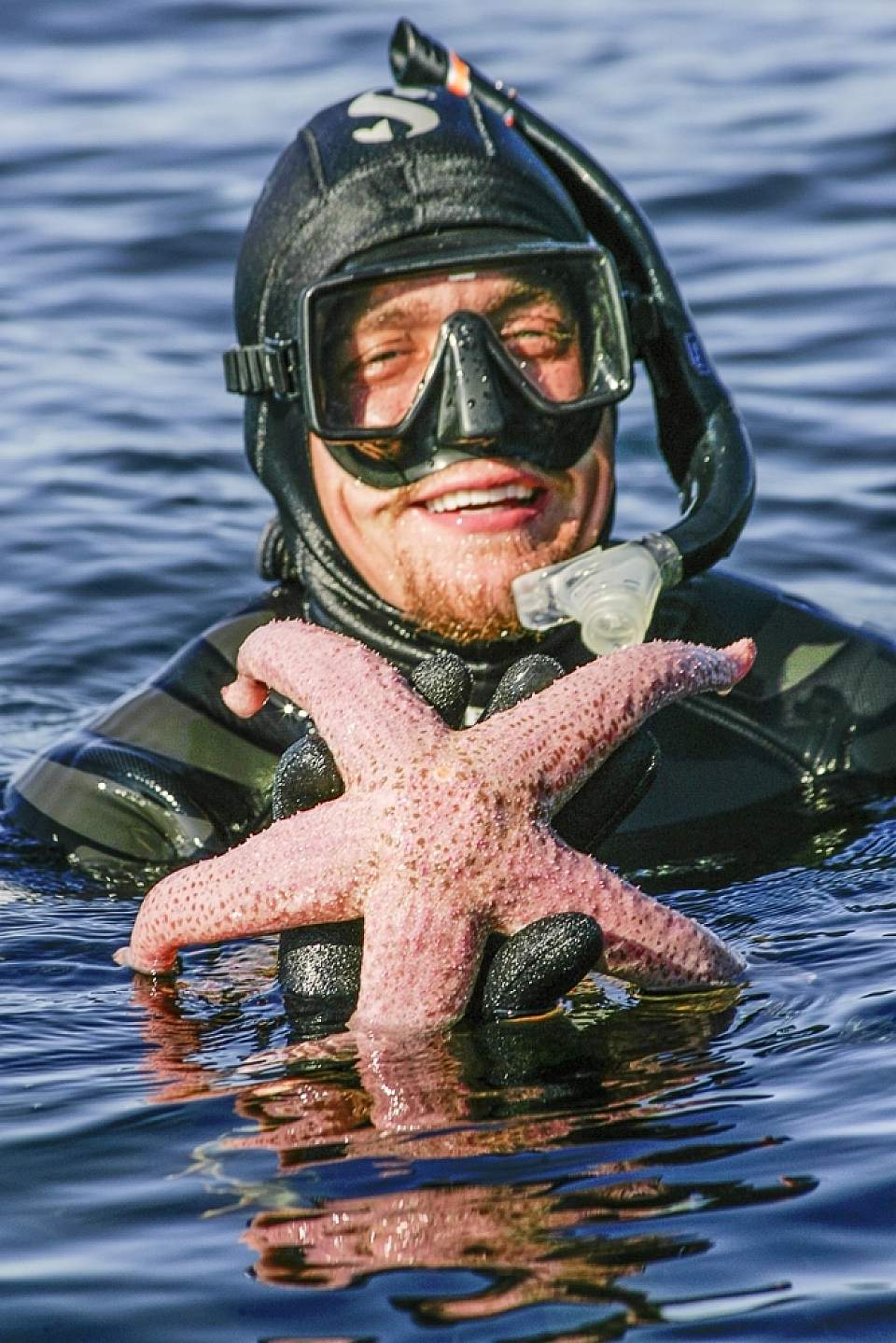 Experience Snorkeling in Ketchikan
Don a wetsuit, mask, fins, and snorkel and get an up-close look at the unique sea creatures of the 49th state: urchins, sea stars, crabs, sea cucumbers, and...what's that...a humpback whale swimming nearby?! This is the magic of snorkeling in Alaska—a singular experience that you can only do in the waters around Ketchikan. That water may be chilly—the average temperature in summer is 55 degrees—but don't worry: Your wetsuit will keep you warm.
On this 3-hour excursion, Snorkel Alaska will pick you up from their office or the cruise ship docks, then outfit you with top-of-the-line gear: wetsuits, hoods, boots, gloves, masks, fins, and snorkels. Even optional weight belts for free diving. Anyone who's healthy and fits the weight requirements can take part—it's even a great outing for families. The most challenging part will be wriggling into the wetsuit!
No experience? No problem. Two Snorkel Alaska guides (all PADI-certified Divemasters or SCUBA Instructors) will be with your small (10 people max) group at all times, offering instruction and pointing out the highlights. You'll spend 60 to 90 minutes swimming and resting while taking in the majestic underwater kelp forest that's teeming with life and looking for the occasional orca or sea lion.
Then head back to the office for a hot shower and hot drinks as you process what a unique Alaskan experience you just had!
The Backstory
Owner and founder Fred Drake has long had a love for snorkeling, SCUBA diving, and travel, leading snorkeling excursions in the Caribbean for Norwegian Cruise Lines as a PADI Open Water SCUBA Instructor. When the cruise line entered the Alaskan market, they planned to eliminate the diving program. But Fred recognized the opportunity and convinced them to stock the ship with wetsuits so passengers could explore the Alaskan depths. After three seasons, he recognized another opportunity—to start his own Alaskan snorkeling business—and since 2001 he's never looked back.