Spend a few hours, or an entire day, on the water with Captain Jared of Rainy Day Charters, and you'll begin to understand the compelling draw of the southeast Alaska lifestyle. Leave the crowds behind for a small group outing in the protected waters near Ketchikan, where all five species of salmon return by the thousands every year. Experience the quiet lapping of the waves as you settle into a fishing hole, the cry of eagles overhead in search of their own meal, and the sudden breach of a humpback nearby – all from the deck of Ice Blue, a 29-foot charter boat that gets you much closer to the action than a large cruise ship ever could.
Authentic Alaska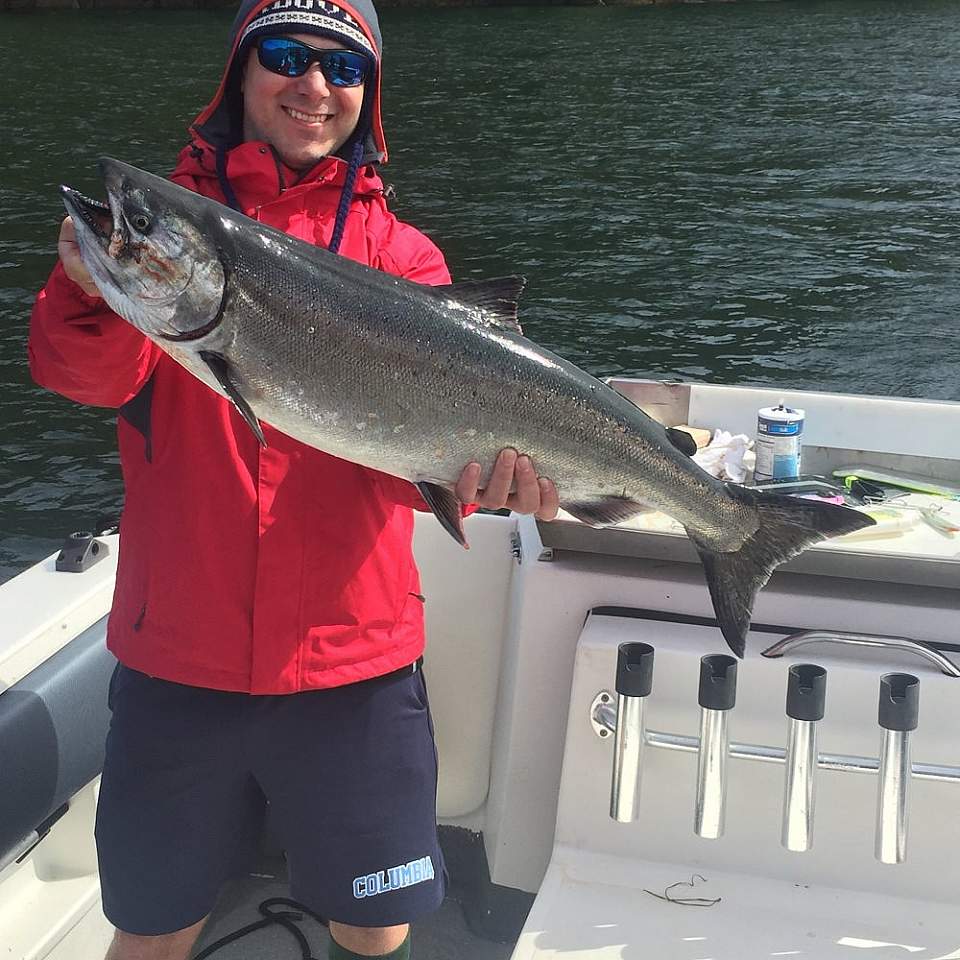 Thousands of tourists are drawn to Ketchikan each year. Most spend their time walking the historic boardwalks and browsing the quaint shops of this little town. But the heart of Ketchikan is found in its fishing heritage. Rainy Day Charters offers an authentic taste of that unique lifestyle, whether you have 2 hours or 3 days.
Your tour begins at the Ketchikan harbor, just a 1-2 minute walk from the cruise ship dock, or a 5-minute walk from most hotels. After a quick safety briefing you'll motor away, with Ice Blue travelling up to 25 knots. It's a comfortable ride for between 4 and 6 guests, with a full walk-around deck, heated cabin, and toilet. Hot coffee, soda and chips are provided, which you can enjoy at any time.
Jared will point out the sites of Ketchikan from the water, giving you a local perspective of this community that has been called the "Salmon Capital of the World." Within minutes Ketchikan is left behind, and it's just you and your companions, plying through the Tongass Narrows toward a wilderness habitat that supports a diverse array of birds, fish, and marine mammals. You could spot a sea lion lolling in a rocky area, or a Dall porpoise might want to play, leading the Ice Blue for awhile. Humpbacks, most plentiful in June, have followed fish here, and you can watch their activity from much closer than you can get in a cruise ship. (You'll also get a true perspective of their sheer size!)
The small islands dotting this area provide for many protected spots that you can get to within just 10-20 minutes, giving you more time for fishing. The abundance of fish species and the many locations offers plenty of options in case of days with rougher water. On longer trips, you'll go out about an hour, past Mountain Point, and the Percy Islands, down to Duke Island before settling in to fish.
As you find the perfect spot, Jared will give you insight into Ketchikan, its history, the fishing industry and tried-and-true tips for landing a big one. He'll teach you how to reel in your own fish, and you can even try a hand at rigging the gear if you like. If you catch fish (not guaranteed, but more than likely), get ready for the quintessential Alaskan photo op, as you lift your prize high with a big smile. Jared has witnessed a lot of first catches, and it's always exciting, whether you pull up a 5- or 50-pounder. Even kids as young as 3 or 4 enjoy the experience. Once back in port, Jared will get you in touch with a convenient processing service that will make sure your haul meets you back home for a post-vacation feast.
About your Captain
Jared's laid-back personality makes an outing with him like hanging out with a friend, one who can tell you many stories about growing up on the waters of Southeast Alaska. It's the life he's known since about age 2, when his family would travel by boat to and from a remote cabin.
Jared sharpened his fishing and navigating skills with other charter boat outfits before working his way up to his own boat. He's been running Rainy Day Charters since 2011, and has built up a clientele that refers him to others and who also come back themselves. This is due in part to his commitment to his guests. "Not many people get to do this," he says. "I really want to share what I grew up doing every day. For my guests, it's often their one shot, and I don't want to disappoint them. I want them to see the other side of Alaska – the one they expected to find, and to show them what they will enjoy."
Which trip should I book?
2-hour wildlife – Even if fishing doesn't interest you, getting out on the water to see wildlife close up is worth it. The two-hour options is just enough time to get out away from the crowds, and enjoy the search for eagles, sea lions, seals, orca and humpbacks.
4-hour fishing – This trip is about five hours total, and is perfect for cruise passengers on a half-day port visit. You'll do some salmon fishing, cruise around looking for wildlife, and still have time to walk around Ketchikan a bit before your ship departs.
6-hour fishing – Spend more time fishing, checking out different spots a little further from town. The emphasis is on catching salmon, but you might fish for other species as well. Great for guests who are staying overnight in Ketchikan.
8-hour fishing – Like the 6-hour, but even more time on the water fishing for several species, including salmon, lingcod, rockfish, and maybe even halibut. Guests typically come home with a good box of fish. Lunch is included in this all-day option.