Photo Credit: Out to Sea Expedition Company
For an extraordinary Alaskan adventure, go on a whale-watching tour in Ketchikan. Get ready to witness the awe-inspiring beauty of whales in their natural habitat as you join professional guides. Cruise along the pristine waters of Alaska's Inside Passage and encounter these majestic creatures up close.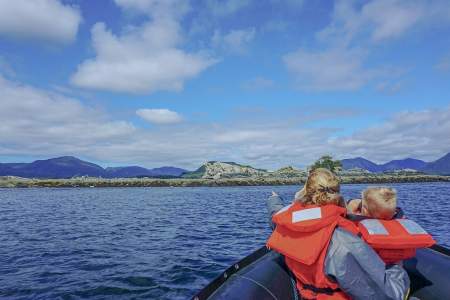 Season: May 01 to Sep 23 $165 2.5 hrs
Explore the gor­geous, dynam­ic scenery and wildlife around Ketchikan by get­ting out on the water in a low-impact Zodi­ac — an authen­ti­cal­ly Alaskan way to trav­el! Every expe­di­tion is dif­fer­ent as there's flex­i­bil­i­ty for some spon­tane­ity. You can spend extra time in a place if there's a mag­i­cal, Nation­al Geo­graph­ic-type moment happening!