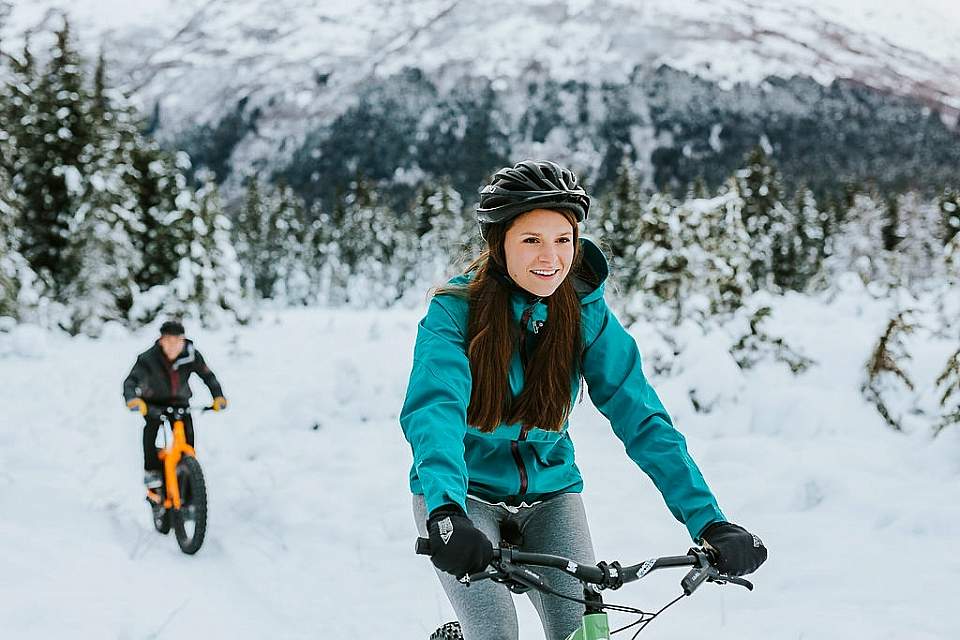 Eric Helmbrecht started boot fitting 12 years ago and has put all of his time and energy into Powder Hound. "A good boot fitting is what keeps people comfortable on the mountain leading to a happier day of skiing" he says. That's why this specialty shop is ski in ski out at the base of Alyeska Ski Resort and pride themselves on excellent customer service and detailed boot fittings.
Eric studied business at the University of Colorado and has combined that knowledge with passion for the Alaskan outdoors to create a store that emphasizes quality gear, friendly service and an experienced staff that advise you on what boot, ski or bike is best for you.
Trying it out, tuning it up
In the winter, Powder Hound is filled with all kinds of the latest ski gear for the whole family. The best part of being in a ski in and out location, that no matter what you forget or what you will need you can ski right in and get that instant fix. In the shop you will find a variety ski gear like boots, skis, snowboards, outerwear, goggles, helmets and more. Powder Hound offers a demo for each style of ski in stock. If you are interested in purchasing a pair of new skis, go compare some different brands to see which one best suits your skiing style. It is $55 for the day to demo skis, and you can take out multiple pairs in a day. If you decide you like the ski, the $55 gets credited towards the purchase price of the ski.
Finally, find out how comfortable and affordable those custom insoles can be. Starting at $125, they can be fitted to your foot in about 15 minutes. A versatile investment, insoles come in handy off the slopes too – pop them right into your running shoes, hockey skates or street shoes to increase comfort in other activities.
Stocking up for summer: bike rentals, onewheels & stand up paddle boards
Skiers may howl when the snow leaves, but Powder Hound can deck you out with essential items that will keep you comfortable and busy all summer. They offer all types of bike rentals, from hybrid style touring bikes to all mountain and downhill bikes. They'll get you set up properly for any adventure. There are many trails to access right from Powder Hound's front door, so don't worry about having to transport the bikes. If you prefer to have a bike for your entire stay in Girdwood, they offer multi-day rental rates as well. Popular area trails include the Gird to Bird trail, Winner Creek, and the Trail of Blue Ice in Portage Valley. Alyeska Resort also offers lift and pedal access for downhill mountain biking.
Find all the Alaska essentials such as rain gear, hiking gear, and buy or rent stand up paddleboards to enjoy some scenic waterways in the area. The boards are extremely sturdy and even roll up into a backpack to throw in the back of any car. (Powder Hound will offer a tutorial if you need).

Powder Hound now sells Onewheels! They are an electric joy ride designed for trails and pavement. Come on in and see what we have in stock! They carry the Onewheel Pint, XR and GT!
Summer is a great time to check out Powder Hound's fantastic deals on remaining ski gear, or their souvenir selections.
Gear up for all seasons
When you want to gear up for adventure in any season, Powder Hound offers a personalized touch and expertise that will get you outfitted in comfort and style. How much fun you have after is all up to you!