Photo Credit: Alyeska Hideaway Log Cabins
Gird­wood has long been Alaska's most idyl­lic resort town — and this VIP-wor­thy pri­vate lodge offers a plush home base just two blocks from its heart, the base of Mount Alyeska. If it's win­ter, you can walk to the slopes, two blocks away, and ski home along a bike path that par­al­lels the main high­way. Come sum­mer, you can use that same bike path to walk to most any activ­i­ty avail­able in Girdwood.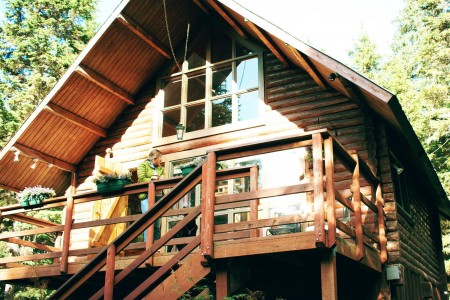 Just 35 min­utes from Anchor­age lies this cozy get­away with 3 log cab­ins — per­fect for fam­i­lies or any trav­el­er look­ing for unique accom­mo­da­tions with a local feel, as well as kitchens and pri­va­cy. Alyeska Hide­away is sit­u­at­ed on a dead-end road that backs up to Chugach Nation­al For­est and its tow­er­ing trees. All 3 cab­ins have out­door decks with chairs; cof­fee, tea, and cocoa are pro­vid­ed; and BBQ and fire pits are avail­able upon request.
[{"slug":"girdwood","title":"Girdwood"}]