Photo Credit: Bob's Girdwood Retreat
Girdwood is the ideal basecamp for your Alaska vacation, and a vacation rental gives you maximum flexibility for you and your group. Prepare your own meals, or walk to local shops and restaurants. Ample parking for rental vehicles, and access to a washer and dryer. Find your Alaska home away from home.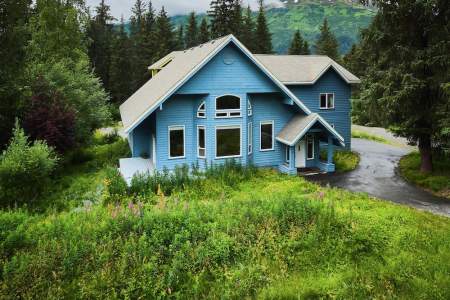 Season: Jun 12 to Nov 30 $1400 / night, 3 night minimum, sleeps 8
Stay at Bob's (founder of Alas​ka​.org) fam­i­ly cab­in in Gird­wood — a charm­ing town that's home to Alaska's famous ski resort, just a 45-minute dri­ve south of Anchor­age. The cab­in is per­fect­ly locat­ed at the base of the ski resort, Alyeska. It's just a few min­utes' walk to Girdwood's best shops and restau­rants, yet set apart from the bustle.