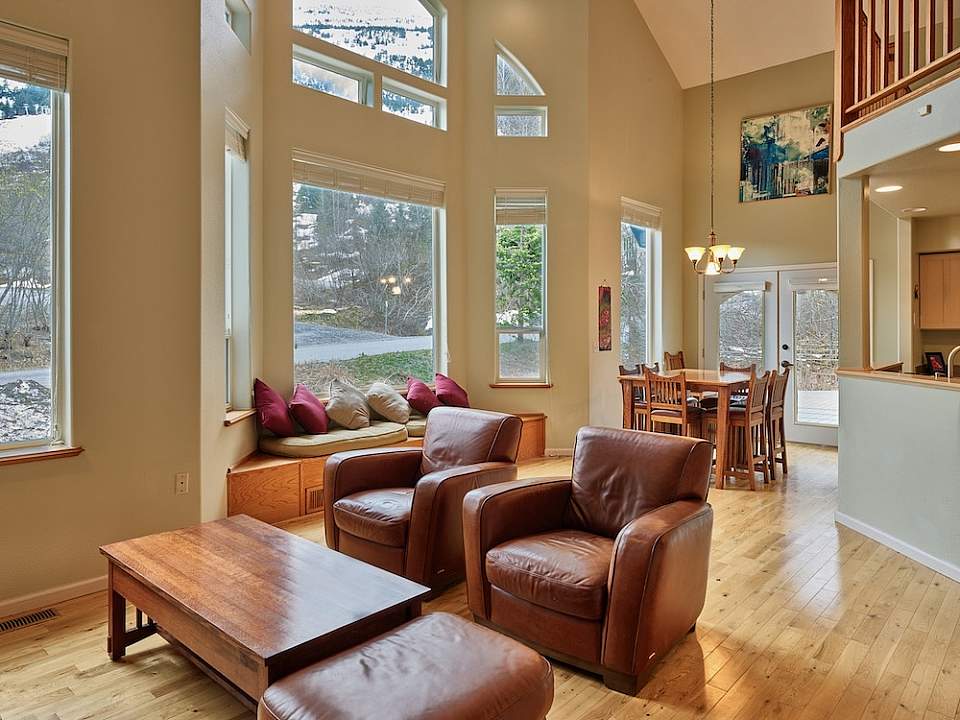 Stay at Bob's family cabin in Girdwood—a charming town that's home to Alaska's famous ski resort, just a 45-minute drive south of Anchorage. Bob (founder of Alaska.org) and his family stay here every weekend during ski season and love this amazing spot so much they've decided to share it with others who would appreciate it and take care of it.
The cabin is perfectly located at the base of the ski resort, Alyeska. It's just a few minutes' walk to Girdwood's best shops and restaurants, yet set apart from the bustle. Unobstructed mountain views fill the nearly floor-to-ceiling windows, while the massive outdoor deck features a large luxury hot tub, gas-fired fire bowl, and outdoor dining.
This Girdwood sanctuary is perfect as a base camp for outdoor adventure or a retreat to gather friends and family amidst the beauty of nature. It also makes for an ideal remote work haven, as there's a large desk, fast Wi-Fi, and an extra monitor. Bob limits the number of guests to 8 per stay, though the cabin could accommodate more.
The Space
Main Level
Living room/dining room area with bright hardwood floors, two-story-high picture windows, a dining table and a separate sitting area with leather couch and chairs.
Kitchen, off the living/dining room area, comes with a double oven, gas range, microwave, Jenn-Air refrigerator/freezer and dishwasher. There's a walk-in pantry with lots of appliances, like a rice maker, Ninja blender, and Keurig coffee machine.
Huge game room, a half-level up, features two-story-high ceilings with wood beams, an antler chandelier, 4K TV with Apple TV and 4K DVD player. (Guests will need to bring login info for their own streaming accounts). No cable TV. There's also a Sonos sound system and a large wooden desk with a 27-inch Mac monitor that's perfect for the remote worker.
Outdoor Deck
Just off the main living room/dining room area, the spacious deck comes with a luxury hot tub spa (Aspen 880 Sundance model) that seats up to 8 adults. Enjoy the oversized, gas-fired, hand-crafted metal fire bowl with large Adirondack chairs around it. Dine at the outdoor table, take advantage of all the open space, and head out with your morning coffee to enjoy the unobstructed mountain view.
Rooms
Downstairs on the main level, the primary bedroom can be set up either as a king bed or two twin XL beds; there's also a large walk-in closet with two dressers and lots of hanging space.
The bathroom features a walk-in shower for two and two separate sinks.
Upstairs, one bedroom has a queen bed and is connected to the upstairs bathroom. Just across the hall is another bedroom with two bunk beds—one bunk has two singles; the other has a double and a single.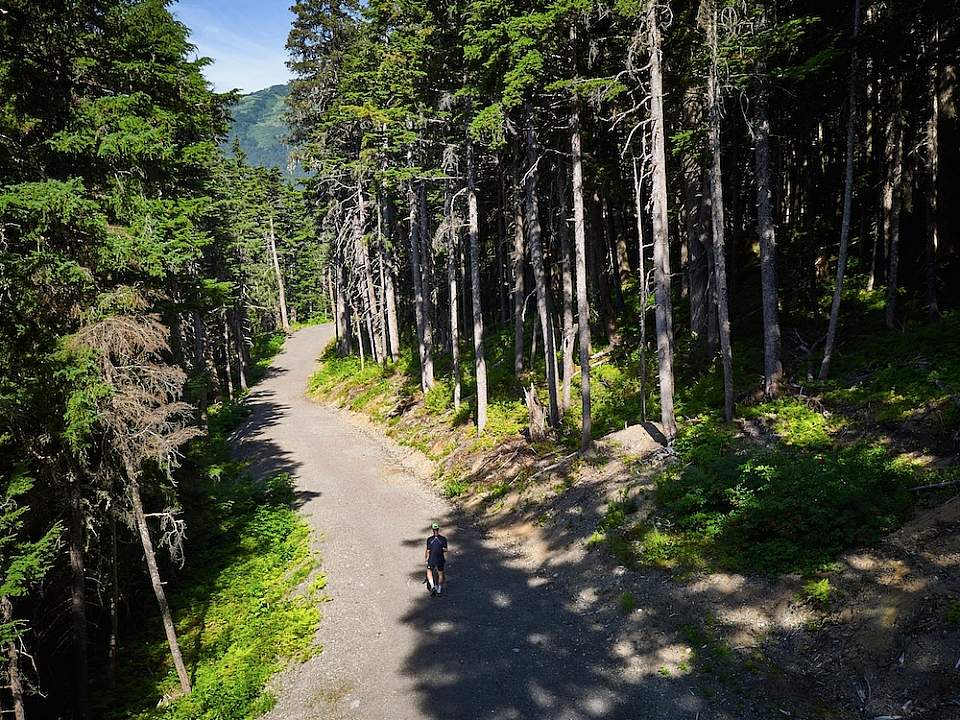 Why Girdwood?
Girdwood is the Alaska you came to see—a charming resort town ringed by mountains and hanging glaciers with a relaxed pace and super-friendly locals, just 45 minutes from the Anchorage airport. It's an even better base camp than Anchorage because you'll be closer to Alaska's most iconic experiences: glacier cruises, flightseeing, hiking, and river rafting. And there's an endless supply of fresh mountain air!
You'll find glacier cruises only a 45-minute drive away in Whittier; great rafting and fishing are just over an hour further down the Kenai Peninsula. And just 15 minutes away is the Alaska Wildlife Conservation Center, where you can see unique Alaskan wildlife up close.
Want to turn your 3-night stay into a full Alaskan experience?
Bob's Favorite Things to Do in Girdwood
For an ambitious hike, I love the Winner Creek Trail. And for a solid lung-busting workout, I hike the steep North Face Trail, then take the tram down.
We often go to the Bake Shop, just a 5-minute walk away. I love their chicken salad sandwich—as creamy and delicious as any I've ever had. Or get the bottomless soup bowl with their homemade bread. They have great breakfasts too!
For dinner, we love Jack Sprat, also only a 5-minute drive away. We always request a table at the window looking toward the mountain.