Best Playgrounds in Anchorage & the Valley
Anchorage boasts 223 parks with 82 playgrounds: Some are in the middle of residential areas, and others feel like they've been manicured into the center of the wilderness. As you head north to Wasilla, Palmer, and Talkeetna, you'll find even more playgrounds that take advantage of the unique assets of their locations. Here's a list of our top picks.
Playgrounds
Wasilla There are also bal­ance beams, mon­key bars, ropes and inclined tires for climb­ing. If that's not enough, views of Pio­neer Peak and oth­er moun­tains in the Chugach Range are as good as you'll get any­where in town, while its two pavil­ions make host­ing par­ties a cinch.
Palmer Built almost entire­ly of heavy wood­en beams, this com­plex of tow­ers, swings, mon­key bars, and slides can keep kids of all ages enter­tained for hours.
Big Lake Even if the park isn't that large. It does, how­ev­er, have a vol­ley­ball court, tire swings, climb­ing areas, and lots of grass with access to a swim­ming beach, where the water isn't very deep.
Talkeetna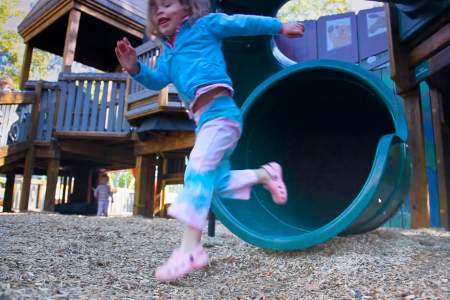 Tal­keet­na may have one of Alaska's best adult play­grounds, as it hosts moun­tain climbers and adven­tur­ers from all over the world, but that doesn't mean kids don't fit in, too. A group of moth­ers got togeth­er in 2008 and built this play­ground, wor­thy of a fron­tier town. Con­struct­ed from rough-hewn tim­bers, the play area incor­po­rates mazes, cab­ins, swings, slides, and even art from local children.