Learn how to pan for gold while enjoying the beautiful landscape of Alaska's backcountry and great views of Denali from the South. Denali Gold Tours works several claims in the active Cache Creek Mining District, just off the Parks Highway about halfway between Anchorage and Denali.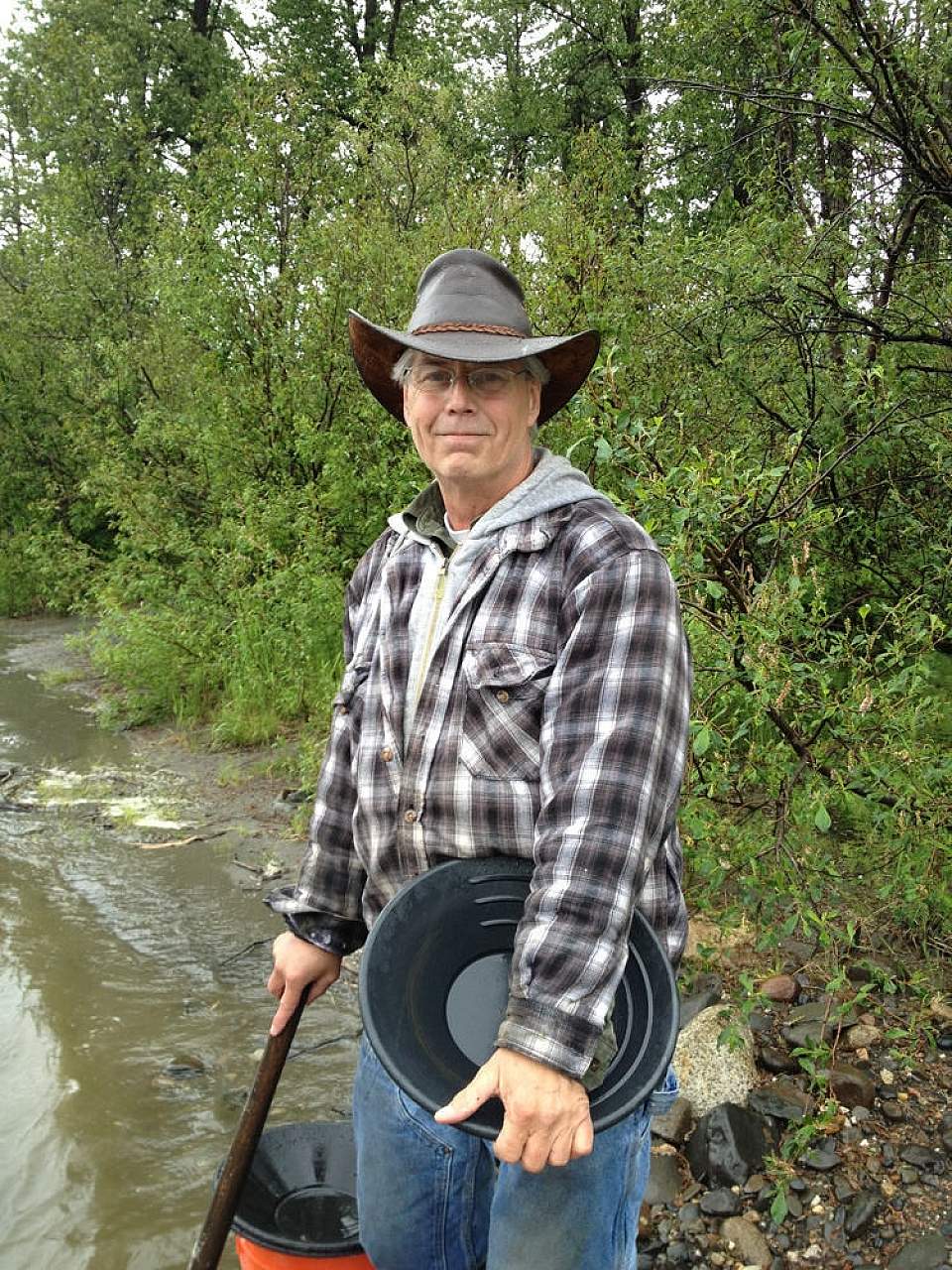 You can spend a half-day or full-day working this authentic mining claim, far away from the crowds. You'll be panning for gold in a clear creek, surrounded by a forest of birch, spruce and poplar. Eagles fly overhead and moose may amble by. All the while, you're concentrating on the business at hand: swishing your pan to find some gold!
The gold rush brought tens of thousands of miners to Alaska. That history, and the excitement of the search for gold, is still part of the state's mystique. Denali Gold Tours' owner, Richard, grew up on those legends, and learned to pan alongside his father when he was a small child. He never lost the love of gold panning, and enjoys seeing visitors' excitement when they spot their first glimpse of gold at the bottom of the pan.
The Tour
You'll meet Richard, owner of Denali Gold Tours, or his son Jeremy, in Trapper Creek. A comfortable tour van takes you on a 19-mile ride into Alaska's backcountry, through swampland, hills and finally to the gold-bearing streams of the Cache Creek area. The tour is designed with extra time, so if you see a moose, bear, or salmon in the stream along the way, you'll have a chance to stop and get some photos.
When you arrive at the creek where you'll be panning, you'll begin to relax and enjoy being out in a beautiful natural setting, where the crystal-clear creek waters practically invite you to take a drink! Typically, there aren't any other people around. After getting an orientation to bear safety and suiting up in rain gear and boots, Richard will show you how to classify gold and extract gold flour from the other sediment around it.
Gold is heavy, so panning is all about agitating creek-bed material in water to get the precious metal to sink to the bottom. It takes time and patience. (Richard can power through 5-10 pans an hour, which just might be an Olympic pace). You'll get the hang of it quickly – and you get to take home anything you find! If your luck doesn't "pan out," you'll still leave with a souvenir bottle of gold, courtesy of Denali Gold Tours.
Of course, all that panning will build up your appetite, so your group will enjoy drinks and freshly-grilled reindeer dogs and hot dogs, creekside, before you head back for the day.
Tips
Make it a day trip! You can drive to Trapper Creek from Anchorage in a little over 2 hours and catch the half-day tour.
Don't worry about gear. Denali Gold Tours provides all the equipment you'll need, including boots, raingear, classifiers, and mosquito repellant.
Extend your trip. Caught the gold fever? Want to try sluicing, too? Talk to Richard about custom trips, where you can camp overnight and spend all time you want searching for gold or just hanging out at the beautiful creek.
Enjoy the "real deal". Denali Gold Tours is the only creek-based gold panning experience along the Parks Highway. This is the real deal, with a gold prospector as your guide. It doesn't get any more authentic than that!
More about Denali Gold Tours
Hundreds of visitors a year get to see another side of Alaska through Denali Gold Tours gold-panning excursions. The company is family-run, with life-long Alaskans Richard and Jeremy leading the tours. Richard is a former Marine and avid gold prospector, who describes himself as an "old-timer Alaskan." He loves talking with visitors and they enjoy his stories based on his rural Alaskan lifestyle.