Lace up your boots and get out there! From quick hikes to multi-day excursions and specialty tours year-round, Go Hike Alaska offers a wide variety of super-accessible ways to immerse yourself in Alaska's natural beauty. JUMP TO: Summer Tours | Winter Tours
Anchorage – A Day Hiker's Paradise
The Anchorage area boasts some of the most spectacular hikes in all of Alaska—it's truly a day hiker's paradise. So take advantage of it! Get out there on one or more of these super-accessible trips, which range from easy nature walks to strenuous alpine multi-day treks. You'll not only get a healthy dose of scenery, you'll also exercise your body, mind, and soul. You may have the chance to meet other travelers or the unique experience of being in complete silence.
Your guides are experts in the area—as well as safety—and can fill you in on the flora, fauna, and history as they share their knowledge and experience on your hike.
Summer Tours (May 15–September 30)
Flora & Fauna Hike
Drive up to the gorgeous Glen Alps area above Anchorage and spend 2 hours walking an easy 2–3 miles. Depending on the season, you may see wildflowers and have the opportunity to spot wildlife like bear, lynx, and hares as you learn about the area's berries and mushrooms and take in stunning views of Anchorage, Cook Inlet, and Turnagain Arm.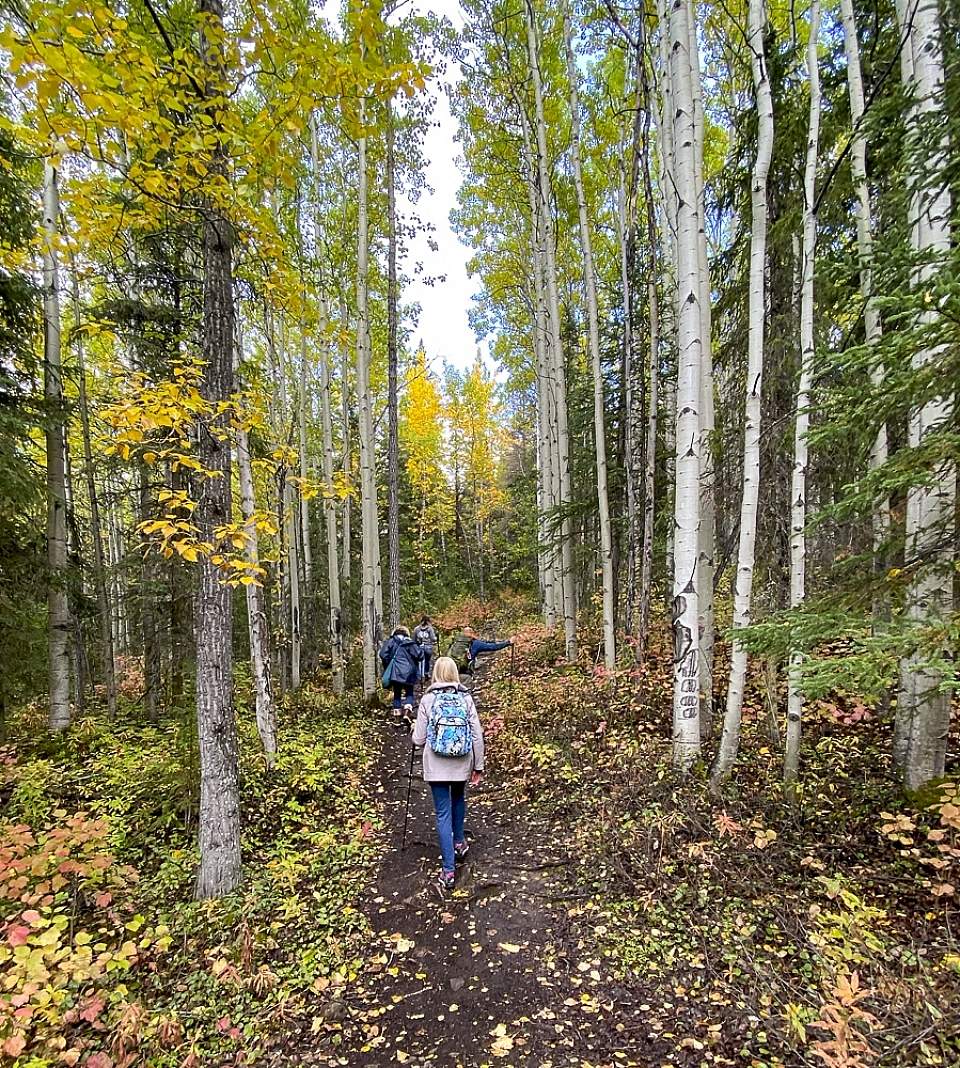 Valley & Forest Hike
From the Eagle River Nature Center in a glaciated valley of Chugach State Park, you'll set off on the 3-mile Albert Loop, following rivers as you gaze up at snow-capped peaks and keep an eye out for wildlife. Continue this 5-hour tour with a drive over to Barbara Falls and take a short walk to witness the park's most spectacular waterfall before returning to Anchorage.
Full-Day Private Tour
Go anywhere within a 2-hour radius of Anchorage, customizing what you see and how you'll see it. Options could include experiencing the shimmering waters of Symphony and Eagle Lakes or taking on a challenging mountain like Rainbow Peak. Or chat with the company to figure out the best spot for you. Your guide can even cook you a hearty lunch of salmon or reindeer sausage out on trail.
Heli-Hiking
Combine your hike with an amazing flightseeing excursion, including about 30 minutes of flightseeing and 3.5 hours of hiking. Your destination can be a spot like Grasshopper Point, which overlooks the crown of the Knik Glacier and is a photographer's dream. Do an easy one mile of hiking or take on more by heading into Grasshopper Valley, where you can access the glacier and feast your eyes on a massive icewall.
Foraging & Cooking Tour
Immerse yourself in nature's bounty on this tour in Chugach State Park and Talkeetna. You'll help harvest whatever is in season and then learn how to use it to make something delicious, right in the backcountry! You might come upon chickweed, dandelion, geraniums, roses, fiddleheads, berries, mushrooms, and more. Then use polenta or quinoa and make a stir fry or quesadillas, maybe with some other Alaskan delicacies like reindeer sausage, smoked salmon, or currant jelly.
Earthquake Park Experience
Get an insider's look at the 1964 earthquake on this 1-hour trolley ride and 1-hour historical walking tour through the fascinating Anchorage park.
Multi-Day Backpacking Kesugi Ridge
Have a few days and want the full Alaskan backcountry experience? This 5-day/4-night tour is ideal. You'll do some hiking over varied terrain that's strenuous (though still doable for even a beginning backpacker) and end up in some amazing places where, on a clear day, you can get views of Denali and the Alaska Range. Camp above treeline and dine on delicious dishes like stir fry, pizzas, and quesadillas, using foraged ingredients whenever possible. Tents are provided; bring or rent the rest of your equipment.
Winter Tours (December 1–March 31)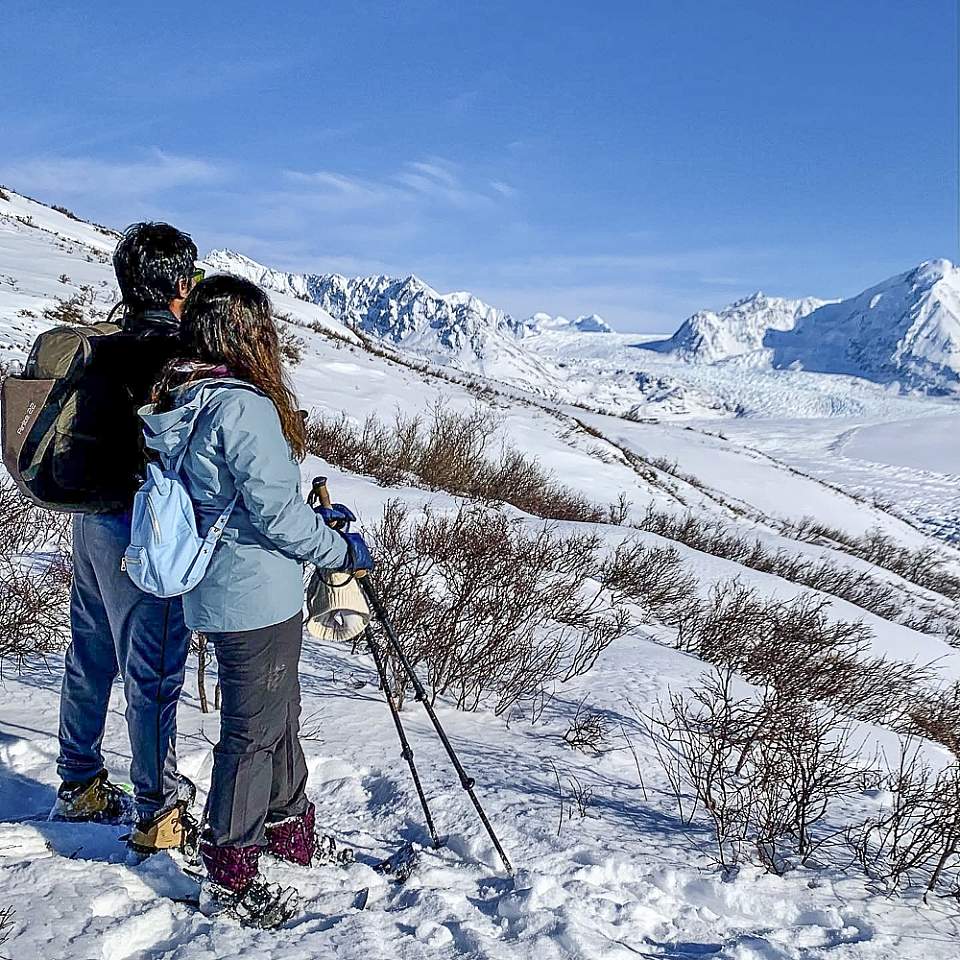 Winter Waterfall Fun
Witness the unique sight of the impressive Barbara Falls—frozen completely solid! After a short drive, you'll spend a couple hours hiking about 2 miles with a little elevation gain to see this winter wonder. It's great for everyone, including families with children.
Valley & Forest Hike
At the Eagle River nature Center, about 40 minutes north of Anchorage in Chugach State Park, you'll be staring up at towering, snow-covered mountains. Enjoy it as you hike about 3 not-too-strenuous miles, checking out the winter wonderland around you and keeping an eye out for wildlife like moose, snowshoe hare, red fox, and porcupine. Then drive over to Barbara Falls, where you'll take a short hike to see this waterfall completely frozen before returning to Anchorage.
Snowshoeing
Head up to Anchorage Overlook, down into a hemlock forest, and up to a big treeless alpine field where you'll explore in snowshoes. Opt to do a beginner route (3 hours total; 1 hour of driving and 2 hours snowshoeing) or an advanced route (4 hours total; 1 hour of driving and 3 hours snowshoeing).
Heli-Snowshoeing
Combine a fascinating and fun snowshoe adventure with some spectacular flightseeing! You'll have about 30 minutes to survey the Alaskan tundra from above in a helicopter, on your way to the Knik River Lodge. From there you'll step into snowshoes and have about 1.5 hours to explore the backcountry.
About Go Hike Alaska
Matt, the owner of Go Hike Alaska—as well as a guide—is a lifelong hiker and camper, starting when he was growing up in Michigan. After a stint in the Air Force, he and his wife followed their passion for the mountains and arrived in Alaska in 2011. Matt spent a lot of time hiking in the Chugach Mountains and developed such a passion for the area that he wanted to share it with others. He focused on Chugach State Park since it's easily accessible from Anchorage and offers lots of amazing trails that highlight some of the most exciting scenic and wildlife visions of Alaska.