Go for a relaxing 3-hour float trip down gentle Willow Creek as you take in the gorgeous scenery of the Alaskan backcountry.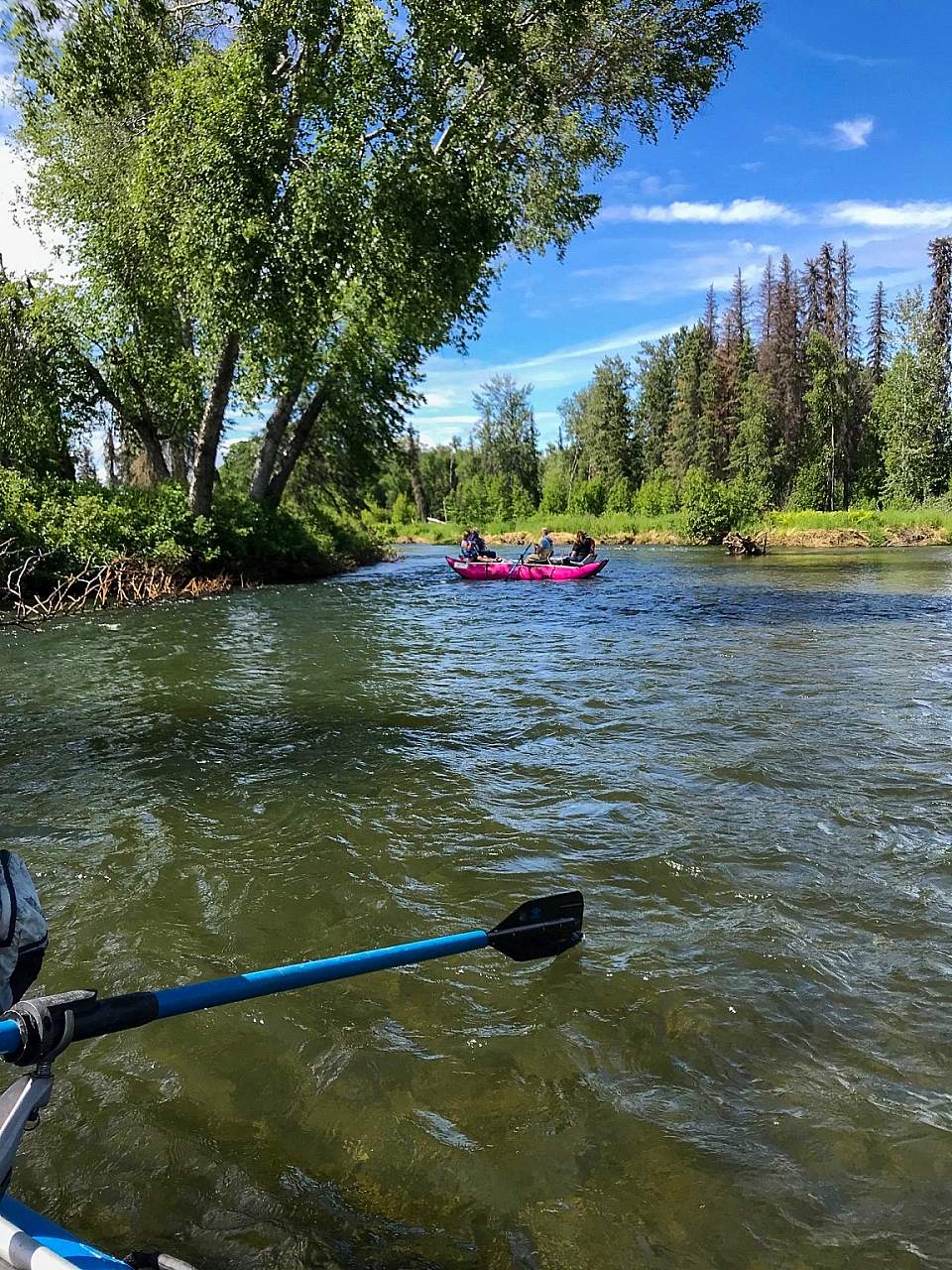 On the Water
Departing from Pioneer Lodge, just off the Parks Highway south of Talkeetna, you'll board a raft with up to 6 others and an expert guide. Then just kick back, or grab a paddle if you like: You can expect easy-gliding Class I and II rapids on this gentle river.
Once you turn the creek's first corner, you'll be immersed in the sights, sounds, and smells of the Alaskan wilderness, which change with the seasons. The colorful explosion of roses and bluebells in early summer give way to fireweed later in the season; fall brings bright colors on the birch and cottonwood trees that climb skyward on either side of you.
Look for ducks, otters, beavers, and moose (and even the occasional black bear) by the river's edge, as well as eagles nesting in the trees above. You'll also want to look down, as the clear water (a rarity, as many Alaskan rivers are glacial and filled with silt) affords the opportunity to see salmon. Depending on the time of year, you may see kings, chum, or silvers.
Multiple Departures Fit Any Schedule
Three departure times daily—7 a.m., 11 a.m., or 3 p.m.—offer flexibility to fit into your schedule. Driving from Anchorage to Denali? Break up the 4.5-hour trip with this unforgettable experience. If you're RV'ing, spend the night at the Pioneer Lodge campground and enjoy this beautiful float trip whenever you like.
About Willow Creek Tours
Owner of Willow Creek Tours, Lonn Goldbeck, loves being out on the water—even in bad weather. Boating, fishing, and guiding are so important to him, in fact, that he also started Hell Bent Fishing Charters, which operates on Willow Creek as well. It's a passion he discovered after moving to Alaska in 1995. Helping travelers experience the Alaskan wilderness helps keep the experience of seeing this landscape fresh—and make a lot of new friends in the process.