Talkeetna & Denali State Park Trails
For exploration on foot, Talkeetna and the surrounding wilderness have something for everyone. You can take a short walk through the Historic District where you can shop, dine, or have a drink in buildings from the town's mining and railroad past. There are other short walks nearby, or take a guided or self-guided hike on Talkeetna's best trail at Talkeetna Lakes Park.
For more spectacular scenery, more wildlife, and a phenomenal trail system, head an hour north to Denali State Park for guided or self-guided hikes and walks. The South Denali area is best known for spectacular views of Denali, abundant wildlife, and the world's northernmost boreal forest. The combination of rich soils, healthy salmon runs, and a mild climate make the South Denali area particularly lush and fertile. The woods overflow with wildflowers, berries, and oversized plants. Lowland trails take you along salmon streams where bears feed, crystal-clear lakes where loons and Trumpeter Swans nest, and mossy old-growth forest.
Take a walk along Byers Lake, or hike one of the four trails ascending Kesugi Ridge for panoramic views of the Alaska Range and the continent's highest peak, Denali (Mt. McKinley).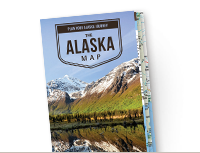 This state map includes top destinations and attractions, driving guides, & more!
Talkeetna Trails
Trails near town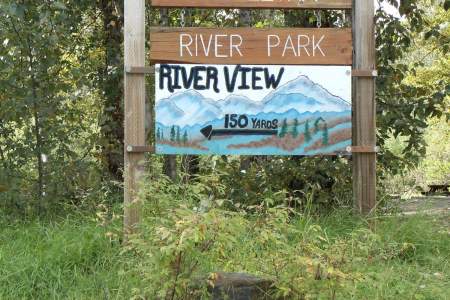 Where else can you walk to the end of Main Street and find your­self at the con­flu­ence of three wild rivers, over­look­ing a 20,000-foot peak? Close to down­town, this large, riv­er-cen­tered park offers wide open, untouched spaces, along with great panoram­ic view of the Alas­ka Range.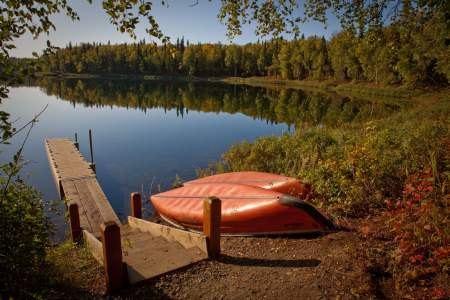 This recre­ation area is just a mile and a half from town, but it feels like wilder­ness — with deep woods and sev­er­al lakes, it's a great place to hike, run, canoe, fish, or look for wildlife. In win­ter, cross-coun­try ski, walk, or fat bike on the mul­ti-use trails.
Denali State Park Trails
45 mins North of Talkeetna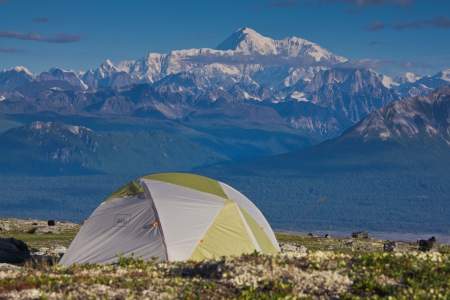 Difficulty: Difficult
Dur­ing peri­ods of clear weath­er, this route through Denali State Park offers sim­i­lar ter­rain and scenery to Denali Nation­al Park — includ­ing unpar­al­leled views of Denali — with­out the cum­ber­some per­mit­ting process. This trail sys­tem offers many options for start­ing and end­ing points, as there are four trail­heads along its length. Difficulty: Moderate Distance: 7 miles Elevation Gain: 1100 feet
The Cur­ry Ridge Trail is a new­ly con­struct­ed trail (2016) that departs from the Kesu­gi K'en Camp­ground and climbs mod­er­ate­ly (1100 ft in about 3.5 miles) up Cur­ry Ridge. On a clear day, hik­ers are reward­ed with stun­ning views of Mt. Denali in the distance.