Fish more of the hot spots with Phantom Charters, a family company run by folks who live to fish and bring a lifetime of insider knowledge to your trip. Using special, shallow-running boats to get into hard-to-reach waters, they'll take you to best river fishing around Talkeetna. Wander the bank and cast for Silvers, Chums, Pinks, and Sockeyes, or troll from behind the boat as well as shore fish for the Big Kings.
With Phantom, you'll also get a healthy dose of the Alaskan wilderness, from great vistas of the Alaska Range and Mt. McKinley to beautiful forest groves and tundra, two varieties of bears, moose, and an array of Alaskan birds, including beautiful bald eagles.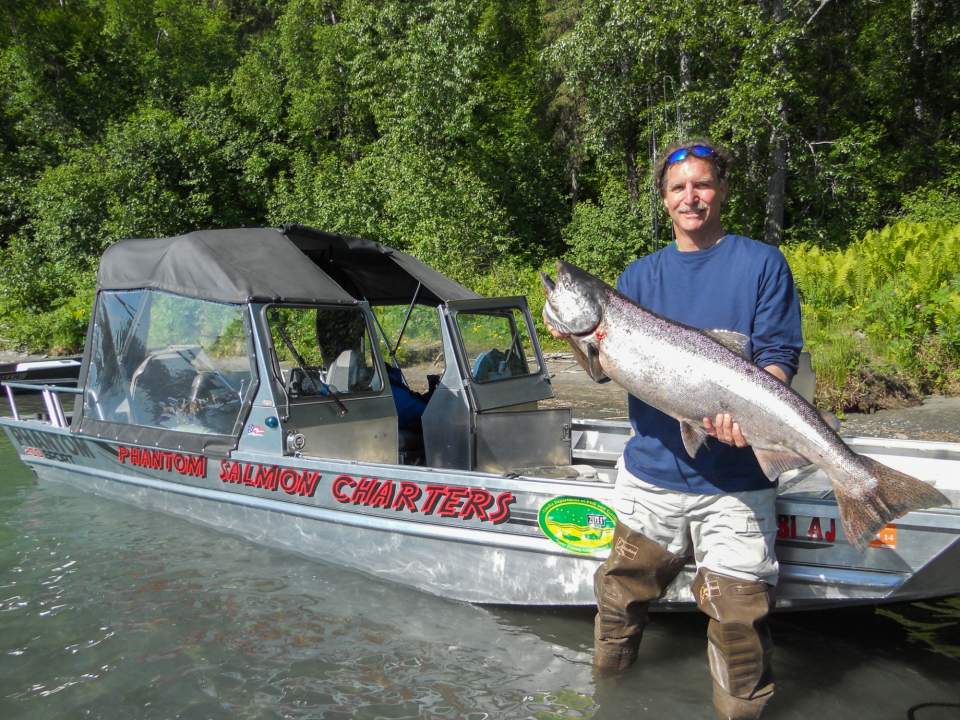 Phantom Charters is owned by Rhett and Margo Nealis, and Rhett might be your guide for the day. He's been fishing and hunting since before he could walk (literally—his dad carried him on bird-hunting trips in Idaho), and he's been taking people on outdoor adventures for the last 25 years. Rhett and his very seasoned guides (who work as fishing and hunting guides around the world) are known around town for their success rate and knowledge of the rivers.
They not only find the fish, but they use the best gear: their jet boats ranging from 21 foot to 26 foot are covered; they provide all the gear needed including the rods, reels, tackle, hip boots and bait; and they don't charge for lost lures. (They provide spinning gear, if you are a fly fisherman feel free to bring your favorite fly rod along and they will provide all the leader and flies at no extra charge.) They understand the importance of getting to a good fishing hole and are not afraid to burn extra fuel to get you to the "sweet spot". They love seeing anglers hook into that big one or catch their first fish.
Phantom Charters guide 5- and 8-hour trips on the Big Susitna, Talkeetna, and Chulitna rivers. That's over 100 miles of rivers you could fish. You'll be casting for King salmon from mid-June to mid-July; then its sockeyes, silvers, chums, and pinks the rest of the summer. And in the shoulder seasons (May and September), you can fish clear water for rainbow trout, Dolly Varden, and arctic grayling. (Catch and release only for these species.)
For the "Do it yourself" fisherman they also provide a drop off service to Clear Creek to include hauling your gear! You can be picked up in a few hours or a few days.
They'll fillet your catch and can arrange vacuum sealing, flash freezing and have it shipped for you!