Photo Credit: Rainbow Glacier Adventures Rafting & Kayaking
Even though Haines is one of the few towns in Southeast, Alaska on the road system, most visitors still arrive by cruise ship! It's a convenient (and often cost-effective) way to see multiple towns along the Inside Passage in a short amount of time.
Cruising limits the amount of time you can spend in Haines, but there are plenty of experiences to introduce you to the people, culture, and landscape during the short window you're in port. Most cruises are in Haines for around 11 hours – enough time to pack in one, if not two tours!
There are even experiences available for guests on ships that only port in Haines for about 4 hours in the evening. Rainbow Glacier Adventures offers shorter versions of a few of their tours, like their Chilkoot Wildlife Tour. Takshanuk Mountain Trail will offer a "Twilight" tour on those evenings, except for in the month of September when it starts to get too dark.
And – did you know, you don't have to book your shore excursion with the cruise line? Below is a list of companies you can work with directly to secure your tour in Haines.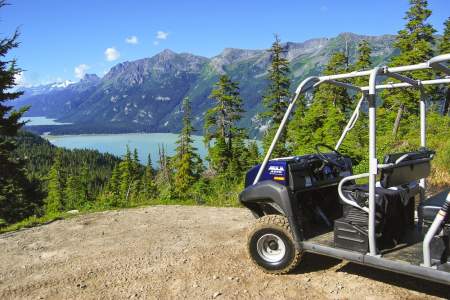 Season: May - September $149 per adult 3.5+ hrs
Dri­ve your­self on this guid­ed off-road ATV tour in Haines and expe­ri­ence pris­tine wilder­ness, unfor­get­table views, and a deli­cious meal! And at the top, 1,500 feet above sea lev­el, you'll take in the sweep­ing vista of shim­mer­ing Chilkoot Lake, set in the stun­ning Chilkoot Valley.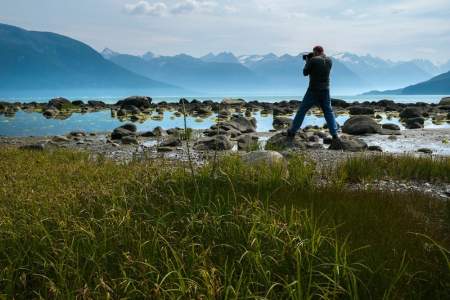 Season: May - September $99+ 2.5 - 6.5 hrs
With bald eagles, bears, and gor­geous scenery, as well as fas­ci­nat­ing cul­ture and his­to­ry, these tours out of Skag­way and Haines offer an up-close expe­ri­ence with insights from knowl­edge­able local guides. There are sev­er­al options, includ­ing wildlife and nature tours that focus­es on find­ing and learn­ing about wildlife, a pho­tog­ra­phy tour where you get the chance to enhance your pho­tog­ra­phy skills, raft­ing, and some fun sight­see­ing tours ...more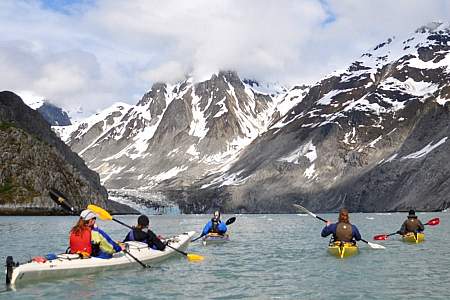 Season: May - September $135+ 4 hrs - 8 days
Guid­ed sea kayak­ing in Alaska's South­east opens up the mag­i­cal world of water-based tour­ing. Glide through a marine envi­ron­ment with gor­geous views in every direc­tion, and many oppor­tu­ni­ties to spot wildlife – from eagles and salmon to bears, whales and sea lions. Options include day tours for busy sched­ules and mul­ti-day immer­sions, all under the expert guid­ance of nat­u­ral­ists who help you under­stand the com­plex work­ings of a unique and amazing ...more